Falling in Love Again After Being Hurt
Falling in love and relationship can look like entering into a battlefield without any armor, especially when the past experiences have hurt you badly.
To fall in love again after being hurt or facing failure in love can be hard. It may feel challenging to put yourself into this vulnerable situation again after a heart wrenching past experience.
You may also feel a bit of guilt to make love again with a new person after you lose the one you loved previously. However, here are some tips to love again and assist yourself to begin a new love story and find the answer to the question, how to fall in love again.
1. Don't think about the heartbreak
You just can't let one bad experience walk with you wherever you go.
To fall in love again after being hurt may be very hard to get over, but it shouldn't appear as a barrier whenever you interact with someone who has potential. Your past heartbreak shouldn't affect your present.
2. Trust again
Your life has always planned something better for you.
Plans that don't bring any pain or heartbreaks. How to trust again after being hurt? You have to give yourself another chance to trust the world, and the most efficient way is to let go of what you can't change.
3. Self-worth
You deserve to be loved, you are important, you have all the right to have affection in your life.
It may be hard to believe, especially when you have a bad experience with relationships and your partner who criticized you for your imperfections.
Therefore, everyone deserves to be loved and to make yourself feel wanted, you have to develop self-worth. Ways to get over being hurt include loving yourself and telling yourself daily that you are perfect, and you deserve all the love.
4. Learn lessons
Opening yourself to love after a heartbreak sounds impossible.
The best way to be strong is by standing back up after being knocked down. To open yourself to this essence of love again, to prepare yourself for another trial of life.
To fall in love again after being hurt you have to learn from the lessons your heartbreak taught you; maybe it tells you to love yourself more, or perhaps it taught you not to repeat the mistakes you made in the past relationship.
Learning and moving on is a part of life, and it shows you self-worth.
5. Determine your expectations
Some primary goals of a relationship are companionship, support, love, and romance.
Fortunately, how these ideas prosper depends on person to person. To fall in love again after being hurt, you have to analyze and explore your priorities and emotional experiences that you expect from your partner.
To know how to be open to love, you have to figure out what is the most important priority of yours and what can you possibly compromise on.
Keeping your desires and expectations realistic from your partner may help you achieve them more easily.
6. Take your time
Your heart may need some time to heal.
Give yourself a good time to get over it. Socialize with new people and prioritize your inner feelings first.
Ways to get over being hurt includes taking your time to adjust and try to start a new love life. Judge your partner correctly, share your priorities and fundamental needs from a relationship with them.
7. Accept that love is risky
If you want to love again after being hurt, you have to accept the fact that the outcome of love is never guaranteed.
Just like other things in life, love is worth the risk, and if it works, it mesmerizes your entire existence. To fall in love again after being hurt is all about creating the right path and making the right decisions.
8. Be honest with yourself
Being open to love also demands honesty.
Things that go wrong are not always from the opposite side. Sometimes it's you, and sometimes it's your partner. Other are the times where fear and insecurities act up. If you cope up with what goes wrong from your side and contribute to betterment, you will be more likely to succeed in your love life.
Verdict
You must be fearless.
Open your heart to more possibilities. Let the guard down. It's going to be frightening. Your heart is going to race from the unknown and the possibilities ahead of you. But it's worth loving and being loved and that's how to feel love again.
Share this article on
Want to have a happier, healthier marriage?
If you feel disconnected or frustrated about the state of your marriage but want to avoid separation and/or divorce, the marriage.com course meant for married couples is an excellent resource to help you overcome the most challenging aspects of being married.
Learn More On This Topic
You May Also Like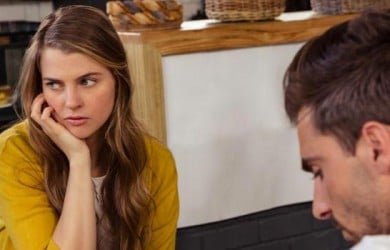 Popular Topics On Married Life