20 Ways to Create Alone Time When You Live With Your Partner
Finding alone time when you love someone is challenging. People often wonder how to have alone time when you live with someone. Even loving mates need their solitary moments. Despite the amount of affection you have for a partner, you don't want to be consumed by a relationship to the point you lose who you are.
A significant other should understand that each of you is entitled to separate life in addition to the one you share. An immediate reaction when someone requests "time" is they want to leave or break up. That's seldom the situation.
It's entirely normal and healthy for each person involved in a couplehood to have unique interests, even a group of friends different from the mutual social circle and maybe hobbies they enjoy in their spare time.
It makes for a good conversation with the pair since the other person isn't privy to this aspect of the mate's life, adding a touch of intrigue and curiosity to the partnership. This book shows how not to lose your individuality, ways to disentangle when you've become overly "coupled.'
20 Methods for finding time alone with a partner living with you
When you live with your significant other, the only real-time you have separate from them is when you each go off to work. A problem that has presented itself with that since the health crisis is that more people are working remotely today than in times past.
That disallows any time apart unless mates make a concerted effort to have individual alone time.
Suppose your partner is content with the oppressive state of isolation you find yourself in. In that case, it might be time to have a conversation letting your partner know, "I need some time alone," as constructively albeit firmly as possible.
Carving out time for yourself and having individuality is essential for overall personal wellness and the health of the partnership. Without a sense of self, you can begin to resent your mate because the relationship has consumed your identity.
Even if you find yourself in a situation where you work, live, and spend spare time together, you can find alone time in a relationship where you will receive healthy benefits.
Check this podcast to learn how even healthy relationships need personal space. Some methods to incorporate for achieving your goal include:
Related Reading: 

10 Personal Boundaries You Need in Your Relationship

  
1. It would help if you had a conversation with your partner
Regardless of how much time you spend together, 24/7 even, your mate cannot read your mind – maybe a little, but not everything. If you need some alone time, even if a partner does recognize this, they won't be the one to bring up the topic.
You will need to find a way to tell your partner you need alone time if you hope to see a healthy balance between home and separate interests that take you outside of that comfort zone.
Related Reading: 

4 Relationship Conversations You Can Have With Your Partner
2. Make sure to approach the topic with respect and kindness
Individuality and independence will benefit your mate if they take advantage of the time alone instead of waiting "by the door" until you return (even if you're just down the hall reading quietly for an hour or two).
When you see your partner working on a puzzle or concentrating on a recipe, go back into the room or take a walk to continue with their quiet time.
Don't disrespect their space simply because your needs have been met for the moment. Why give your partner time apart? Because they gave you alone time.
Related Reading: 

10 Reasons Why Respect Is Important in a Relationship
Here is a short video that can help you understand the power of kindness:
3. It's wise to move your workspace
It would be best if you weren't working in the same space, whether you have a one-bedroom apartment or a three-bedroom single-family home. The two workspaces should be as far from each other as can humanely be divided, especially if you'll be making business calls.
If someone has the bedroom, clear out a hall closet by the entryway or make a space in the kitchen. You can take lunch in private to do personal things you don't get to do during your off hours because you're, yet again, spending time together.
4. It would help if you tried to wake an hour earlier than your partner
No one can understand until they take the opportunity what a simply soothing experience it is waking up to silence and wallowing in it by doing whatever you want to do and hearing yourself do it. This is one of the places to go when you want to be alone.
Generally, you'll need to be somewhat quiet at an early hour, but a mate will be soundly asleep, and you can drink a fresh cup of brew, write an article, read, watch a movie, or stare at the moon. The peace is riveting.
5. Go to bed an hour earlier
In that same vein, it's good to go to bed roughly an hour earlier, especially since you'll be getting up with the birds. That doesn't mean you need to go to sleep immediately.
It's another opportunity for spending time apart in relationships, quality alone time either spent reading or journaling quietly.
6. Set a schedule so the time is spent wisely
You don't want the time you spend independently to be wasted. Time is precious and should stand for something. That means you should set aside time to establish your routine to anticipate what you'll be doing at all times, balancing alone time in a relationship with everything else.
You can engage in self-care with a scheduled bath complete with candles, soft music, and maybe some self-indulgent chocolate.
Perhaps you want to work with clay if that's a talent helping relieve some pent-up stressors pounding on the rough surface. Or maybe you'll go to a friend's home and engage in some kickboxing for a heavy workout.
You won't be bored sitting on a chair scrolling through social media without knowing what to do with your time alone because you set a routine for yourself.
7. Reconnect with close friends
One thing that happens when isolated and consumed by a relationship is that you tend to lose the connection with friends that you might have been close with before the partnership came along. That's why alone time in a living relationship is vital.
When you have more time on your own, it's a good idea to reach out to some of the people you haven't seen in a while to reconnect. It's okay to have separate friendships aside from mutual friends with your mate.
These can be a great support system for impartial advice and opinions on relationship issues.
Related Reading: 

6 Ideas To Reconnect with Your Most Important Friend: Your Spouse
8. Take those breaks outside instead of isolating
You spend so much time with your partner. Living together and sharing things can make it monotonous for you. Please take some time off for yourself. Take a walk or go out for some time every day to feel rejuvenated.
Put on some music to make it exhilarating. When you get back to work, you'll be more productive. When you ask is it bad to want alone time in a relationship, come back with this exuberance and ask yourself the question again.
Related Reading: 

What Keeps Couples Together: 15 Things You Must Know
9. Does anyone know your name?
When contemplating how to have alone time when you live with someone, one of the best ways to be entirely alone where no one knows who you are is during your scheduled alone time in a place where there will be a crowd, perhaps a subway station or an amusement park.
The idea is to let this crowd of people who don't know you swarm around you, allowing you the most intense feeling of freedom.
10. It's still okay to spend time together
Your mate is likely wondering how much time apart is too much. While alone time is crucial for the health of the partnership, it is critical to ensure that you continue to put forth effort in the relationship to maintain a strong connection and deepen the bond.
That means having at least one night each week that you schedule a date to go out and perhaps discuss the things that you've each been experiencing in your time alone. Sharing can strengthen trust for mates and faith in the partnership.
11. Encourage your mate to spend time doing things they love
Suppose you find that your partner is not taking the opportunity to enjoy quality time while you're apart. In that case, it's vital to explain why alone time is important in a relationship and how it can be healthy for them.
You can also show a mate how to have alone time when you live with someone the same way you do. The critical thing is that the significant other understands that the relationship is not in trouble.
Related Reading: 

20 Steps to Becoming a Supportive Partner
12. Celebrate the health of the partnership
After you've discerned how to ask for space in a relationship and your mate is onboard finding things to do for themself as well, it's a good idea to set a time that you can celebrate the change it's making in your relationship.
It will make the time you have together more meaningful because you'll have new things to discuss. You'll look forward to seeing each other when you're not together, maybe even miss each other.
13. Always make sure to express feelings openly and honestly
An ideal way how to have alone time when you live with someone is to ensure feelings are always expressed. When
your mate feels secure about where you stand with them, and in the partnership, there will be less questioning if alone time is important in a relationship.
Related Reading: 

How to Share Your Feelings With Your Spouse
14. Get back together once the quality time is over
Make sure that you come back together with your partner once you finish your activities. You don't want to self isolate for longer than you might have suggested with your mate.
The two of you will determine how much alone time is expected in a relationship. Everyone's different; personalities are unique. Some introverts might need a bit more time than an extrovert. It's a schedule you need to work on as a couple.
Related Reading: 

Glaring Facts About Expectations in Relationship 
15. Make sure to compromise with your partner
One of the key components is a compromise when discerning how to have alone time when you live with someone. If you expect to be able to enjoy evenings out with friends, your mate should be given the same privilege.
The time apart is not a one-way street; there needs to be a sense of balance.
Related Reading: 

6 Compromises in a Relationship Needed for a Healthy Marriage
16. There should be boundaries and rules
You can positively respond to the question, is it normal to want alone time in a relationship. Still, one thing that can make the situation unhealthy for your partnership is if you begin to break plans with a partner in favor of one of your other interests or your social circle.
That's disrespectful and would need addressing.
Related Reading: 

15 Must-Have Healthy Boundaries In Marriage
17. Find a constructive way to handle communication
In that same vein, when a discussion concerning unhealthy patterns with alone time begins to turn into a heated debate, there should be a method for signaling to the other person that you need to step away from the discussion.
That can mean that you're becoming emotional. It's not that you don't want to discuss the topic, only that you need to gather your thoughts before continuing.
18. Be understanding of your partner's differences
When a mate expresses discontent with the amount of space between you, it's vital to attempt to understand their differences and respect those while still standing behind your needs when going over again how to tell your partner you need alone time to avoid losing your individuality.
19. Consider including your mate now and again
In learning how to have alone time when you live with someone, you can invite your partner to join you now and again with some of your activities. Maybe they can be a guest on hobby night or come along for an evening with friends.
20. Ensure quality, and that will make a significant difference
When you balance the time with the time apart, it will help make things more tolerable for the mate who might not be keen on independent activities. One of the things to make sure of is when enjoying each other; those are quality moments.
It will give your partner something to look forward to, strengthening your connection.
Why is alone time essential in a partnership?
When you have time away from a partner, you can begin to focus on the person you were before they came into your life, reestablishing individuality and independence. It creates a greater sense of self and strength in who you are as a person, validating your thoughts and opinions.
That makes you remember why you were attracted to your mate, maybe what you initially saw in them when you met, or your mindset. You can see them differently, rekindling the flame and recharging your battery.
You're more mentally, physically, and emotionally available to your mate since you have had time to reacquaint yourself.
How do you achieve alone time in a relationship while living together with your partner?
Communication is ideally the best method for finding a healthy balance in a relationship. That's especially true if you have become joined together in every aspect, living, working, after work, every spare moment. That can grow to a point where the individual becomes suffocated.
Depending on the mate's personality, there will be varying degrees of understanding about the need for time alone. Some might become insecure.
You can merely be as loving, respectful, and reassuring as possible, albeit firm that this is something necessary for your wellness and that of the relationship. Then reinforce that by continuing to come back healthy, happy, and loving after each adventure.
How do you give a mate space while living together?
When a mate requires space for their greater good, your only response is to be understanding and compromise as you expect from them, given the same circumstances. If you're feeling insecure, express that so the conversation can alleviate that emotion.
The only way to deal with circumstances is head-on, boldly and bluntly, so there are no hidden feelings or emotions that are unresolved. When someone is having alone time or space, each person is safe with their trust and faith.
Related Reading: 

14 Live-In Relationship Rules That Every Couple Must Follow
Conclusion
Whenever you have difficulty communicating, don't let it fester and go on about your day, reach out to a counselor or a third party to get past that stall because it will only damage the partnership.
I found this "informative," if you will, quite helpful on this topic; I hope you do as well.
Professionals and experts can guide and provide you with adequate tools when you're facing difficulties getting a partner to understand; maybe they desire more of a connection, and you need some space, but finding balance is just escaping you. There's no shame in seeking help.
Share this article on
Want to have a happier, healthier marriage?
If you feel disconnected or frustrated about the state of your marriage but want to avoid separation and/or divorce, the marriage.com course meant for married couples is an excellent resource to help you overcome the most challenging aspects of being married.
Learn More On This Topic
You May Also Like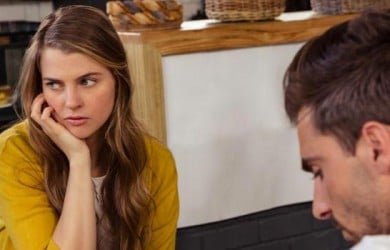 Popular Topics On Married Life