How to Deal with a Conflict Avoidant Spouse: 5 Ways
In every relationship, there is some give and take. Perhaps your partner does things you don't like, and they can say the same for you. However, how do you work things out with your spouse when they avoid conflict regularly? This can be tough for any couple to deal with.
If you experience this, keep reading for information on how to deal with a conflict avoidant spouse.
What is conflict avoidance?
Conflict avoidance occurs when a person refuses to admit that they may have a conflict with someone else. Instead of arguing or fighting, they pretend everything is okay to keep the peace.
This may be able to work for a while in a relationship but having a conflict avoidant partner may cause you to feel like you will be unable to work out your problems. Issues may never seem to get handled because you cannot talk to them.
What causes conflict avoidance?
In some cases, conflict avoidance may have been reinforced when a person was growing up. If they said they were unhappy or acted like they had a problem when they were young, they might have been treated unfairly by their parents or caregivers.
Moreover, when an individual has been hurt in relationships when they felt a problem, they may start to act like there are no problems. Instead, they will attempt to act like everything is okay all the time because they want to please the other person.
They may act this way because they simply have a conflict avoidant personality, or they may have also been diagnosed with conflict avoidance disorder, also known as an avoidant personality disorder. Symptoms include not wanting to be social, being unable to accept criticism, and not taking risks.
If you have a partner with this personality type, you likely wonder how to deal with a conflict avoidant spouse. The first step is to start learning more about this trait. It can further aid you in determining how to talk to them and work through your problems.
5 reasons people are conflict avoidant
There are a few reasons someone may be skilled at avoiding conflict in relationships. Here's a look at the most common reasons to consider. If you note any of these in your relationship, think about reading more about how to deal with a conflict avoidant spouse.
1. They have been hurt in the past
An individual may have been hurt in the past, whether when they were growing up or in other relationships, and this has caused them to keep their mouth closed when they have a problem or have a different opinion.
They may also stay quiet even when you ask them for an opinion since they don't want to cause a bigger fight or upset their mate. You never know how others have acted towards them in the past, so try to be as patient as possible if you have a partner that behaves like this.
Related Reading

: 

Falling in Love Again After Being Hurt
2. They think their opinion may cause an argument
Some people may not want to give their opinion because this can cause an argument. Even if you normally get along and don't have many arguments, they may still go out of their way to avoid upsetting you.
This is okay unless there is something that needs to be worked out. Moreover, this may be when you want to know more about how to deal with a conflict avoidant spouse. You may talk to others for more help or consider therapy.
3. They lack confidence
Your partner may have a fear of being disliked. They may need people to accept and like them, which could cause them to be unable to have a conflict with another person.
You likely didn't cause this, but since you probably don't want to inflict further damage onto your mate or to your relationship, it may be worthwhile to try to learn more about your partner, so you can understand their point of view even when they may not be very forthcoming with it.
Related Reading

: 

10 Signs of Low Self Esteem in a Man
4. They feel like you won't change your mind
Your partner may feel they will not change your mind when you disagree. In other words, they may feel like their argument is futile. If this is the case, let them have their opinion and you have yours.
Together, you can work out whatever argument you are having, even if it takes longer. This may be valid if your partner keeps their mouth closed because they don't think you will see their point of view.
5. They think they are doing a good thing
Have you ever wanted to keep the peace and not upset someone? This may be what your mate is trying to do when they practice conflict avoidance in relationships. It could take a lot of talking and getting them to understand that they can say what they feel.
Moreover, it may take you being understanding to them, even when you don't want to be, especially if they were trying to protect your feelings by not arguing with you about a topic or event.
5 ways conflict avoidance hurts your relationships
While avoiding conflict may not always hurt your relationship, if it keeps happening, some problems can arise. Here's a look at 5 ways it can.
1. Communication may not feel real
Avoiding conflict may harm your relationship because it may feel like your bond isn't real. This can be stressful when you can't talk to your partner about everything and work out differences or talk about your differing opinions.
A 2021 study points out that communication is a top issue for couples and can make them feel unsatisfied. This is why it is so important to be able to communicate with each other, even if you have to learn how to do so.
2. It could cause you to question the relationship
Another way that avoidance can negatively affect your relationship is because it may have you questioning your relationship. Once you notice that your partner doesn't express their opinion or argue with you, it could make you feel like you don't know them or that they have been lying about many things.
Of course, you shouldn't rush to this conclusion. It is important to talk to your mate about this if you feel this way. They may be able to reassure you about how they feel about you and why they don't wish to argue.
Related Reading

: 

125 Good Relationship Questions To Ask Your Partner
3. Trust may be lost
Questioning whether your relationship is based on lies or that you don't know how they really feel about things could cause you to lose trust in them. Again, it would help if you tried not to make big decisions when you feel this way since it may not be fair to your spouse.
Even if they try not to argue with you, this doesn't mean they are lying. While it may be challenging when faced with how to deal with someone who avoids conflict, it is possible, so consider all the things you know about your partner and keep learning more.
4. The same argument may keep coming up
Anytime you cannot work through an issue weighing on your relationship, this can become a problem. Having a spouse who avoids confrontation can cause you to be unable to hash things out and compromise.
This could also cause you to become upset and feel like you have to make all the decisions sometimes. You might think your relationship isn't as good as you would like it to be.
Related Reading

: 

4 Ways To Avoid Having The Same Fight Over and Over In Your Relationship
5. Frustration may be common
Avoiding conflict all the time can leave you frustrated. Sometimes a couple needs to be able to disagree to work through an issue and solve the problem together. When you can't do this with your mate, it may leave you feeling like things are unfair.
Consider that not all arguments are needed; however, this is also a good thing in some regards. When you aren't arguing with one another, it may be harder to be mad at each other.
Of course, disagreements may be necessary, and when you can't have these, you may feel like you are incompatible with your mate. However, there are ways that you can learn more about how to deal with conflict avoidant personality, so hang in there.
5 ways to deal with a conflict avoidant spouse
Anytime you try your best to learn how to deal with a conflict avoidant spouse, understand that there are solutions. Here are a few to think about in your life.
1. Consider how you are acting
You may need to think about how you are acting. If you are often standoffish or hard to communicate with when you get upset about something, you may need to change this behavior first before you try to change your mate.
This doesn't mean that you are wrong, but it may be one of the reasons why your spouse is unwilling to argue with you. If they are sure they will lose or be ridiculed during arguments, they may feel there is no reason to fight with you.
2. Don't expect change overnight
In learning how to deal with a conflict avoidant spouse, you shouldn't get your hopes up too high that change will happen quickly. After all, your partner may have been avoiding conflict for most of their life, so it can be difficult to change how they feel right away.
However, they can start opening up to you and expressing themselves, so give them time to do so.
3. Be grateful when changes happen
Once you do start seeing changes, you should celebrate them. Tell your spouse that you have noticed their hard work and that you are proud of them. This may be exactly what they need to hear to know that you aren't like others in their past.
Moreover, it may offer them the boost of confidence that they need to keep going.
Related Reading

: 

20 Things You Can Do To Feel More Confident In A Relationship
4. Let them talk to you
When dealing with a conflict avoidant spouse, something else that is quite important is that you should let them talk to you. Don't try to force them to say things or express themselves when they are not ready.
Practicing mindfulness while working on communication may help improve the amount of support you can give your partner.
For more information on how you may be able to have a constructive argument in a relationship, check out this video:
5. Consider therapy
It would help if you also considered therapy when trying to learn more about how to deal with a conflict avoidant spouse. This can be in the form of individual or couples counseling, either of which may help you learn all you need to know about communicating with your partner.
On the other hand, it may be helpful for your partner to reach out for mental health support if they feel like they want to. This could help them address past trauma.
Is avoiding conflict a weakness?
Avoiding conflict is not a weakness. There are times when you should do everything you can to avoid a conflict. The trick is to learn when this is necessary and not just avoid conflict because you are afraid of conflict.
You can talk to people you know and trust about how they handle conflict or work with a therapist for more help with this issue.
Conclusion
Having a spouse that avoids conflict can be problematic, but it isn't impossible to learn how to deal with a conflict avoidant spouse.
Consider why they may behave a certain way, be as supportive as possible, and seek therapy when you need to. All of these things may be able to make a difference and improve your communication.
Share this article on
Want to have a happier, healthier marriage?
If you feel disconnected or frustrated about the state of your marriage but want to avoid separation and/or divorce, the marriage.com course meant for married couples is an excellent resource to help you overcome the most challenging aspects of being married.
More On This Topic
You May Also Like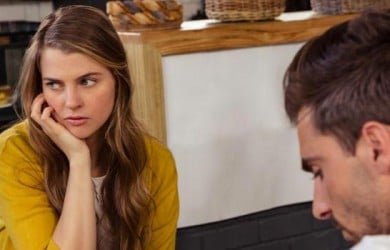 Popular Topics On Married Life