25 Ways To Exude Confidence In Your Relationship
What do you tell yourself as you wake up each morning and go about your day? How does it make you feel? Our constant stream of thoughts heavily influences confidence and self-esteem. That's why how to exude confidence starts with observing those thoughts before changing them.
As the philosopher and Roman emperor once said, "Your mind will take the shape of what you frequently hold in thought, for the human spirit is colored by such impressions."
The 'exude confidence' meaning in relationships
There's a subtle difference between self-confidence and self-esteem: self-confidence is the belief you hold about your skills. On the flip side, self-esteem is based on what you believe about who you are as a person.
This paper summarizes relationship confidence as "the confidence a person has toward their ability to maintain a healthy relationship and handle conflicts in the relationship. In short, knowing how to exude confidence is linked to communication.
For example, how do you assert your needs and boundaries? How do you share your opinions and find a positive way forward for both of you to feel fulfilled? You could be confident in your communication skills, but are you confident in letting someone in and finding compromises?
Naturally, strong self-esteem is part of how to exude confidence. After all, if you're happy with yourself, it's easier to be ambivalent about the success or breakup of a relationship because you know you can count on yourself. That's self-esteem, no matter the outcome.
Why confidence in relationships matters
The good news is that it's slightly easier to work on how to exude confidence rather than self-esteem, although it's worth knowing a bit about both. Essentially, confidence builds on your strengths, but self-esteem is about knowing all your weaknesses and blind spots.
So, why should you know how to feel confident in a relationship? The obvious answer is to avoid being walked all over and get what you want in life. Linked to this is the success of the relationship and your overall well-being.
You enter a positive cycle of improved communication and greater self-esteem as you gain confidence. This, in turn, boosts both your and your partner's well-being along with your self-esteem.
This study shows that self-esteem and relationship happiness are intertwined and engender healthy attachment styles. How to exude confidence will come naturally as you feel secure about who you are.
Emanating confidence as a man
Some men exude confidence at work but then crumble in front of a woman. Just like women, men can also be pressured by unfair societal pressures. In this case, it's more about suppressing emotions.
Moreover, we're all surrounded by media images of beautiful and seemingly perfect people. Interestingly, as this study demonstrates, it's often the perceived confidence that impacts the overall success of social interactions.
So, you can train yourself on how to exude confidence when dating or simply interacting with women. This training can be as simple as watching a video with other men exuding confidence.
Of course, it's helpful to get some pointers for how to structure a conversation and what kind of questions are helpful. Either way, simple training is all it takes to learn how to exude confidence as a man.
Radiating confidence as a woman
Sadly, women tend to be less confident, as this article on the Confidence Gap describes. We often strive for perfection while subjected to social beliefs that act against us. This makes it hard to overcome our fears but not impossible.
If you want to know how to exude confidence as a woman, you need first to understand what stereotypes you've taken on as beliefs. For example, do men make the decisions and handle the money in relationships?
Sometimes, you also need to dare to try if you want confidence in a relationship. State that you want to try something different. You might make mistakes but be open about them to get the proper support from your partner.
The best way to stay confident in a relationship is to let go of perfection. This doesn't mean abandoning high standards. On the contrary, it means that you decide what good enough looks like. Having more accessible goals will help you know how to exude confidence.
25 Ideas for staying confident in a relationship
It's important to be true to yourself to be confident in a relationship. The moment you put the relationship's needs above yours, you've put yourself down. Others see that and treat you accordingly, so your confidence can only decrease.
Instead, work through these points if you want to know how to exude confidence:
1. Check your inner voice
How to have confidence in a relationship starts with observing what you're telling yourself. Our thoughts have power and can influence us in helpful and unhelpful ways.
Most of us have an inner critic that's constantly judging or criticizing us. Now consider whether you prefer to be motivated by being told how useless you are or by being reminded of your strengths?
In fact, in the long run, the human mind responds better to rewards rather than threats, even if they come internally. Those internal threats decrease confidence and self-esteem, as this article on the critical inner voice details.
2. Reframe your beliefs
Once you've observed your inner voice, the next step for how to exude confidence is to start challenging it. For instance, do you tell yourself that all you do is mess up your relationships? Instead, think about what you've learned and how you can apply that today.
Being confident in a relationship also involves finding positive beliefs in yourself and your partner. Write them down in a list as a morning reminder to give yourself an extra boost for how to exude confidence.
3. Challenge your unhelpful thoughts
To exude confidence, you need to believe in yourself and your abilities. You are your own worst enemy, but if someone was attacking you, wouldn't you defend yourself?
It's the same with thoughts. If one of them says you can't communicate clearly, find all the times you've successfully defused an argument. Of course, we make mistakes but not 100% of the time.
Related Reading: 

4 Tips on How to Get Rid of Negative Thoughts in Relationships
4. Visualize
If you want to know how to exude confidence, get used to visualizing yourself as a confident partner in a relationship. As this article on how to use visualization details, our neurons act the same whether we're doing or visualizing something.
Why not use all the tools our minds have given us for how to exude confidence?
If you want to see cognitive defusion in action, have a look at this short and fun video by Dr. Russ Harris:
5. Body language
Again, if you stand up straight, you automatically feel more confident. Psychologists have proven this in a study with children, but it's the same concept for adults looking for how to exude confidence.
Related Reading: 

What Your Body Language Says About Your Relationship
6. Preparation
If you want to exude confidence, a helpful tip is to prepare yourself mentally and emotionally. For instance, if you're rushing from work and jumping into a cab to go on a date, you'll probably be stressed.
Instead, go through the ritual of having a pause after you close off work and before you start getting ready. Calm yourself down with your favorite music and choose clothes that exude confidence.
7. Build your self-esteem
As mentioned, if you want to exude self-confidence, you'll also have to work on your self-esteem. This takes more time and patience, and most people benefit from working with a coach or therapist.
Nevertheless, one of the best starting points for learning how to exude confidence is the self-esteem journal. It has a few simple daily prompts that will refocus your thoughts. So, with practice, you'll start believing in yourself.
Related Reading: 

Self-Esteem Makes Successful Relationships
8. Support from others
Resilience is often part of learning how to exude confidence and self-esteem. One of the shared resources to draw on is our network of relationships.
So, what do others say about you in relationships? What positives do they say you offer? Having self-esteem also means that you believe in good outcomes. You're more likely to believe that if you have a strong group of people supporting you and believing in you.
9. Imagine a friend talking to you
As mentioned, our inner critic is our own worst enemy. We would never dare to say such things out loud to anyone else most of the time.
That's why it can be helpful to imagine a friend when thinking about how to exude confidence. What would they say to you to motivate you? How would they make you feel good and confident?
10. Self-care
Looking after yourself makes you feel good. Caring for yourself means you know your worth and how to care for others as equals. Having that positive relationship with yourself necessarily impacts those closest to you.
In other words, you need to put yourself first to learn how to exude confidence and then stay confident in a relationship. Everybody wins.
11. Know your values
We use values to guide us when we make decisions. They're also how we instinctively know whether we're a good match with a partner. Those who know how to exude confidence do so because they are clear about their values and how they live their lives.
Another great advantage is that your values help you care less about things that don't matter to you. Without the pressure, you're naturally able to exude confidence.
Related Reading: 

11 Core Relationship Values Every Couple Must Have
12. Self-compassion
Confidence in a relationship is linked to how kind you are to yourself. Think about it; if you're constantly criticizing yourself, the chances are that you're grumpy and irritable. Your partner will sense this and get snappy in return.
Be kind to yourself to break that cycle of negativity. That way, you'll also find it easier to be kind towards your partner. If you can forgive yourself for being human, you can forgive your partner and exude confidence together.
13. Mindfulness
A helpful technique for how to exude confidence is mindfulness. You might have heard it mentioned many times before, so you might already have a love-hate relationship with it.
Nevertheless, it can be as simple as pausing whenever you open a door or boil the kettle for a cup of tea. During that pause, feel your feet on the ground and observe your environment with your eyes, ears, and nose.
Using all your senses can help you stay present without getting lost in unhelpful negative thoughts. It's then easier to accept things as they are because you're not listening to judgmental thoughts. That's the key to staying confident in a relationship.
Related Reading: 

Improve Your Relationship with Mindfulness and Meditation 
14. Untangle from your thoughts
This is also known as cognitive defusion, and it's a powerful technique to learn how to exude confidence. Again, this is about disconnecting from your negative thoughts so that they don't overwhelm you.
15. Ground yourself
If you feel worthless and low in confidence, it's easy to get lost in a loophole of despair. We become anxious as we keep telling ourselves that nothing will ever change.
Does that sound familiar? If so, next time that happens, try to ground yourself. Essentially, you want all the negative thoughts and emotions to leave your body and go back to earth.
So, feel your feet on the floor and distract your anxious mind by naming all the objects in the room, for instance. That's just one idea from this worksheet where you can find others that will restabilize you. How to exude confidence will then follow more easily.
16. Accept your partner for who they are
How to exude confidence as a woman means accepting both you and your partner with all your strengths and weaknesses. We waste so much time wishing we were something else or that our relationships were different.
Instead, remind yourself that you both offer great strengths and that you can help each other with them. Don't expect miracles with your weaknesses, but let your strengths combine to cover your downsides.
Related Reading: 

Developing Acceptance Skills in a Relationship
17. Have a life outside your relationship
How to feel confident in a relationship also involves having friends and hobbies. If your whole world revolves around your partner, you're less likely to cope when things go wrong.
On the other hand, your friends and hobbies can act as support and inspiration during any challenging moments. Moreover, your partner will respect you more and appreciate not having someone breathing down their neck.
You'll both feel more stable and generally more confident in your relationship.
18. Practice deep listening
How to exude confidence as a man means listening to your partner. It's a myth that women talk more than men because, as this article summarizes, studies show that it depends on context.
Either way, all human beings appreciate being listened to. Do you know how to listen deeply? That means suspending all judgment, not trying to problem solve, and imagining what it's like to be your partner. This is very different from simply waiting for a pause so you can jump in with your ideas.
The more you do this, the more your partner will listen in return which boosts your confidence. We feel supported and appreciated when being listened to, which does wonders for our self-esteem.
Related Reading: 

The Importance of Art of Listening in a Relationship
19. Imagine your partner's viewpoint
We all want to be correct and have our opinions followed. When they're not, we feel disheartened, and we don't know how to exude confidence anymore.
What if you could first imagine things from your partner's viewpoint? What solutions and ideas would you follow instead? Try it and see if you can resolve disagreements differently
Related Reading: 

How Seeing Things From Your Partner's Perspective Can Boost Your Love
20. Know what you offer
Exuding confidence means knowing your strengths. Of course, we have to be aware of our weaknesses, but our strengths add value.
How to exude confidence means believing in your abilities. So, list those that you bring to your relationship. Ask your partner if you're unsure, and listen to what he appreciates in you to boost self-confidence further.
21. Find the common points
How to have confidence in a relationship also means leveraging each other's strengths and values. After all, you want to build from a common ground of beliefs about life and relationships. That way, you also boost your confidence that you can make this work because you have a solid foundation.
22. Gratitude exercises
Exude self-confidence by appreciating what you have and who you are. As this article on gratitude explains, you change your brain to be happier when you say thank you. You increase your empathy and social connection.
With all these positive feelings, you're more likely to feel good about yourself and how to exude confidence.
23. Make clothes work for you
Let's not forget about the power of clothes to give us confidence. Pick the right colors and outfits, whether you're trying to be smart and clever, sophisticated, or just happy with yourself.
Again, ask your friends for advice if you want. Either way, which clothes make you unique?
24. Open communication
How to exude confidence means knowing how to share your emotions and needs. It also means understanding what your partner needs from you and how you can support each other.
Be clear with yourself first about what you want out of the relationship and what success means for you. Then, use an I statement to describe this to your partner to get their feedback. You'll feel more confident simply by asking.
24. Stop mind jumping
How to feel confident in a relationship also involves being aware of your mind. If you haven't noticed already, it has a fantastic ability to jump to the worst conclusions at lightning speed.
Instead, when you feel yourself churning negative conclusions about yourself, pause and find an alternative positive. For example, my partner hasn't said anything since they came home, so I must have done something wrong.
Perhaps an alternative could be my partner must be tired after work, so I'll let them have a break before we start chatting.
Conclusion
The 'exude confidence' meaning in relationships is tied to how you view yourself and explain your needs. Essentially, you're confident that you can handle conflict and nurture a healthy relationship grounded on trust and open communication.
To improve and exude confidence, you can work on various aspects. These include getting to know your inner voice, using your body language, leveraging your friends, and visualizing success, among other things.
A coach or a therapist can help you jump-start that process by being your trusted guide. They'll help you find your strengths and inner resources to make the changes you need to be confident in your relationship. We all deserve love, and no one should have to suffer alone.
Share this article on
Want to have a happier, healthier marriage?
If you feel disconnected or frustrated about the state of your marriage but want to avoid separation and/or divorce, the marriage.com course meant for married couples is an excellent resource to help you overcome the most challenging aspects of being married.
More On This Topic
You May Also Like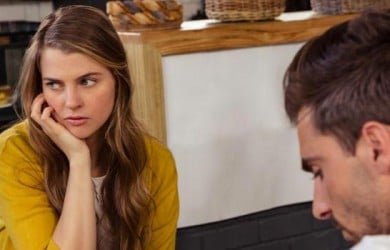 Popular Topics On Married Life