20 Standards That Are Bare Minimum in a Relationship
The bare minimum when discussing a relationship is a phrase used to describe the very least you need from that relationship. The essential requirement you have from the equation is the list you'll have as part of the bare minimum in a relationship.
Bare minimum standards are the minimum requirements from any potential partner that you may have.
It can be confusing figuring out which qualities are meant to be treated as essential demands and which are the ones that are worth sacrificing.
When looking for a partner, you may have things that you might desire but can still do without. However, this article won't be about that bare minimum qualities.
Instead, this article will focus on the minimal requirements you can set to make the relationship easier to manage without expecting too much – just two people being happy and in love.
So, is it time to make a relationship standards list? And what are the things that will make it on the list?
What is the bare minimum in a relationship?
If you have waited a long time to be in a relationship, dated many wrong people, or been single for a long time before finally finding the one, you have to do everything to make it last. It is time to set standards in a relationship that are easy to achieve.
You may always have been strong or independent, but are you happy? If you are, despite not having any relationship that lasts long until your next birthday, then good for you. But if you are ready to commit to low standards in a relationship just to make it last, then go for it.
Setting low relationship standards is better than not having anything at all. If you have had too many past failed relationships due to above-average standards, it's time to change that.
There may come a point in your life when you would realize the importance of having a bare minimum in a relationship so that you will have more chances of making it work.
Examples of bare minimum in a relationship
Here are some examples of dating standards wherein you will have a higher chance of turning it into a fruitful and worthwhile relationship. You have to set the following relationship standards when meeting, dating, or having a serious commitment with someone:
Someone who gives compliments without being asked

Someone who doesn't have an addiction or would borrow money to finance their vices

A person who

respects your boundaries

A person who always asks how your day has been and listen when you answer

Someone who doesn't judge people by race or color

A person who doesn't demand to know all your passwords or snoop through your phone

Someone who likes cuddling or talking when you're together than scrolling through their phone

Someone who is completely over with their ex

A person without a savior complex

A person who can support your advocacies, or at least doesn't discourage you from joining groups

Someone who pushes you to do your best

Someone who always tells you that you can reach your goal

A person who won't hesitate to share their thoughts when you're making life decisions

A person who will stand up for you and the relationship when things get tough

Someone sensitive about how you feel

Someone who won't compare you to other people

A person who says sorry when they are wrong

A person who always finds time to be with you

A person who remembers your birthday or at least keeps it listed where they can be reminded

Someone who doesn't shame you in any way in front of other people or when you're together

Someone who makes you feel special and not used when in bed

Someone only interested in talking about themselves but refuses to listen when you're talking
Meaning of bare minimum for a guy
What's the bare minimum in a relationship for guys? Now that more ladies accept the bare minimum, guys must also do the same. You have to meet halfway.
It's not like asking you to be prince charming suddenly. You can still make your partner feel special without losing your authenticity.
You can begin by sticking to the basics. Here are some examples of dating standards for guys of doing the bare minimum but still making their date or partner feel like they are not neglected:
1. Compliment
Giving compliments is not doing a lot. You won't even have to sweat to appreciate your girl.
You can simply look at her and compliment her hair, how she exerted effort in her makeup, what a lovely outfit she's wearing, and so on.
The fact is that she exerted effort to look pretty. The least you can do is appreciate the effort. It's still doing the bare minimum without letting it show.
Related Reading: 

How to Compliment a Guy- 100+ Best Compliments for Guys
2. Be courteous
Many men had forgotten the simple courtesies that used to be part of the standards in a relationship when your parents or grandparents were still dating. It is not as if the girl expects too much in a relationship.
Some of them may even get surprised by gestures, such as holding the door open for her or moving to the dangerous side when you're crossing the street.
Making this a part of your relationship standards list will make you look good in the eyes of the girl and those who see you doing such a thing.
This bare minimum in a relationship will make your girl feel loved while proving to the world that chivalry is not dead.
3. Speak
Many guys find this hard to do, especially when they realize the relationship isn't worth pursuing. No matter how you view the girl or define standards in a relationship, it would help if you spoke your mind.
What is the bare minimum in a relationship? Talking must always be on top of the list in answering the question.
No matter how you feel, it is better if you'd tell the other person about it. This way, both of you can get enlightened and understand each other better or move forward if that's what you want to happen.
Related Reading: 

Tips on Speaking with Each Other Respectfully
20 bare minimum relationship standards you have to set
What is the bare minimum in a relationship? First, it is not expecting too much, just enough to be happy and feel contented. It is not about having low standards in a relationship. It's doing what's expected to make the other person feel important or human.
To set standards in a relationship, here are 20 examples of the bare minimum in a relationship you have to set:
1. Knowing where the relationship stands and where it is heading
Regarding relationship standards, both people committed to it must let their partners know what kind of relationship this is. While some adults of this generation want to keep things informal or casual, the point will come when you have to decide how to move things from one point to another.
It can never be stuck at one point. It will not work that way. This bare minimum in a relationship will help the partnership grow by understanding one another better.
2. Be attracted to the person
Attraction is a big part of a thriving relationship. Your partner doesn't have to be the most good-looking person in the world. But you have to find something in them you can't resist.
Research shows that attraction is usually based on physical attraction and reciprocity primarily.
Attraction is a bare minimum, meaning in relationships, it will strengthen your bond and make the partnership more exciting.
3. Respect
Aside from being part of a partnership, the two people in a relationship are individual beings first and foremost.
Studies show that according to specific assessment models, respect ranks higher than even qualities like love that contribute to relationship satisfaction.
You no longer need to ask what's the bare minimum in a relationship; you have to give respect to people no matter who they are. And this also goes with the person you are in a relationship with.
4. Don't treat your partner feel like they are Plan B
Instead of asking what the bare minimum in a relationship is, you should start questioning why you committed in the first place.
It's never right to make the other person feel you chose them for convenience. It's part of the low standards in a relationship, and no one deserves such treatment.
5. Make the other person feel like you chose them
It still defines the bare minimum meaning in relationships. It won't take too much effort to make the other person feel like they are chosen. Instead of making them feel like you are settling for less, you must let them know that you'd choose them even when presented with other options.
6. Be there
You have to be present all the time, even not physically, but in gestures and thoughts. Some samples of the bare minimum in a relationship include reading your partner's messages, replying to their texts, remembering their birthdays, and so on.
Related Reading: 

20 Steps to Becoming a Supportive Partner
The bare minimum meaning in a relationship must always have the cliche – the little things matter.
7. Be clear
Before taking the relationship any further, you must let the other person know about your intent. Never leave them guessing because they might see your signs differently, which may lead to arguments and misunderstanding.
8. Accept
Acceptance is a bare minimum in a relationship. It's something that you should do even when nobody tells you to.
Related Reading: 

Developing Acceptance Skills in a Relationship
Watch this video by Jim Anderson to understand that acceptance is the first step in love:
9. Stop finding faults in your partner
You have to be clear, especially when there are misunderstandings. There are always two sides to every story. You both have to hear both sides instead of pointing fingers about who's at fault.
10. Be real
When you lay your authentic self on a relationship table, your partner will not have an excuse to accuse you of not being real.
Being real can be difficult if you don't feel comfortable or want to impress the other person. But work towards it as you can't fake things for too long.
11. Don't be controlling
How can you respect your partner and the relationship if you want things to always go according to your rules? There are two people in the partnership. The bare minimum in a relationship must always include both people in planning and decision-making.
Related Reading: 

25 Signs You're in a Controlling Relationship
12. Don't be controlled
If you want to be respected, you have to act the part. Never allow your partner to control the relationship by keeping your silence when you ought to speak out.
13. Not just sex
It's okay if the two people enter a sexual relationship without strings attached. You are adults. You know what you want. If this is your bare minimum in a relationship, so be it.
However, it's different when you expect more from a relationship. You may be attracted to your partner enough to agree to have a sexual relationship. But the relationship won't progress if you allow yourself to be used despite your inner turmoil and knowing deep inside that you want more.
14. Get satisfied in bed
After discussing what you want to happen in a relationship and both people consented to have sex, that part of the partnership should be satisfying. You both have to enjoy having sex. Otherwise, expect the relationship to go downhill from here.
Related Reading: 

Relationship Expectations – What Should You Do with These?
15. Throw away your excess baggage
No matter how good your past relationship was, it's over. Please leave it in the past where it belongs.
Carrying around the baggage from your past may weigh down your current relationship and the hopes of a better future.
16. Commit
Commitment is always part of the answer to what is the bare minimum in a relationship. Without commitment, there is no relationship.
An agreement on the mutual terms of commitment is essential for any relationship to flourish. Research shows that commitment is increasingly important due to the prevalence of companionate marriages.
17. Be loyal
No matter how liberated you are, when you commit to a relationship with one person, you must stay true to the commitment. If you aren't ready for something serious, don't commit yet. It is as simple as that.
18. Be equals
Both people involved in a relationship have something to give and reasons to make the partnership crumble. Never act as if you are the boss. This will indeed not work in a healthy relationship.
19. Look for factors that make you compatible
You may differ in many ways, but relationships last longer when partners feel the same way about many things.
Try to find things you have in common with each other, as these will help you connect with each other even when there are arguments and disagreements.
20. Talk
Never leave your partner in the dark about anything. It's a bare minimum in a relationship to say what you want and how you feel.
Summing up
A relationship will last longer if both people involved know where they stand and where they would go. If you find yourself stuck and could even meet eye-to-eye in terms of the bare minimum in a relationship, it is best to go through counseling to save the partnership before more things could go wrong.
Share this article on
Want to have a happier, healthier marriage?
If you feel disconnected or frustrated about the state of your marriage but want to avoid separation and/or divorce, the marriage.com course meant for married couples is an excellent resource to help you overcome the most challenging aspects of being married.
Learn More On This Topic
You May Also Like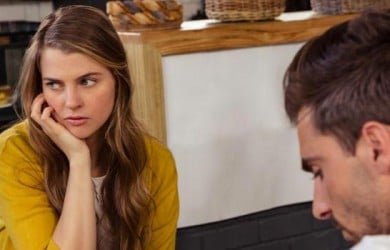 Popular Topics On Married Life