21 Common Double Standards In Relationships & How To Avoid Them
Double standards in relationships are a familiar term for most of us. We also know some examples of it, but how well do you know the extent of a double standard relationship?
By going through this article, you will understand the double standard meaning when it comes to relationships. You'll know the most common examples of it and how to avoid them.
What is the meaning of the term 'Double Standards' in relationships?
We can define a double standard as a policy applied in different manners when it should be treated the same.
Double standards in relationships mean a rule that is being unfairly applied.
It's when a partner very strictly tries to implement a rule but fails to apply it to them.
Sounds unfair?
It is! Sadly, double standards in relationships are more common than you think and show in different situations.
What type of person usually goes for double standards?
You might begin to ask, double standards in relationships aren't healthy, right? So, who would do such a thing?
That's right. A healthy relationship will never have double standards.
It is those who are emotionally abusive people who would hold double standards in relationships.
They would even have a list of reasons why their actions are justifiable and can even blame their partners for why this happens.
21 double standards in relationship examples and how to avoid them
Do you fear that you may have seen the signs of double standards in a relationship, but you may have just ignored them?
Have you ever felt that you've been treated unfairly by the person you love and trust?
If so, here is a list of double standards in relationships and how you can avoid them.
1. Meeting each other's needs
One partner may demand that all their needs be met. They can even resent you because they think you don't have time for them.
However, they also don't exert much effort in meeting your needs.
How to avoid it:
Dealing with double standards in a relationship can be challenging, but in this case, try to show your partner that you can put their needs before your own.
This way, your partner will see your actions of love and will do the same to reciprocate the effort.
2. Treating each other's families
The hospitality one partner shows with their family is over the top, but when it comes to your family, your partner changes. It's like they can't stand to be in each other's presence.
Related Reading: 10 Amazing Tips for Balancing Marriage and Family Life
How to avoid it:
One of the most effective ways to avoid double standards in a relationship is to talk about the issue before it gets out of hand.
Ask your partner why they don't treat your family the same way they treat theirs. Did something happen? Learn what's behind the action, and you'll know what to do next.
3. Transparency towards your finances and spending
Your partner wants you to be transparent with your spending, but when you ask them about their salary, bonus, and spending, they get offended.
How to avoid it:
This is a sensitive issue. You will need to meet halfway and understand each other. You can seek the help of a financial advisor. You can also track your spending together.
4. Your partner's friends vs. your friends
Your partner may show disapproval with your set of friends, but when you start talking about your partner's friends, they will get defensive.
They may even set rules about limiting your interactions with your friends.
How to avoid it:
Try to meet each other's friends and try to get to know them and give them a chance. Some friends may seem naughty and loud, but they're not necessarily bad. Do this both ways.
5. Managing all the household chores
This is another double standard example in a relationship that is subtle.
One partner can just point out what needs to be done in the house, but the other can't because it's their 'job' to take care of the house.
Related Reading: How to Divide Household Chores Fairly in Marriage
How to avoid it:
You live in the same house, so it's just right to talk about it equally. You also need or can divide all the chores equally.
If one of you works, this person can have lighter chores like vacuuming the floor and feeding the dogs.
6. The fight over who needs to watch the kids when you're both tired
At the end of the day, we are all exhausted, and we just want to relax and sleep early. That's not how it works when you have kids.
The double standard here is when one of the partners expects the other to take in the task of watching the kids. They think it's because they have done their part and they deserve to rest.
How to avoid it:
Take a breath and think about where your partner is coming from.
Talk and work together. The kids need both of you, and with proper scheduling and time management, you'll both work on your schedule.
7. Your partner can drink and stay out, but you're not allowed to
A double standard for men is that they can drink and be merry. They can stay out and just enjoy themselves, but you can't. For them, it's not good to see a woman in a relationship drinking and staying out.
How to avoid it:
You can let your partner come with you and meet your friends if he sees that there's no harm done. Set equal time for you to go out and enjoy.
8. Using that time of the month to act rude and be insensitive
This is an example of women's double standards. She can lash out and get angry because of her hormones. If you do the same, you're the bad guy because you don't have to deal with that time of the month.
How to avoid it:
You need to know that having a period is not an excuse. Just put yourself in your partner's shoes, and it'll become clear.
9. The debate of being friends with the opposite sex
Another common double standard in relationships is when one partner will justify that there's nothing wrong with being friends with the opposite sex, but when you do it, then it's already flirting
How to avoid it:
You should start laying out your thoughts on why one can't have the same privilege. Are there insecurities? Are there trust issues to be addressed?
10. One has to pick the call fast, and the other doesn't have to
A partner can get angry if you fail to answer the phone once it rings, regardless of what you are doing. When you're the one calling, your partner can ignore your call because they're busy.
How to avoid it:
Explain why this is a double standard in your relationship. Maybe, your partner thinks that you're not busy, but the reality is, we're just as busy being a housewife. Talking about it can reduce the double standard in your relationship.
11. Saying no to sex
As an example, a woman can refuse to have sex if she's tired, but when a man refuses sex, an issue will follow. He can be accused of having an affair, and he no longer has an interest in his wife.
How to avoid it:
Always try to understand the situation. Instead of resentment, be an understanding partner. Ask if there is something wrong that you can help with.
Dr. Sam Bailey discusses why some men have low libido. Watch her short discussion here:
12. Getting over the 'hurt' quickly
We all hurt each other, and your partner will want you to get over the issue or the hurt quickly. But when they are the ones who feel hurt, you become selfish and insensitive when you ask them to get over it quickly.
How to avoid it:
After a disagreement, you must talk about it. One of you may still want closure about the issue or still has something to say. Worst of all, you may have said something that hurt your partner so much.
13. Disclosing private issues
One partner may be disclosing private details about your problems to other people and justifies it as 'asking for advice,' but you can't because you're disclosing your private lives.
How to avoid it:
If you have issues, talk to each other, not with other people, not unless you're talking to a professional – the only person who can help you other than yourselves.
14. Validating jealousy
This is very common. A girl can be jealous because it's often depicted as love and shows how she is afraid to lose her man. However, a man who becomes jealous is perceived as possessive and suffocating.
How to avoid it:
Both parties should settle this by addressing the issue. Both can feel jealousy, but the best way to show it is by addressing the issue. Why do you feel jealous, and what can 'we' do about it?
15. The expectation that men always have to pay
Most of the time, it's the men who pay for the date. If he asks the girl to split the bill, he is tagged as rude. You're not a gentleman when you can't pay the bill.
How to avoid it:
Learn to understand each other first. Be considerate to one another, and as equals, splitting the bill should pose no concern. Everything can be worked out by opening up and discussing small things that often cause double standards.
16. Talking about the level of privacy
Another unconscious way of having a double standard is when one can ask for the other's passwords, but when it's their turn, they talk about privacy.
How to avoid it:
Privacy works both ways. If you don't want your partner to snoop around your phone or laptop, don't do it to them either. This avoids misunderstanding and resentment. It's all about the agreement of both parties.
17. Only one has the flirting license
Flirting can be a big issue in a relationship. One partner can justify flirting as being friendly, being approachable, or the job requires it but would also be against their partner being friendly towards the opposite sex.
How to avoid it:
Talk about each other's perception of flirting, give examples, and then ask what if it's the other way around? Analyze situations and meet halfway.
18. Humiliation masked as a joke
One partner can humiliate their partners in front of family members or friends and tackle something private, a cause of insecurity, or something embarrassing for the person.
If the person gets hurt, they'd say it's just a joke and to get over it.
Now, if the same thing happens to them, they would get so angry it might even lead to a breakup.
How to avoid it:
We all need to be sensitive. Let us not do something that we know could hurt our partners. If we don't want it done to us, let's not do it to the person we love.
Usually, this is done unconsciously, but with a proper conversation, things can be cleared out.
19. When you're a full-time mom, you don't do anything
For the partner who is the breadwinner, the one who stays at home does nothing but relax.
This is sad because household chores are not easy. If you have kids, taking care of them can be exhausting.
How to avoid it:
Try to accompany your partner with every task they do at home. Try it and see how tiring it is. In fact, the work never ends. Once you understand what your partner is going through, you'll appreciate them more.
20. Demanding a good listener but can't listen themselves
One partner can demand that the other become a good listener, to give all their focus and just listen, understand, and remember.
However, when it's their time to listen, they become too busy.
How to avoid it:
The habit of having a deep conversation and being a good listener can take time. We can avoid double standards in relationships by being the first one to listen more, then show your partner what a good conversation can do to your relationship. Your partner will eventually learn its importance.
21. The privilege of 'me' time
One partner, being the breadwinner, may think that they are the only ones entitled to have 'me' time. When it comes to the one who's managing the house and the kids, it becomes selfish to have a little time to sleep more.
How to avoid it:
Break this double standard by appreciating your partner. Instead of focusing on what is lacking, see how much your partner contributes to your relationship. With appreciation comes gratitude, and you'll see that both of you deserve 'me' time.
Related Reading:How to Find Time for Yourself After Marriage?
How to properly respond to double standards?
Double standards in relationships can be seen in many forms.
For some, there may only be one to two rules having double standards. If this is the case, then this might be unintentional. Analyze the situation and talk about it.
If, in any event, that your relationship revolves around many rules having double standards, then you may need to put yourself first and end the relationship.
You can't have a healthy relationship if you're ruled over by double standards.
Conclusion
Living with someone who may unconsciously or consciously be setting the double standard in your relationship is not easy.
It can even lead to a toxic relationship that may affect how you treat yourself. By knowing the different types of double standards in a relationship, you'll also learn how you can avoid them.
Communicate and compromise, but if this doesn't work, don't be afraid to ask for professional help.
Know what a healthy relationship looks like, and from there, know that you deserve so much more.
Share this article on
Want to have a happier, healthier marriage?
If you feel disconnected or frustrated about the state of your marriage but want to avoid separation and/or divorce, the marriage.com course meant for married couples is an excellent resource to help you overcome the most challenging aspects of being married.
More On This Topic
You May Also Like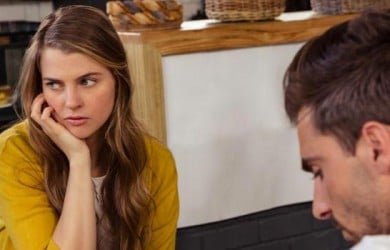 Popular Topics On Married Life