Relationship Checklist: A Guide to Achieving Relationship Goals
We human beings are configured to form and be engaged in meaningful relationships. Connection is a fundamental human trait. Sadly, the way we engage in relationships can sometimes cause pain and confusion in our lives.
What makes up a healthy and successful relationship? How do you define a healthy relationship? This is an important question to ask at certain points in a relationship.
Until you can make a list of healthy and meaningful things out of your relationship you might be heading towards a relationship that is filled with pain and confusion.
No relationship is perfect, as we know it consists of two or more different personalities with different needs, desires, expectations, thoughts, ideas, and expressions.
We must all experience conflicts of interest and needs, but I think it is safer to know the degrees of the conflicts of interest and needs to expect than be surprised.
Below is a relationship checklist for deciding whether or not a new or existing partnership is worth it. Keep reading to get some cues.
What is a relationship checklist?
A relationship checklist is a tool that helps individuals assess the health and compatibility of a romantic partnership. It consists of a list of qualities, values, and behaviors that are important to them in a relationship. By using a checklist, one can reflect on their needs, desires, and deal-breakers.
It serves as a guide to evaluating if a relationship aligns with its core values and goals. It encourages self-awareness and thoughtful consideration, empowering individuals to make informed decisions about their relationships.
Remember, a relationship checklist is a personal tool to help navigate the complexities of love, guiding you toward a fulfilling and meaningful connection.
What should you have on your relationship checklist?
When creating a relationship checklist, it's important to include aspects that are meaningful to you. Consider including elements such as open communication, trust, shared values, emotional support, and mutual respect.
Additionally, factors like compatibility, shared interests, and long-term goals can play a vital role. Your checklist should reflect your unique needs and desires in a relationship, serving as a guide to help you navigate the path to a fulfilling and healthy partnership.
A checklist should include all the elements that come to your mind when you think of how to make your relationship healthy.
Creating a checklist for a healthy relationship
Creating a checklist for a healthy relationship or a list of needs in a relationship is a valuable step toward nurturing a fulfilling partnership.
All you have to do is focus on how to make a relationship healthy eventually. Such a checklist can help you identify the key components that contribute to a thriving and balanced connection.
Consider including effective communication, trust, respect, shared values, emotional support, and healthy boundaries.
Additionally, factors such as mutual understanding, compromise, and the ability to resolve conflicts constructively are vital. By outlining these qualities and behaviors, you establish a framework that guides you in cultivating a relationship grounded in love, understanding, and long-term satisfaction.
Your relationship worthiness checklist
Here's a transformative relationship checklist – a self-reflective companion designed to empower you in your romantic pursuits. This unique guide encourages you to prioritize self-worth, evaluate readiness, and make informed decisions about new or existing relationships.
Is your partner supportive of your life outside your relationship?
Being supportive is the foremost requirement in the healthy relationships checklist. This should also be a part of the checklist before getting into a relationship.
Does your partner encourage you to pursue your dreams, goals, ambitions, hobbies, other familial relationships, and friendships external to the relationship? If yes, you are in a non-toxic relationship with a positive partner. If not, be careful, because that's how a lot of toxic relationships begin.
You should be engaged in a relationship whereby your partner loves and cherishes what you choose, who you choose, how you choose, and when you choose things done outside the relationship.
If he or she is not happy with your life outside your relationship, you should flee or break up with the person because he or she is obviously a toxic person.
Do you engage in active and fair arguments?
Every relationship needs checklists to evaluate their fighting style. A healthy checklist for relationships makes you question if you engage in constructive arguments or not.
Does your partner disagree with the wrongs in your life? Do both of you both have conflicts of interest? If yes, then he or she is the person you should be with. If not, try and work things out between the both of you.
Note: If emotions are boiling over and you end up in explosive fights with insults, break up with your partner. It is a passive and unfair argument and it is not a sign of a healthy relationship.
Yes, partners disagree at some point in their relationship. But it shouldn't be the kind of argument that will lead to physical abuse or insults.
Do you find each other attractive and are sexually compatible?
For most people, they don't develop their physical attractiveness while in a relationship. So it is vital to be with a partner you find physically attractive.
We are not saying you have to be with people who are only extremely gorgeous or have supermodel-like looks, but you do need to find them attractive and compatible.
Talking about sexual compatibility, you shouldn't be with a person who is not compatible with you sexually. Your partner might want both of you to be sexually intimate while you might want to have just sex after marriage – this is an example of a sexually incompatible relationship.
For a relationship to be healthy and successful, you have to be emotionally, physically, and intellectually compatible.
Do you take pride in each other's accomplishments?
Being proud of your spouse is part of the relationship list of needs.
You should be with a partner who proudly brags and gloats about you and your accomplishments to all his/her family, friends, and co-workers.
Is your partner jealous of your accomplishments? It's okay to be jealous of your partner's accomplishments but you should get over it in no time.
If you are in a relationship with a partner who is constantly trying to outdo you, consider breaking up. This partner will always be jealous of whatever progress you made or accomplished. This is an unhealthy competition and it is never good for a healthy relationship.
Do you have common interests?
This is a question that is to be asked before getting intimate in a relationship. Do you both share things in common? Do you both enjoy a particular thing? Are you positively interested and active in the actions of your partner?
You can really enjoy being with someone, but that doesn't mean that you have enough things in common to keep the relationship and conversations alive.
Having someone who enjoys the same hobbies as you is always great and a sign of a healthy and successful relationship. You can spend time together bonding and getting to discover more about each other over a shared hobby or common interest.
It might be that we both enjoy watching some TV programs together, reading some books together, being interested in a type of fashion line or cars, and so on.


Understand the value of shared interests in a relationship through this video:

Extra questions to help prepare the relationship checklist
Building and maintaining healthy relationships requires understanding and effort. Let's explore common questions about the fundamentals of relationships and the importance of using checklists to navigate the complexities of love.
What are the 4 basics of a relationship?
The four basics of a relationship are trust, communication, respect, and shared values. Trust creates a foundation of security, while open communication fosters understanding. Respect nurtures mutual admiration, and shared values provide common ground for growth and connection.
Why is a checklist important in a relationship?
A checklist is essential in a relationship as it helps individuals identify their needs, desires, and deal-breakers. It encourages self-reflection and effective communication with a partner. By using a checklist, you can ensure alignment of values, and compatibility, and establish a strong foundation, leading to a healthier and more fulfilling relationship.
Making informed choices
The relationship worthiness checklist can be a helpful tool that empowers individuals to make informed choices about their romantic relationships.
By considering the essentials of a healthy partnership and using the checklist to assess compatibility, you can find a relationship that meets your needs and values.
Remember, everyone deserves a fulfilling and respectful relationship. Embrace the checklist as a guide to finding love that brings happiness, fulfillment, and a strong connection into your life.
Share this article on
Want to have a happier, healthier marriage?
If you feel disconnected or frustrated about the state of your marriage but want to avoid separation and/or divorce, the marriage.com course meant for married couples is an excellent resource to help you overcome the most challenging aspects of being married.
Learn More On This Topic
You May Also Like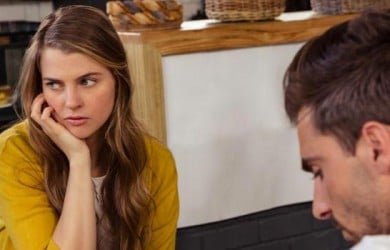 Popular Topics On Married Life