How to Talk to Women: 21 Successful Ways
Whether it is romantic, sexual, platonic, personal or professional reasons, a lot end up spending a lot of trying to understand how to talk to women.
To be fair, women often wonder the same about other people. The fact is that there are huge differences between sexes, which sometimes hinder communication.
These differences are based both on biology and psychosocial development. When we reach adulthood, they are tough to change – in rare cases, it is even possible.
The best course of action is to simply learn how to communicate with other people despite their differences.
So, before we talk about how to talk to women, and what to talk to women about, let us try to understand the basic rules of communicating with women.
Why does talking to women make you shy
Talking to a woman can be daunting for a man as there might be nervousness about how she is going to react to your words and approach.
Biological, psychological and cultural pressures can make the prospect of talking to a woman a daunting one.
You may not want to come off on the wrong foot and offend her or hamper your prospects with her in any way.
Additionally, because of your emotional investment in forming some form of relationship with her, you may get shy under pressure. You may feel that your conduct is under scrutiny and any wrong step will destroy all prospects, which will make you shy around a woman.
Why is it hard to talk to women
Talking with women becomes especially hard due to the fear of rejection that one may feel as a potential in talking to a woman. Whether it is a rejection that is romantic, sexual or platonic in nature, rejection can be a daunting thing to deal with.
Furthermore, talking to a woman also brings in the fear of being misunderstood.
Research shows that men and women usually have different ways of communication. While women seem to prefer stable yet less flexible groups for friendship, men seem to prefer more flexible and less stable friendships.
Due to these differences of approach, you can be afraid that your attempts at talking to a woman may be misinterpreted by her. Instead of making a positive impression on her, the fear is that you may end up making her think negatively about you.
The best way to combat this is by trying to understand women better and being respectful of her at all times.
21 ways to learn how to talk to women
Societal, psychological and biological pressures can make talking to a woman seem like a daunting task. However, it is not an insurmountable obstacle.
Here are some easy tips for talking to a woman that you can try to make talking to a woman easier:
1. Have an open smile
Having friendly body language and facial gestures are an important part of learning how to talk to women. It will let the woman that you are interested in know that you are someone who is good to be around.
2. Complementing helps
A compliment never hurts. Never!
Learn the art of infusing compliments in subtle ways into your conversations. Compliments are a good way of learning how to talk to a female by bringing a smile to her face.
Remember to not get too aggressive with your compliments as they can scare her away. She may feel pressured and run in the opposite direction.
The right way to do this is to use subtle ways to tell her something that you like about her, her taste, her personality or attitude. Don't emphasize it and keep the conversation moving after the compliment.
Related Reading: 

How to Compliment a Girl- 15+ Best Compliments for Girls
3. Maintain friendly eye contact
When you are learning how to talk to women, maintain eye contact with them while you are talking. This will let her know that you are paying attention to her and her words.
However, understand the difference between friendly eye contact and hostile staring. Friendly eye contact puts the other person at ease while staring at a woman will make her feel uncomfortable.
Related Reading: 

10 Powers of Eye Contact in a Relationship
4. Introduce yourself properly
The best way to talk to women you don't know is to first introduce yourself properly. It is polite and gives them a decent opening to get to know you.
Introducing yourself may seem formal, but it can make a huge difference when it comes to communicating with women. It can make her feel comfortable around you as she knows that you are a polite person who knows how to do things properly.
5. A little pop culture doesn't hurt
Trying to decipher how to talk to a woman you like? You can use pop culture topics and references to strike up a conversation.
Pop culture topics are simple and light topics that people can have fun discussing. And the best part, everyone usually has an opinion about these topics that can help you bond while having fun.
Related Reading: 

How the Media and Pop Culture Romanticize Relationships
6. Ask about her interests
Doesn't it feel good when someone asks you about what you like and what your interests are? Make the woman you like feel special by asking her about her interests and hobbies.
Asking about her interests will make her feel special and that you care about getting to know her. It will also help you understand her better and remember details about her that you can mention later to make her feel special.
7. Be yourself
Whether talking to a married woman or an unmarried one, the pressure can make you feel like you need to act perfect and make no mistakes. However, try to be yourself at all times.
Any pretense wears off over time and usually it makes it hard for people to get to know you. The imperfections are how people know that you are real and that they can be themselves around you too.
8. Ask about her hobbies
Are you the type who likes to travel or go hiking? Try to get the woman you want to bond with to talk about her hobbies too.
Hobbies can be a huge part of who you are and therefore, by talking about a woman's hobbies you can make her realize that you are truly interested in getting to know her. It will help her open up in front of you because she is discussing something that she loves.
9. Don't discuss old flames
Treat the topic of old flames as a taboo topic.
The woman for whom you are learning how to talk to women does not need to know about your past emotional investment into someone else.
Don't burden your conversations with someone new with the baggage of your past relationship.
If you constantly talk about your ex or past relationship then you can give the woman the impression that you still have feelings for your ex-partner.
Related Reading: 

Should You Tell Your Partner Everything About Your Past or Not?
10. Establish common ground
An important aspect of any conversation is the connection that you form with the other person. So, spend some time establishing common grounds of conversations with the woman that you want to talk to.
Learn how to talk to women by figuring out the things that both of you have in common. By discussing things that you both have in common you can easily get to know each other with ease and bond over your commonalities.
11. Keep things light initially
Easy breezy, that's how you do it!
Remember, what to talk to women about can change over time. But initially, you should try to keep the conversation light and about topics that are easy to deal with.
Don't intimidate the woman you want to talk to with topics that are dark and intense to deal with. Have fun while you get to know each other and treat it as an important aspect of learning how to talk to women.
12. Make her laugh
Laughter is indeed the best medicine, even when it comes to learning how to talk to women.
Humor can be a great help when you are learning how to communicate with women. It can enhance your sense of enjoyment in a conversation. It also helps you instantly relax and open up in someone else's company.
Once you see a woman laughing at your jokes, you too will also feel less insecure and nervous talking to her.
Related Reading: 

100 Best Love Memes for Her
13. Use self-deprecating humor
How do you talk to women when you are so nervous and feel the pressure building up? Maybe try some self-deprecating humor.
If you are able to make fun of yourself, it will make the woman feel less apprehensive in your presence. You can put them at ease and get their emotional defenses down by doing this.
14. Don't tease her
You are grown so there is no room anymore to convey your interest in someone by teasing them. Once you know them a little bit better you can do this if you feel that they would be comfortable with some playful banter.
Some women enjoy teasing, and then there are others who feel offended and cornered by it. Therefore, it is best to play it safe and avoid teasing when you are figuring out how to talk to women.
15. Listen and pay attention
Focus. Notice. Pay attention.
A good part of any good conversation is engagement by a person in what you have got to say. A lesson in how do you talk to a woman is incomplete unless you learn to really listen to what she has to say.
By paying attention and remembering little things that she mentions, you can make her realize that you are genuinely interested in getting to know her. It will make her realize that conversations with her matter to you.
Watch this video to learn more about the power of listening:

Related Reading: 

The Importance of Art of Listening in a Relationship
16. Avoid tough topics
It is natural for two people to have different opinions on certain topics. So, if you see the conversation with you is headed in a direction that is loaded with tension and differing opinions, change the topic immediately.
Unless you are sure of the other person's point of view, avoid discussing topics like politics and religion.
17. Validate her opinions
Tips for talking to women are incomplete without stating the need for you to validate her opinion and version of things.
When you are learning how to talk to a woman you like, remember that initially there is no need for you to give any reality checks or solutions to her problems. Women seek validation through expression, and you should give her just that.
18. Step back when needed
As tempted as you might feel to talk to her endlessly, learn that the art of communicating with women involves knowing when to take a step back.
Don't overwhelm the woman that you are interested in with words and conversations right at the beginning. Too much of anything can be a bad thing.
Stop if you notice that she is no longer paying attention to you or the conversation. Walk away before this happens and leave her wanting to engage in conversation with you again.
19. Ask questions
Showcase your interest in the woman that you like by asking her questions about her life and her day. Let her know that how she feels and what her experiences have been, are important to you.
By asking questions, you will be giving her a chance to express herself and share with you things that may bond you two together gradually.
Related Reading: 

100 Questions to Ask Your Crush
20. Utilize technology
It is the 21st century, so why not make use of technology to enhance your communication game?
How a conversation with a woman goes can be influenced in a significant way by how smartly you utilize texting, social media and phone calls. You can creatively use this medium to build intrigue, mystery or a sensitive bond over time.
21. Be respectful
And finally, respect is a key component to any healthy human communication.
Respect the woman you are talking to in all ways. Respect her boundaries, her opinions and her choice to continue the conversation or not.
Respect from you will make her feel more comfortable around you
Final thoughts
Remember these easy yet effective tips for talking to women can be utilized in different ways to enhance your communication with women. You can pick the ones that you are the most comfortable with, and those that would benefit you the most.
These suggestions seem to be very obvious on the surface. But, the irony is, most men fail to implement this easy advice most of the time they talk to women. Try them and watch them impact your conversations' direction.
Share this article on
Want to have a happier, healthier marriage?
If you feel disconnected or frustrated about the state of your marriage but want to avoid separation and/or divorce, the marriage.com course meant for married couples is an excellent resource to help you overcome the most challenging aspects of being married.
More On This Topic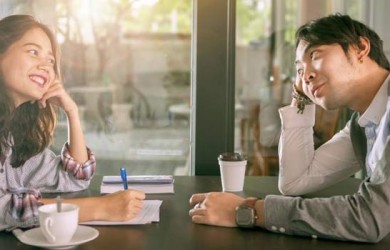 You May Also Like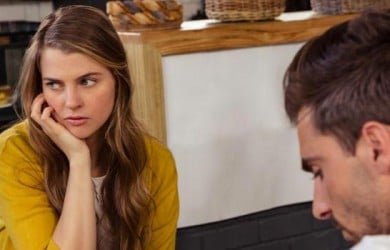 Popular Topics On Married Life