How to Communicate When Your Partner Shuts Down
Experts tell couples to never go to bed angry, but what do you do when your partner shuts down, but you're ready to make up?
What is stonewalling in a relationship? Stonewalling means shutting down emotionally and even refusing to speak to one's partner. It is a damaging and hurtful way to deal with conflict.
Relationship expert Dr. John Gottman finds this trait so deadly to relationships that it is dubbed one of the "Four Horsemen" of marriage.
Your partner may not mean to freeze you out. Stonewalling is simply a coping method used by some when they feel psychologically flooded or overwhelmed. It can be harmful, however, because it prevents progress during a disagreement and squelches communication efforts.
How do you talk to your partner who shuts down, and is this normal behavior? We're discussing all things stonewalling and giving solutions for what to do when your partner shuts down.
What to do when your partner shuts down?
Not sure what to do when your partner shuts you out? It is a confusing situation. Should you…
Continue arguing your point? Which may be fruitless, if they are unwilling to talk to you.

Take a break from the conversation? This can leave you feeling unfulfilled and invalidated.

Break up? You likely do not want to leave the person you love, even if you are frustrated with their communication methods.
Related Reading: 

How to Cope if Your Spouse Stonewalls You
1. Assume the best
Instead of thinking the worst about your spouse: "They don't love me!" or "They don't even care how much I'm hurting," – reframe your thinking.
There is a slight chance that your partner is stonewalling to punish you, and if this is the case, it is a terrible and painful habit they need to break.
However, the more likely option is that your partner keeps shutting down emotionally because they are trying to protect themselves – and you – from further hurt.
Perhaps they are shutting down because they weren't given the proper tools to communicate in a healthy, adult way. Or maybe they are afraid of saying something in the heat of the moment that they will regret and so choose not to say anything at all.
While still frustrating, it can be helpful for you to put yourself in your partner's shoes and understand why you are being shut out by someone you love.
2. Focus on solutions
If your man is shutting you out and distancing himself, your relationship needs help. Instead of zeroing in on whatever conflict you are having, take a step back and look at the bigger picture.
Focus on how to solve, not the problem at hand, but the biggest issue of communication. What is it that is keeping your partner from being able to come to you with their feelings?
Once you solve the problem of why your partner keeps shutting down emotionally, you can refocus on the smaller issues.
Related Reading: 

30 Common Relationship Problems and Solutions
3. Don't do it alone
Being in a relationship where communication is stifled can be frustrating. It is a test of patience.
A partner shutting down emotionally can sometimes feel like a personal attack. It's emotionally draining and may leave you questioning your self-worth.
If you're at a loss for how to communicate with someone who shuts down, don't go through it alone.
Keeping relationship issues private is a kind and respectful thing to do, but sometimes you need a little extra help. Research shows that support from friends or family significantly lower mental distress.
If you are suffering, reach out to trusted friends or family members for support.
Is it normal for couples to not talk for days?
What is stonewalling in a relationship? It is when someone shuts you out of their life, even if only temporarily.
When a partner shuts down and refuses conversations or interactions with you (in-person, text messages, phone calls), that is stonewalling.
The act of being shut out by someone you love can make you feel like your partner doesn't care about you. It is also frustrating to see that they aren't bothered by the lingering disagreement between the two of you.
Not only is stonewalling hurtful, but it is also harmful to the relationship because it indicates that your partner can't communicate in a healthy and respectful way.
The Journal of Divorce & Remarriage cites that 53% of divorcing couples listed "not able to talk together" as one of the biggest issues they faced that ultimately ended their marriage.
Couples may take a momentary breather from a stressful conversation but going days without talking to your partner is a warning sign that your relationship is in trouble.
7 communication methods for when your partner shuts down
Couples who have empathy for one another will have an easier time communicating than those who are only interested in being right. Here are some helpful tips on how to get your partner to open up after shutting down emotionally.
1. Show your vulnerable side
Sometimes the best thing to do when someone shuts you out of their life is to set a good example. Treat them the way you want to be treated.
This means creating a safe, comfortable environment for them to open up to you.
You can lead the way by practicing vulnerability. Be open with your spouse about how you feel. Tell them that shutting you out makes you feel lonely and unloved. Tell them you miss talking to them.
When you aren't afraid to be raw and honest with your feelings, your partner may be inclined to do the same.
Being vulnerable in a relationship can improve communication and trust. In this video are 6 ways to be vulnerable in love:
Related Reading: 

16 Powerful Benefits of Vulnerability in Relationships
2. Don't take it personally
It's easy to take things personally when someone shuts you out of their life, but try your best not to let your partner's behavior hurt your heart.
When a woman shuts down emotionally, you may feel like you've done something wrong. It can be painful to think your partner is choosing to withdraw from the conversation instead of working things out together.
Try and remember that shutting down emotionally is usually a response to feeling overwhelmed, not a choice to be purposely disrespectful.
Related Reading: 

What To Do When You Feel No Emotional Connection With Your Husband
3. Ask questions to draw them out
When your partner shuts down, do your best to ask questions to bring them out of their shell and back into the conversation.
Can you tell me how you're feeling?

What can I do to help?

How can we resolve this as a team?

Is there something you want to talk about?

Can you help me to understand the situation from your perspective?
Such questions, when asked calmly and respectfully, will help your partner to see that you are genuinely interested in their opinions. You will reassure them that you are still on the same side, even when you disagree.
Related Reading: 

125 Good Relationship Questions To Ask Your Partner
4. Stay calm
The quickest way to derail any form of communication when your partner shuts down is to lose your temper.
Recognize that when a woman shuts down emotionally (or a man!) it is because she is trying to protect herself from getting hurt. Maybe she had a bad experience with a parent or former partner, and she is afraid to be yelled at or abused in some way.
Shutting down emotionally is often a form of self-preservation. Once you understand this, it will make it easier to understand how to communicate with a man who won't communicate.
Stay calm and give your partner space. Validate their feelings by explaining that you understand their need to process and that you would like to take a break and reconnect at a specific time to discuss the issue.
Related Reading: 

14 Tips on How to Control Your Emotions in a Relationship
5. Be patient
Patience will go a long way when you are learning how to communicate with a man who won't communicate.
Knowing what to do when someone shuts you out is a learning process. You need to get to know each other on a deeper level, figure out your triggers, and process how to communicate respectfully.
The whole process will take some time. It isn't easy to undo someone's inclination to emotionally shut down to avoid conflict.
Be patient. Don't try and force your spouse to open up before they're ready. Instead, give them time to process their feelings and let them know that you are ready to talk when they are.
6. Revisit how you choose to communicate
Stonewalling is not an effective method of communication, but it is helpful to assess if you are doing anything that contributes to your partner shutting down emotionally when you're trying to have a conversation.
Do you tend to overreact to things? If so, it may make your partner nervous about opening up to you about important topics.
Take a look at how you speak to your partner. Do you snap at them during disagreements or make them feel stupid?
Try rephrasing how you say things. Instead of attacking your partner when you are frustrated, attack the problem as a team.
Related Reading: 

8 Essential Tips to Communicate and Connect with Your Partner
7. Try counseling
Couples therapy can be great for partners who emotionally shut down during communication efforts. A counselor can help couples learn how to engage each other in a productive conversation during a disagreement.
If you're unsure what to do when someone shuts you out but aren't comfortable seeing a marriage counselor, why not try an online marriage course?
The lessons are effective and can be done at your convenience. This Marriage Course teaches couples:
How to resolve conflict

How to be a team

How to build traditions as partners

How to feel heard and listen better

How to understand each other better
While this course is not a replacement for in-person counseling, it can help couples draw close and tackle communication issues that cause them to feel emotionally shut out.
Takeaway
It is hard to know what to do when your partner shuts down. Communication becomes an impossible task, and you may even feel hurt at being shut out by someone you love.
Instead of getting angry, take a deep breath and take a break from the conversation. Once you are calm, you can return to your spouse with a clear head.
Don't take your partner's shutting down emotionally personally. Though it is frustrating, it is their coping mechanism, not an attack on you.
Learn how to communicate with someone who shuts down. Ask questions to draw them out and offer your encouragement for them to open up.
Be patient as your spouse learns that shutting down in a relationship is not healthy.
Not sure what to do when your partner emotionally shuts down? Seek professional help. Counseling can be a great tool to learn new communication methods and understand each other better.
Share this article on
Want to have a happier, healthier marriage?
If you feel disconnected or frustrated about the state of your marriage but want to avoid separation and/or divorce, the marriage.com course meant for married couples is an excellent resource to help you overcome the most challenging aspects of being married.
More On This Topic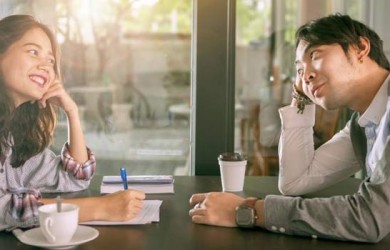 You May Also Like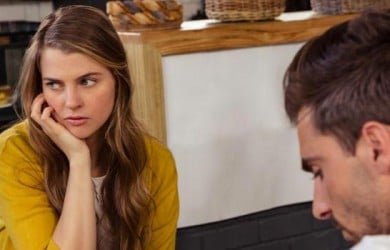 Popular Topics On Married Life