How to Recognize When Arguments in a Relationship Are Healthy?
Now, we all have those friends who claim that they are so in love with their partners that they have never had a spat or an argument, ever.
And we also know every one of them to be downright liars. Every relationship, be it romantic or platonic has had their fair share of spats.
Many say that your romantic partner or your spouse knows you the best, even more so than your parents or siblings. With such openness and no secrets, comes a lot of judgments and I told you so – hey, we are all human here.
However, contrary to millennial belief, a healthy argument is suitable for any relationship, especially a romantic one.
So, how to recognize when arguments in a relationship are healthy and when they are not?
Learning how to recognize arguments in a relationship are healthy
First and foremost, a healthy argument will have an endpoint to it.
Both of you will be moving towards a goal. For example: arguing about the best neighborhood to buy a house in? Or about the kind of school you want to send your kids to? Or which side of the family is coming to visit the next holidays?
Some couples argue for their partner's benefit when the partner is too blind-sided to see it. To know the direction of the argument is one answer to "how to recognize when arguments in a relationship are healthy?"
A healthy argument may see few raised voices, frustrations, or silence for a couple of hours/days, but it is never about getting angry or losing one's control over the essence of the matter.
A healthy argument is about different point of views or disagreements, never anger.
As mentioned, keeping one's cool and temper is the epitome of being a gentleman or lady. You get upset, you get frustrated, or you may even get angry, but what you choose to do with that anger – matters the most. To recognize when arguments in a relationship are healthy, you must observe the pattern of behavior, actions, and reactions.
Do you place your ego or anger over your relationship or the people in your life?
Put your partner's point of view first, and put yourself in their shoes. You have spent quite some time together, and you should know your partner best. If you cannot let go of a few things here and there and compromise then is there any difference between you and any acquaintance they have?
Unhealthy argument tell-tale is when anyone starts to get defensive
If your stance changes and you refuse to be respectful enough even to consider the other's idea, then that is a major red flag.
Unhealthy arguments are those which do not have an end goal to it. Therefore, they can go on for days, even months at a time. You also lose the ability to listen to your partner. You do not want to give them respect enough for them to voice their ideas or opinions.
If you want to learn how to recognize when arguments in a relationship are healthy, then you must also remember to remain tolerant.
The primary thing to think about is how you can help out your partner be a better person.
Remember, we are not born perfect nor complete. It is our romantic partner who can help us be a better version of ourselves – hence, the idea of soul mate.
Which means that you have to function as a unit and. For example: How can I help my partner? What can I do to make them see? Should I backup this time?
The problem arises when you start deflecting and play the blame game; where the word 'You' is thrown a lot instead of 'I'.
Accept your mistakes, admit when you are wrong, and learn to take proper and due responsibility.
All is not lost. If you find yourself in the middle of a storming unhealthy argumentative phase, worry not. You can still turn it all around.
The first major step would be to accept that you want your partner to be happy – both of you. Plus, even trying to learn how to recognize when arguments in a relationship are healthy, is a positive sign.
Have a sit-down discussion, and put each other before yourself. No one is asking you never to fight.
A good and healthy fight can often lead to catharsis, which is good for every human being. However, it is just as essential to be able to identify where the fight is going beforehand so as not to damage the relationship too much. At this point, a visit to a couples' therapist would be great. A therapist will be able to guide you to have a healthy argument safely and properly.
Share this article on
Want to have a happier, healthier marriage?
If you feel disconnected or frustrated about the state of your marriage but want to avoid separation and/or divorce, the marriage.com course meant for married couples is an excellent resource to help you overcome the most challenging aspects of being married.
Learn More On This Topic
You May Also Like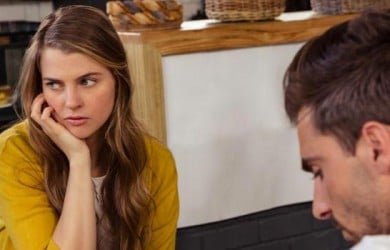 Popular Topics On Married Life