6 Tips for Making Your Marriage Work Through Life's Challenges
When you get married, you expect the passion and romance to last forever. Couples expect a lot of "better" while forgetting that "worse" is also a part of the deal. As John Lennon said, "Life is what happens while you're making other plans." There will never be a shortage of challenges.
Here are some useful tips to get through challenges of marital life
1. Be appreciative of your spouse
No one wants to feel like they are taken for granted. That goes for your spouse as well. When small kindnesses and courtesies aren't appreciated and recognized, they would not be repeated later on, and so both of you lose.
Did you receive a gift or experience an unexpected act of kindness from your spouse? He deserves a "thank you" for that, just as much as a friend would. On occasion, write a thank you note by hand. It's likely the note will be saved and reread. In fact, during future low points in the marriage, such tangible reminders of past thoughtfulness can be helpful.
2. Few secrets stay buried forever
If you max out a credit card and try to hide it, expect that at some point your spouse will find out. Your partner might try to use the card and be declined. It would show up on the credit score. A problem that could have been addressed as a couple, has now become a long-term deception and breach of trust.
It's better to trust your partner with an unpleasant fact than to cover it up because you're embarrassed or ashamed. The longer something is concealed, the harder it is to tell your spouse. Swallow the bitter pill early and move on together.
4. Honesty, yes – Hurtfulness, no
There's a big difference between concealing an important truth and blurting out everything that comes your to mind, especially during a fight. If your partner is sensitive about weight or going bald, it's unfair to make fat or bald insults. You know your partner's vulnerabilities just as he knows yours.
Using those vulnerabilities to inflict pain is a lose-lose tactic with extremely negative long-term consequences. Helping your spouse become stronger and better able to handle their weaknesses is much more productive than cutting him or her down with nasty comments.
5. Put your marriage first
That's easy to say but can be hard to do. When another family member needs a lot of care, such as a sick or disabled child or relative, it's understandable to put the marriage on the back burner. Don't let that become the new reality. Research found higher divorce rates in some cases, lower than average in others. Couples who put their marriage before other things, not surprisingly, do the best.
Prioritizing other things over your spouse can be incredibly damaging to your marriage. Frequent business trips can result in emotional isolation for both while the at-home partner functions as a single parent. It may be necessary to decide if your job is demanding too high a price on your marriage.
6. Counseling can help
Some couples swear counseling services saved their marriage. Others say they tried counseling and it didn't work. A counselor can't wave a magic wand and make everything better. Improving your marriage takes commitment and soul-searching.
A trained, neutral third party can provide a lot of insight into the relationship. You learn better ways to handle life's challenges. It takes hard work and time, but a stronger, healthier marriage pays a lifetime of dividends.
There will always be rough spots. It's normal to think about calling it quits. Before you get to that point, treat your marriage and your spouse with respect and love. Even seemingly minor changes, such as expressing appreciation for small actions, can make both spouses feel better about themselves and their partner. Your marriage is as unique as the two of you. It can be better than you ever thought it would be when you said, "I do."
Share this article on
Want to have a happier, healthier marriage?
If you feel disconnected or frustrated about the state of your marriage but want to avoid separation and/or divorce, the marriage.com course meant for married couples is an excellent resource to help you overcome the most challenging aspects of being married.
Learn More On This Topic
You May Also Like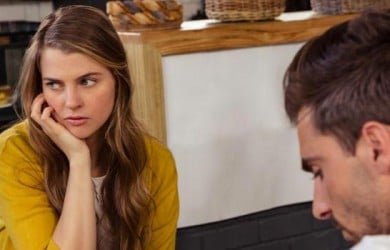 Popular Topics On Married Life