What Do You Do When Negativity Takes Over Your Relationship
Negativity can easily spiral into being a pervasive part of your relationship without you even realizing it. Criticism and blame often justified in tough times, are more than enough to cause a disconnection between partners.
Despite getting through transitions or unexpected stressors (i.e. job loss), the residual negativity can linger after things have been resolved (i.e. finding employment). Such negativity can be consuming to the point where you easily forget what drew you and your partner together initially.
Many couples facing negativity in a relationship often describe feeling like there is no way out. It can be compared to a car ride where one moment you're smoothly driving and the next, you're on the side of the road with smoke coming out of the hood. It may feel sudden, but it's likely you neglected some maintenance and oil-checks along the journey of your relationship.
Perhaps you ask your partner to pick up some items that you need for dinner and they return missing an ingredient. You may react with "You never pay attention!" Your partner may then respond with "Well you are NEVER happy no matter what I do! You are impossible to please!"
What is the narrative that you take away from the moment of discovering a missing item? Is it wholly negative? Do you appreciate that your partner got 95% of what you needed? Or is the dominant takeaway that your partner always lets you down?
If you habitually focus on what you "don't have" (the missing ingredient), that theme could easily take on a life of its own in your relationship on a bigger scale. Facing negativity in a relationship is not much of an occurrence but an attitude problem. To understand how to keep negativity out of your marriage you need to understand how negativity works.
Negativity breeds negativity
Negativity breeds more negativity and once it begins to spiral, it can wreak havoc on connection, intimacy, and conflict resolution. The culprit may not lie necessarily within your relationship, it could stem from the temperament at work or with friends. That energy can seamlessly follow you home, infiltrate your relationship and everyday interactions. The negativity that you are facing in your other spheres of life can quickly transform into facing negativity in a relationship.
Facing negativity in a relationship is not just bad in itself, but it also blocks the flow of positive sentiments. If most of your mental space and energy is focused on what is lacking and on disappointing moments, you will have very little room to see what is going great.
This can leave you in a perpetual cycle of negative filtering.
What is negative filtering?
It is best defined as blocking out all of the positive and only allowing the negative information to be attached to an experience. For example, your partner may comment on how great the dinner turned out, but your initial thought is, it would've been better if you had gotten the parsley.
Why is it that we can recall painful moments in our relationships with greater memory, vivid detail, and emotion than we can the good times? Why do the memories of facing negativity in a relationship take over the positive memories?
Our brains react to negative stimuli much stronger than positive as a survival tactic. It is designed to keep us out of harm's way, therefore anything that signifies threat or danger will be more intensely remembered.
So what can you do if any of this sounds familiar in your relationship? First, you should ask yourselves, "Are you attempting to resolve core issues or are you simply on a merry-go-round of complaining?"
How to stop negativity from killing your relationship
It is important to note the difference between complaining (or criticizing) vs. expressing concern for breaking the cycle of negativity in your relationship. Complaining sounds like, "You always let me down! You are not dependable!"
On the other hand, expressing a concern highlights your feelings, needs, and ends with an actionable step or gesture to have more preferred moments. A concern might be, "I feel unappreciated when you don't pitch in with cleaning after dinner. Could you do the dishes in the morning before you go to work if you aren't up for it tonight?"
Ways to keep negativity out of your relationships
As a licensed marriage family therapist, I often challenge couples facing negativity in a relationship, to begin with committing to a week of "no-complaining". Many are fascinated to see just how hard it can be. This sort of exercise can help you to check your negative filtering and get a grasp of just how much you complain rather than express concern.
Note that for every negative comment or complaint, five positive interactions are required to sustain a stable and healthy relationship, according to Dr. John Gottman, a psychologist who has done extensive research on relationship health.
As you start to deliberately clear out the complaining, you will make more room to notice the strengths in your relationship and appreciate the things that you value most in your partner. The irritable feeling of facing negativity in a relationship will eventually subside.
Essentially, there must be enough "love gas" in the tank so that you can make it through when rough weather occurs. If you want to know more about how you can decrease the negativity and replenish your relationship with more harmony, check out "3 Tips to Stop the Complaining Before It Breaks You Up"
Share this article on
Want to have a happier, healthier marriage?
If you feel disconnected or frustrated about the state of your marriage but want to avoid separation and/or divorce, the marriage.com course meant for married couples is an excellent resource to help you overcome the most challenging aspects of being married.
More On This Topic
You May Also Like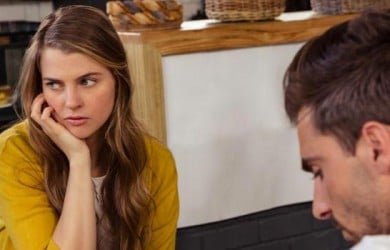 Popular Topics On Married Life