11 Reasons Why Long-Distance Relationships Don't Work
There's beauty in every type of relationship. Love, as a matter of fact, alleviates most of the troubles when it comes to relationships. Especially in the present era of long-distance weddings, a relationship looks like a hopeful option to start with.
There have been many opinions on long-distance relationships based on people with experiences and studies. Let's know why long-distance relationships don't work and what you can do to fix them.
Related Reading: 

Long Distance Relationship Problems and What to Do
How do you know a long-distance relationship isn't working?
If you have an inkling that your long-distance relationship isn't working, look at what's contributing to the thought or causing breaking up long distance. Often, if something's not working, you'll recognize it deep down, even if the feeling is a slight hint or tinge.
Have you noticed that any of the reasons long-distance relationships don't work out are showing up in your relationship? Maybe, you feel like catching up virtually takes a serious toll on you and, where many long-distance couples see each other periodically, real-life contact never happens in your relationship.
What can help? In this scenario, taking regular trips to see one another can help you get some quality time in, and explicit communication about when the relationship will move from long-distance to in person might be helpful.
Ultimately, you want your long-distance relationship to be face-to-face, so it's important to work with your partner and troubleshoot any long-distance relationship troubles that show up in your partnership.
Related Reading: 

Mistakes Many Long Distance Couples Make

 
What percentage of long-distance relationships fail?
A study found that 40% of long-distance relationships fail.
While not every long-distance relationship will go wrong, and there's nearly always nuance when it comes to the ins and outs of individual romantic partnerships, it is true that people in long-distance relationships face unique struggles.
With that in mind, the question is this: Why don't they work? Is there anything that you can do if you're struggling in a long-distance partnership?
Related Reading: 

When to Let Go of a Long Distance Relationship
11 Reasons why long-distance relationships don't work
So, why do long-distance relationships don't work? Why do long-distance relationships fail? There could be various problems with long-distance relationships.
Here are eleven things that can strain long-distance relationships:
1. Catching up virtually can be taxing
Say that you or your partner, as many people in the modern world, work with computers and phones. If that's the case, the last thing you want to do after work is spending more time on the computer or phone.
At the same time, you want to catch up with your partner and spend quality time with them. As a result, you may experience frustration or start to resent the fact that you can only communicate over video chat, text, and phone, which is one of the main reasons why long-distance relationships don't work.
2. Conflict resolution isn't the same
Conflict resolution can be difficult in long-distance relationships. When you're face to face, there's not only a greater chance for picking up on non-verbal communication, but you don't get to sit with your partner after conflict.
At least, not in a physical sense. Conflict resolution has to be a lot more intentional and may take additional patience and dedication when it's dependent on a phone or video chat conversation only.
Hanging up can feel abrupt, and the feeling of conflict can linger even if you've talked it out and are confident about the resolution.
Related Reading: 

Why Conflict Resolution Skills Are Important in a Relationship
3. Conflict itself isn't the same
Conflict is part of every relationship; it's inevitable. Similar to the process of conflict resolution, arguments themselves are different when the conversation is always and unavoidably over the phone or computer.
There's more room for misunderstanding. If you do hang up before fully resolving an argument – even if it's the healthiest thing for you to do and you need some space before continuing the conversation – it can be particularly painful.
4. You might start wanting different things
In life, we're always learning and growing. What happens in long-distance partnerships is sometimes that, regardless of what life stage you're in, you grow in a different direction from your partner – and you might not even realize it right away.
Where you can tell that you're growing apart in real-time in face-to-face partnerships, you might not realize it until much later on when you're long-distance.
The fact that you've grown apart might hit you all at once, whether that's the next time you're together in person or after weeks (or months) of virtual conversation that starts to drift off.
Related Reading: 

How To Know What You Want in a Relationship?
5. Emotional ups and downs
It's true that we all go through emotional ups and downs and that every relationship has ups and downs. However, the ups and downs that come with long-distance relationships can be unique or even more intense.
There could be intense excitement surrounding the one time per year, let's say, that you get to see each other and major downs when you're apart. You might get very excited for a virtual date night and fall flat once it's over, wishing that they were there with you.
The longer you spend as a couple who don't get to be together in person, the more painful this can get, and sadly, even when it's paired with deep feelings of love and appreciation, the feelings that come with being apart can start to strain the partnership. Being apart can hurt.
Related Reading: 

Ways to Manage the Ups and Downs in Your Relationship
6. You don't get to see each other's daily lives
Sharing photos of your day and having virtual dates can help, but at the end of the day, a long-distance relationship means that your lives are more separate than that of an in-person couple.
The ins and outs of daily life become a big part of a lasting relationship, and missing those small details (or, in some cases, the big ones) as a result of distance can lead to a lack of connectedness or a void in what you know about how your partner leads their daily life.
Especially, if the relationship has always been long-distance or if you're a couple who met in person but ends up spending years apart.
Why don't I know their coffee order? Who knew they were that messy? How did I not realize that they drank so much? Why don't they brush their teeth in the morning? Some of these details don't matter much, but others are ones that you don't want to miss.
7. There's room to hide
Trust can become a concern in long-distance relationships. Maybe, you aren't hiding anything from your partner, but what if they're hiding something from you?
This doesn't only happen in long-distance relationships, but sadly, the potential for this to happen is increased in a long-distance relationship.
Related Reading: 

How to Build Trust in Long-Distance Relationships
8. You're not on the same page
One of the reasons why long-distance relationships don't work is that one person is, at some point, ready for the long-distance status to change.
They want to solidify things and move closer. Perhaps, the other person thought that they were ready, too, and when talking about plans casually, it seemed that you were on the same page. When the time comes, however, they realize that they aren't ready for that life shift.
They got used to the emotional intimacy without the commitment, and now that the commitment is here and the other person's ready to make a move, they realize that it isn't what they want.
This scenario is more common than it seems, and it's the precise reason why you have to be extremely communicative and introspective in long-distance partnerships.
Also Try: 

Are You And Your Partner On The Same Page Quiz
9. It's hard to level up in intimacy
It can be hard to level up in intimacy in long-distance relationships, and though it can be a factor, that doesn't just go for physical intimacy. There's only so much intimacy that you can get through digital communication.
This can halt the progress of the relationship, cause frustration, or lead to growing apart from one another.
Related Reading: 

How to Be Intimate in a Long-Distance Relationship
10. The novelty wears off once you're together
Alongside the possibility that you won't be on the same page about the long-distance status of the partnership at some point, research shows that it's relatively common for couples who were long-distance to break up within about three months of being together in person.
This is often due to the fact that the novelty of seeing one another wears off. After all, when you don't see someone often, it's exciting when you get the chance to do so. You start to see each other's flaws, and what was once limited to the imagination is now a reality.
11. It just isn't the same
There's nothing like getting to look someone in the eyes face-to-face or getting to hold their hand. Ultimately, missing out on these things tends to be one of the biggest strains on a long-distance relationship.
Related Reading: 

How to Make a Long Distance Relationship Work
How to make a long-distance relationship work?
Can long-distance relationships work?
Well, every coin has two sides. While there could be reasons why long-distance relationships don't work, the good news is things can still go uphill with the right approach and willingness despite the long-distance relationship issues.
When it comes to long-distance relationships, count on technology because it is going to aid a lot in bringing you two closer. And if you are committed, confident and have fun together, there's definitely no stopping.
Related Reading: 

Ways to Avoid Long-Distance Relationship Drama
Check out this video for more information on how to make your long-distance relationship work:

Conclusion
If you're committed to a long-distance relationship, especially if you know that you'll be able to rekindle in a set amount of time, it's possible to make things work and avoid the LDR breakup.
For the 40% of people long-distance relationships don't work out, there's the 60% that have a lasting relationship.
Listen to your gut feeling, and don't be afraid to ask for help. If you are worried about why long-distance relationships don't work and scared to step into one or you're struggling with an existing long-distance partnership, seeing a therapist or counselor is a way to find unbiased professional support.
Share this article on
Want to have a happier, healthier marriage?
If you feel disconnected or frustrated about the state of your marriage but want to avoid separation and/or divorce, the marriage.com course meant for married couples is an excellent resource to help you overcome the most challenging aspects of being married.
More On This Topic
You May Also Like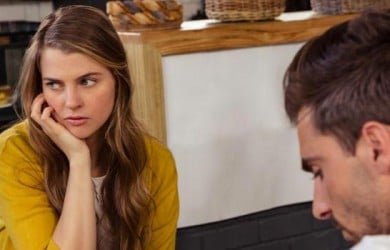 Popular Topics On Married Life