4 Mistakes Many Long Distance Couple Make
Long distance relationships are hard to maintain. Couples in such relationships not only face the brunt of long distance but also physical and emotional loneliness.
In line with this, most people have come to believe that long distance relationships never work. For some reason, the odds are always stacked against such relationships. With that said, we have seen such distance relationships that have turned out great.
The key lies in getting to know and understand each other. After all, if you understand the underlying reason why your partner is away, there shouldn't be an issue.
But that isn't always the case. Long distance couples don't take time to familiarize with each other (thanks to the long distance) and if by chance they do, the conversations are always plagued with suspicion and secrets. In such a situation, it becomes extremely important to avoid behavioral tendencies that can escalate into distrust and jealousy ultimately ruining a lovely relationship.
So, we have compiled a list of mistakes most long-distance couples make which you must avoid if you are to have and keep your long distance relationship intact.
Related Reading: How to Make a Long Distance Relationship Work 


1. Playing blame game
Most couples embrace blame as an option in their relationship. Long distance communication can be 1000x more difficult. Putting blame on your partner becomes easy because it becomes almost impossible to judge context over a text message. As a result, the relationship becomes strained in terms of communication leading to frustrations.
Eventually, their texts culminate into "He doesn't do his share." "She blows up over nothing." "He's not even trying." "She doesn't care." Some people refuse to accept their mistake and move on others would rather result in fighting back verbally or in worst case scenarios physically. You can avoid all of this by simply not blaming your partner and opening channels of communication as much as possible.
Related Reading: 10 Ways to Survive and Thrive in a Long Distance Relationship 
2. Letting jealousy and insecurity rule
Some people suggest that little jealousy can be good for your relationship. But if you are constantly insecure about your partner's whereabouts and company, then it is a sign of emotional immaturity in the relationship.
Insecurity is linked with jealousy and brings a lot of misery just sitting down depressed and over-thinking about your partner. In addition, jealousy, insecurity brings about over-possessiveness and trying control you're your partner's life and bulldozing your ideas into their life.
Most of the times, it happens because individuals have been hurt in the previous relationship or have been let down. Failing to understand this predicament could cause damage to your relationship!
To end all this misery, you need to be honest, make himher feel secure, and try to reassure them that whatever you are doing is nothing to worry about.
You may hit a step further by introducing him/her to your friends; even if it's on camera.
Related Reading: 6 Ways on How to Build Trust in Long-Distance Relationships
3. Prioritizing communication
A healthy relationship revolves around high levels of communication for it to flourish. Although you don't need to Skype or call every day, you need to make efforts to communicate otherwise it'll be a long, rough, and dusty road.
With that said, communication doesn't have to be forced. Many long-distance partners try to force communication every time they happen to have some downtime. This is because many fear not communicating will lead the relationship into fading away.
Forced communication is counterproductive as no grown-up would appreciate having a gun by their next in form of 'communication'.
To iron such an issue before it's too late, both of you are expected to keep communication as casual as possible. As an added bonus, it's always good to appreciate that life can get busy at times and it doesn't cost by conversing as if you are in the same room.
Related Reading: 9 Fun Long Distance Relationship Activities to Do with Your Partner 


4. Allowing external influence into your relationship
It is very hard not to find that one friend who is always on your business and very nosy on your personal life. When you are in a long distance, these are the kind of friends giving you all manners of advice (both positive and negative). One time they will tell you how lucky you are another time they'll say that long distance doesn't work.
If you choose to listen to them, you will be misleading yourself and your relationship will be a wreck. At the end of it all, they will have the last laugh by making jokes about you. You surely don't want such negativities in your life. Remember that you and your partner are the only persons who know about your relationship status, not them.
The right decision to make in such circumstances is to appreciate the advice but also take into consideration your partner's opinion. You can borrow a leaf from this statement, "Thanks for the advice, but with all due respect I'm going to make any decisions about my personal life with the person I'm in a relationship with."
Also watch: How to Avoid Common Relationship Mistakes
The take home
Knowledge is the best weapon to have when dealing with relationships. If you are having issues in your current relationship don't be astonished, each and every relationship is under some kind of pressure. A long distance relationship can be strained, if the individuals involved keep on making the above mistakes.
However never lose hope in your relationship especially in cases where you've established that your partner is committed and is striving hard to keep the relationship strong, just like you. You don't want to ruin a healthy relationship with immaterial tantrums only to end up regretting later.
Related Reading: When to Let Go of a Long Distance Relationship
Share this article on
Want to have a happier, healthier marriage?
If you feel disconnected or frustrated about the state of your marriage but want to avoid separation and/or divorce, the marriage.com course meant for married couples is an excellent resource to help you overcome the most challenging aspects of being married.
More On This Topic
You May Also Like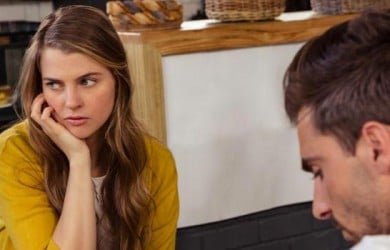 Popular Topics On Married Life