Partner Says 'I Need Space' – Should You Worry?
If your partner asks you for space, you may be more than a little anxious about what that means.
Relationships of love or family are always about a little push and pull, and also about the dichotomy of distance and closeness.
Healthy relationships learn to navigate this dichotomy very early in the formation of their romance to avoid feelings of enmeshment or resentment. At the same time, let's be honest, 'I need space' could be the first sound of doom for your relationship as there are people who ask for space as an exit strategy.
The other face of the phrase, 'I need space'
What it means when your partner asks for space?
Here, we are trying to avoid focusing on the 'exit strategy'. However, there are many people who ask for what they need and mean what they say, and for those instances, asking for space really means just that and i.e. bidding farewell to the marriage.
While it may sting a bit, ultimately we should reframe the way we think about that request because this can be real relationship opportunity!
Yes! You heard it right. In fact, pat yourself on the back here, you have a spouse or partner who wants to make this relationship work the right way by forming a commitment based on fulfillment of mutual needs and desires and is actually communicating that, this is the jackpot!
Here you don't need to worry about learning how to cope when your partner asks for space. Instead, consider it as a blessing.
But, there is always the other side of the coin.
What if you have a lot of relationship anxiety and an insecure attachment? Hearing that your partner wants space could be causing you panic, dread, and fear of abandonment.
If you are already that type of partner, you are highly likely to overcrowd others with your sad-tales and try soothing the anxiety that you feel when you are separate from them. This will ultimately push them even further away.
Doing something different is very important now.
Signs you should give your partner space
Let's understand the steps you can take to save your marriage, if your partner has mentioned that they need space, which might not sound too positive for you.
1. Understand your partner's request
You may think about thanking them for letting you know what they need and then ask them for more feedback about what having more space means to them.
If you are in a new relationship, both of you must have made your relationship the central focus of your lives. You must have devoted 100% of your time to this new phase of love, even letting important commitments fall to the wayside.
So, there is a high probability, when your partner or spouse asks for space, they may miss hanging out with their friends, now and again.
2. Figure out time and place for solo time
So the next step after showing gratitude for this request is to figure out when and where your partner wants more solo time.
As a couple's therapist, we know it is vital for couples to maintain their individual identities within the relationship and having space is a part of that.
One of the questions that we ask couples to screen for enmeshment or control is how well they respect their partners' relationships and activities outside of the primary relationship.
But, having space is different from having days or weeks of silence in the relationship. If your partner asks for space and then this happens, it sounds more like they have used the request for space as an exit strategy or they have a stonewalling style of communicating their relationship needs.
Truly having space means that both the partners check in via text or call some time through the day or night. They still value connecting with each other, share and care about the events that are happening in their respective lives, or still making plans with each other.
They create a path forward in the relationship while acknowledging that they need to maintain other people and obligations in their lives.
Share this article on
Want to have a happier, healthier marriage?
If you feel disconnected or frustrated about the state of your marriage but want to avoid separation and/or divorce, the marriage.com course meant for married couples is an excellent resource to help you overcome the most challenging aspects of being married.
Learn More On This Topic
You May Also Like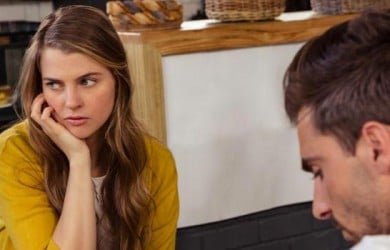 Popular Topics On Married Life