How To Help Your Partner Deal With Demise Of Someone Close
When your spouse has faced a significant loss, death of someone close to their heart, it is very natural for them to feel heartbroken. In this emotional state, there is no right or wrong in what they say or do. However, there may be a right or wrong in what's needed from you as a part of your partner's support system. You are concerned for your loved one and want to say, and do the correct things. People grieve differently. The needs of your bereaved partner will differ from that of others. The main ingredients you will need are patience, love, and willingness.
Your relationship
Grief is a deep sorrow, distress, misery, despair, mourning caused by someone's death.
Grief can become a burden for your relationship. Your partner's experience of loss is something that you cannot share. Your partner may have conflict in thoughts, may get overwhelmed with emotions, or may act differently, all of which can get a little difficult for you to handle. Your partner's changed behavior brings about a change in your relationship. This may make the relationship stronger through intimacy, support, communication (verbal/non-verbal), or understanding. Or, the loss may create a disconnect, and distance making you further apart in relatability, understanding, know how, and will.
Emotions
The emotional state your partner is in may change rapidly or may take a long period of time. There is no fixed duration or sequential cycle of emotions. One moment your partner may seem happy, the next they may be crying, distressed, in denial, or angry. Emotions are personal. Emotions cannot be rushed. You must practice patience while your partner processes grief through denial, anger, bargaining, depression, and acceptance.
Silence
It is okay to do or say nothing when in doubt of what to say to your partner. Silence may be important at times. Silence allows processing of thoughts better. When you are uncomfortable with silence that is okay, just try not to react too much. Being reactive may cause tension. If you want some ease and relief for your partner during this time of mourning, try to keep silent. This is not a time to project your beliefs on your partner. You may think and say: "They are in a better place now", "It was their time to go", "They no longer have to suffer", "They are with the lord now", "In time you will be fine". Often times, these statements are not helpful. The statements can be perceived insensitive. The bereaved may see these statements as negating the fact they have had a loss of a loved one. Listen to your partner's statements. Those are the statements you will want to live by during this time. Patiently hear from your partner to make desired adjustments.
Love
Remember that love is what your partner needs. Be mindful of your needs; they may be put on hold while you are selflessly attending to your partner while grieving. Love is patient, kind, understanding, hopeful, and willful. Maintain hope and devotion to your union.
Be willing to give whatever your partner needs
Being willing to be available, or absent when your partner requests, reflects your commitment to your partner's grief process. Taking over tasks that are overwhelming to your partner may be helpful. Be honest about your understanding of what is expected from you. Do not be afraid to ask your partner what is expected of you, during this time of loss. Be honest about what you can, and cannot handle. Additionally, be mindful of the areas you will need assistance. Ultimately you want your spouse to have moments of relief, know they are loved, know they are not alone during this difficult time, assist them through overwhelming moments, and be supportive. You may also need to tap into your healthy support system while you are lending support to your partner. Your partner may, or may not be nurturing you. However, you will need to nurture yourself.
Grief/Loss from death is an inevitable element of life. During this time, you must lend weight to your vows by loving your partner through it all (endearing through times of loss).
Share this article on
Want to have a happier, healthier marriage?
If you feel disconnected or frustrated about the state of your marriage but want to avoid separation and/or divorce, the marriage.com course meant for married couples is an excellent resource to help you overcome the most challenging aspects of being married.
More On This Topic
You May Also Like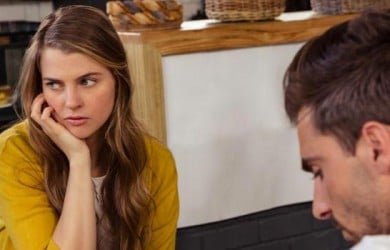 Popular Topics On Married Life