25 Ways to Motivate Your Husband
A husband isn't necessarily lazy or even unmotivated because he has an off day.
We're all guilty of days when simply nothing gets done. If these days were to progress into a week or longer where the husband was still idle, you would begin to wonder how to motivate your husband to get back into the swing.
The problems begin if your mate won't take responsibilities at home or with the overall household expenses by handling chores or getting a job. It begs the fact that they're not only lazy but perhaps have little regard for what you need.
The man appears to be self-involved, not realizing that someone else is handling all the business to keep things running. Either that or he's comfortable in that fact.
It's up to you to find positive encouragement for a husband who might have developed a pattern and isn't sure how to break free from it. Let's look at a few keys for motivating your husband.
5 keys for motivating your husband
Sometimes a husband loses his way; it's not necessarily only men, so we need to give them a bit of a break. It isn't hard to get to that point. The problem isn't one of laziness or irresponsibility; it's merely a need to find themselves again.
That's where a partner comes in. Find creative ways to motivate your husband back to the person you know him to be. Ask yourself how you can provide daily encouragement to my husband to bring out the best qualities you know he possesses.
Let's look at some keys to do just that for your spouse.
1. Learn his motivation
Suppose your husband has a sudden, unexpected urge to begin a new career and an unorthodox one. This is not a reason to become unglued or yell and scream at him.
It's a cry for you to find out what's motivated this response from him. There has to be something creating dissatisfaction; either there's a challenge in the current career, or he feels that he's continuously working.
While he's feeling either underappreciated or even maybe a little disrespected, it's now up to you to determine how to motivate your husband.
2. Don't condescend
If you give your husband the chance to pursue an opportunity and it doesn't work out as intended, don't follow behind with "I told you so." This is a time when a partner needs to be the most supportive and encourage your man.
No one wants to be perceived as a "failure" or make mistakes that cost the family, but worst of all is to have your mate make you feel worse about it.
Related Reading: 

20 Steps to Becoming a Supportive Partner
3. The key is to realize his goal is to please you
While things might not be going well currently, it's vital to recognize, your partner's goal is always to please you. If you pay attention even to those idle days, thoughtful things are being done, and you need to say "thank you."
That in itself will motivate your husband. Showing appreciation when there's an effort made is essential.
4. Recognize the hero
Men have a natural instinct to protect and provide as well as be leaders. In a heterosexual relationship, women can give their husbands the opportunity to help when there's something they might not be versed in or a heavy object that needs moving. It can help your husband to stay motivated.
5. Consider ways to build up your husband
Identify the good in your husband, focusing on those and letting him know what they are regularly. That's how to continue to build him up and inspire husband to stay motivated.
25 ways on how to motivate your husband
If you're contemplating how to motivate your husband when he's fallen, the idea is to remain supportive and believe in him as you always have.
That's where his security comes from, the greatest inspiration for husband and how to motivate your man.
Learn ways to motivate your man with the ebook by Alex Hale, and here are other ways to do so:
1. Inspire the possibility of a new hope for the future
While a mate might have lost their hope, you can help them recognize there are new possibilities and that you have a belief that he can realize these for the future. Offer ideas on how to bring that to fruition.
2. Action speaks louder than words
When you speak the words of inspiration to your husband, it's vital to back those up with action to ensure he feels the most impact because the two of you together are a team effort.
When one loses their balance, the other picks up the slack, carries their mate for the duration of their fall, and learns how to motivate their husband back to their full potential.
3. Support what they aspire for
Some men are dreamers, and that's fantastic since many dreams come true if you pursue them with vim and vigor. It's up to a partner to provide that motivation for husband that makes him go for it.
Related Reading: 

15 Ways to Improve Emotional Support in Your Relationship
4. Watch as they progress
In that same vein, be the cheerleader in the crowd. As they progress towards those dreams, follow their progress, support them as they maneuver the many trials and tribulations that may come with it, and celebrate when they achieve their goal.
5. Words are powerful
While we do put our actions behind the words, we don't realize how powerful the actual words are. When these come out of our mouth, they stick with a person more than any action since they go straight to the heart.
While encouraging someone, there can be no hesitation or look of doubt accompanying the support. It needs to be authentic-wait until you can offer that.
Even when a spouse or mate lets you down, you need to build them up. Here are some motivational quotes to encourage your partner:
Related Reading: 

17 Ways on How to Build a Strong Marriage
6. Space might be an essential step in motivation
If you're attempting to discern how to encourage your man when he's down, he might need some space and time to work through what he's feeling.
While it might appear he's enjoying his days of doing nothing, he could very well be experiencing depression. If that gets severe, he will need to see a professional.
7. Spirituality can be a powerful tool
You may or may not have a specific religion or personal spirituality. Still, for those who participate in prayers to a loving God, it could be beneficial to do so together.
Religion and spirituality have a way of bringing partners together, strengthening bonds, and can help to encourage a mate. If your husband is not a man who prays, but you are someone who does, pray for him. He doesn't need to hear you or know.
8. His pain is authentic
While you might not understand what your husband is experiencing, you should avoid the temptation to fluff it off as something that will pass. When a mate breaks down to the point of giving their responsibilities a break, instead, choosing to do nothing, that's the moment when it's vital to get them back in the game.
It's a time when caring needs to be magnified, and methods for how to inspire your husband need to be incorporated.
9. Let him vent
Make yourself the sounding board for your husband to vent. When you're contemplating how to motivate your husband, one method allows him to vent his issues.
Getting all the negative energy out can help him to replace that with a renewed positivity to either try something new or go back and give the old another effort.
Active listening is among the most fantastic support techniques and offers incredible.
10. When he loses track, remind him
A husband might lose sight of his goals; at that moment, you need to apply the principles for motivating your husband. You don't want to nag or be a constant reminder over their lack of achievement.
More so, it's helpful to find a gentle motivation for husband at work or in other endeavors that will inspire him to continue on his journey and make him accountable.
11. Celebrate often
No matter what the accomplishment, celebrate, even if your husband is not so sure it's that big of a deal. You'll determine this is how to inspire your husband.
Even the most minor accomplishment is energizing and enthuses anyone to move forward with that same mindset. Encourage that enthusiasm.
Related Reading

: 

15 Relationship Milestones That Are Worth Celebrating
12. Practice what you preach
When determining how to motivate your husband, he must see that you're maneuvering outside your own comfort zone as well. If you're not serving as an example, he will become discouraged.
Make sure your activity aligns with what you're trying to inspire in your husband with the household work, and other activities.
Related Reading: 

15 Ways to Get Your Husband to Help More with the Chores
13. Guide them from their own comfort zone
When you have succeeded in going outside your own comfort zone, encourage your husband to do the same but help them through the process.
These are challenging times for him, so you must accompany him as he maneuvers through the stages, but with each step, praise his accomplishment.
14. Reintroduce the good things
Life is still lovely even though your mate has lost sight of what's important currently. It's up to you as his partner to remind him of the things that matter and motivate his pleasure in the things he enjoyed before he became somewhat lazy.
Let him know that he's missing out on beautiful days and sunshine or a special activity. That can inspire him to get out of the house and participate.
Related Reading: 

8 Fun Relationship Building Activities to Start Today!
15. Help him recognize trust in himself
As a mate, your goal is to figure out how to motivate your husband. One of the crucial steps is to ensure that he understands he is a capable person with good decisions.
He must recognize his instincts are not wrong, and he can trust his judgment, particularly when self-confidence is still intact.
16. Emotional/physical health is essential
True love is not only about intimacy and passion. When you have a healthy relationship, you grow as a couple with emotional and physical nurturing.
The idea is to ensure that each person thrives with a healthy lifestyle. That means making workouts fun, enjoying nurturing and productive activities like sharing hobbies and interests, and doing something peaceful like taking in nature.
17. Try new things together to inspire your husband
Consider investing in something new as a couple to inspire your husband. A new venture can be exciting, generating energy and enthusiasm for the future. A mate can reignite his dreams and consider what the future might hold with a renewed motivation.
Related Reading: 

15 Things Every Couple Should Do Together
18. Imperfections are what makes us unique
We are all born with eccentricities, oddities, if you will, that make us unique. No one is without flaws. That's how you can tell each of us apart. If we were all the same, how boring would that be?
Your husband must understand that imperfection is universal and makes meeting new people exciting. It's essential that he becomes comfortable in his skin and loves those flaws, finding them deserving of his affection instead of being unaccepting.
Encourage him to love these traits so he can move forward with self-confidence.
19. Let them be who they are
If your husband is lazy, not doing chores, or going to work, he has a reason causing his neglect. Something happened on the homefront or at the workplace.
When he's ready to talk about it, he will, but you need to allow the reprieve for a bit but not let it go on for too great a time.
The ultimate goal is to inspire and encourage your partner to be the best version of themself, not according to what you might define that to be but to their capacity.
20. Giant leaps are not going to work
A mate needs to take small steps on their path back to the everyday. When there is a fall from all responsibility, it can prove overwhelming to take a full dive back into it.
As the person encouraging the individual, it's wise to motivate towards one task at a time and based on comfort level and progress from that point.
21. Reminders
When a partner is feeling down or even bordering on depression about where they've been and what they've accomplished, it falls to you to be the one to inspire with reminders as to the incredible achievements they've had in the past, the awesome talent and gifts they possess, and how well-received they were with their employment, friends, and community.
22. Avoid pressuring a mate
While it might seem as though you've found a method how to motivate your husband, there's a line between inspiring and putting on a bit too much pressure.
Once you cross that boundary, your partner will begin to tune out, and you will have lost them. You want to motivate and encourage without adding additional stress.
23. Insincerity
When you go on and on about your husband's "greatness," he will ultimately disbelieve your sincerity and go backward with his progress.
When speaking to someone about achievements and abilities, they should be periodic reminders, not regular gush sessions. That's overindulgence that no one would appreciate.
24. Communicate
Conversations should be had about what's happening in any relationship and why a husband shuts down with all responsibilities after a certain period has passed.
While you will, of course, want to encourage the best to have him come back from this pattern of behavior, the two of you must have a discussion so you can let him know how his letting go makes you feel, and he can express what's happening.
Related Reading: 

20 Ways to Improve Communication in a Relationship
25. Couples' counseling
When encouragement or motivation is not helping, and you believe your husband is suffering from bouts of depression, you should reach out to a counselor to guide you on how to handle the situation.
A professional will need to assess the condition since there appears to be a lapse in all responsibility and no interest in activities once enjoyed. That means determining if a plan of care is necessary.
Related Reading: 

Couples Counseling and Why It's so Important
• How to motivate husband to lose weight and exercise
The best way to motivate a husband in this capacity is to provide healthier meals and encourage them to work out with you. You can't make someone do these things. It has to be their idea, or it won't work.
• How to motivate husband to help around the house
When you have a chore that you need help with, an approach would be to make it appear to be their idea to ask if you would like some help. Once the mate does that, you should offer exceptional gratitude and praise to inspire further help with chores.
• How to motivate husband in his career and to get a better job
All husbands have dreams and aspirations of things they hope to do with their careers at some point. It's vital to encourage those goals. When you show that you're supportive of that effort, it inspires them to move in that direction, grow as a person, and ultimately succeed in their careers.
• How to motivate husband to grow spiritually
Spirituality is a very personal path that a husband and their spouse can either share or go on separately; most ultimately share. It takes conversation, seeing a mate pursuing their spiritual path, and participating making a choice to participate.
A partner can inspire their husband by attending services, reading from their scripture at home, speaking about their religion, and how to live with that mindset. It will still be a husband's ultimate choice.
• How to motivate and build up your husband
When you see that your husband is feeling less than confident or is failing with his self-esteem, it's important to remind him of where he has been successful not only in business but in his social circles, within his community, perhaps spiritually.
These are all accomplishments that make a difference, and there's always more he can do with the right motivation. Expressing these attributes will provide that inspiration.
Final thought
If your husband loses his drive to participate in the day-to-day but, instead, opts to lie idle in the house without doing chores or attending a job for a significant period of time, there could be more than mere laziness to the pattern.
A professional counselor can help you, and your mate determine if there is any depression which is a concern with this type of behavior. If that's found to be the case, an appropriate plan of care will be established to assist with your continued encouragement and motivation in the home setting.
Share this article on
Want to have a happier, healthier marriage?
If you feel disconnected or frustrated about the state of your marriage but want to avoid separation and/or divorce, the marriage.com course meant for married couples is an excellent resource to help you overcome the most challenging aspects of being married.
Learn More On This Topic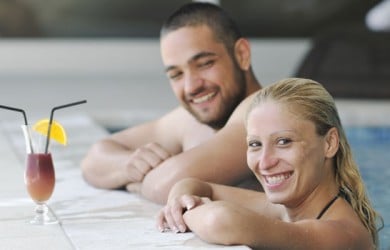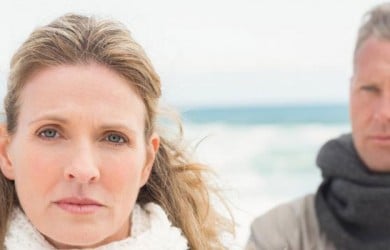 You May Also Like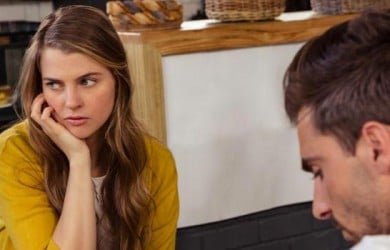 Popular Topics On Married Life