25 Ways on How to Build a Strong Marriage
Having a spouse you love and loves you back is one of the most rewarding experiences in life. Hence, it is important to make your married life a top priority to build a strong marriage and live every moment with them to the fullest.
But with so many responsibilities, it can be hard to prioritize your marriage, and before you know it, you might lose sight of what is important in your life.
So, how to build a strong marriage? What makes a successful marriage? For starters, it doesn't always require extreme gestures.
25 ways on how to build a strong marriage
The article shares 25 ways of building a strong marriage. The list of marriage tips doesn't end here, and you can add and customize them accordingly.
1. Communicate with your partner
One of the answers to how to build a strong marriage is asking your partner what's worrying them when they seem bothered. A strong marriage is about hearing their secrets and sharing yours.
It is about sorting things out by talking to each other when you both would rather distance yourselves.
Not only does this help you get to know and understand each other more, but it also helps in building a strong relationship.
Also watch: Ways to improve communication in a relationship:
2. Avoid involving others
Whenever you and your significant other have a fight or an argument, don't involve others to help you settle the matter.
If you wish to figure out how to make a marriage work, it is always better to keep things between both of you as this doesn't let out your private matters.
Moreover, involving a third person can worsen things, as either of you might feel embarrassed or uncomfortable sharing the intimate details of your relationship.
However, do not confuse involving others with getting professional help. A counselor or therapist would ensure that the privacy and sanctity of your secrets are maintained as they are bound by doctor-patient confidentiality.
Also, professional help for building a happy marriage or building a better marriage is considered a viable option for couples who are unable to get past their differences. Although you could most likely get over them on your own, with professional help, you can do it quicker and with less fighting.
3. Befriend each other's friends and family

This is one big thing you can do if you are wondering how to build a strong marriage. Indeed, your partner's friends and family were there with them before you, and they have a special place in their life that would stay there forever.
Thus, being on good terms with your partner's family and friends makes your partner appreciate you even more.
4. Give them space
Sometimes, all your spouse needs is some time alone. Therefore, give them the space they need so they can come back to you refreshed.
Moreover, instead of being revved up, let your partner spend some time with their friends or doing their own hobbies. Always remember that even though you and your spouse are married, you still must maintain your individuality.
5. Don't bash insecurities

Feeling insecure about losing your spouse is natural. If your partner comes up to you out of insecurity about your relationship, do not bash them for not trusting you or ignore their needs. Assure them you are choosing to stay with them and share some of the reasons why they are your choice.
Sharing insecurities with others is a very vulnerable act, and your ability to understand this can strengthen your relationship.
6. Travel
One of the best yet fun advice for how to build a strong marriage is to travel together. Unraveling the marvels of the world together indeed pulls you and your spouse together.
Also, traveling allows you to see your spouse in a different light and liven the spark of attraction.
7. Non-sexual touch
Touching each other as often as possible can increase the sense of emotional intimacy. Hold hands when you go for a walk, hug each other before leaving them in the morning for work, and kiss good night.
These gestures are one of the keys to a successful marriage that make your partner feel adored, and also helps in building a stronger marriage.
8. Do chores together
Set couple relationship goals by doing household chores together, and also, it gives you more time with your partner. This is a sweet gesture that makes them feel looked after and have an impression of you being a responsible person.
9. Make important decisions together
One piece of advice for a happy marriage is that your spouse should have a say in all important decisions, such as buying a new house or how you allocate finances. This shows that their opinion matters, and therefore is helping build a strong marriage.
10. Have fun together

Being overly sensitive or uptight is no fun. Have a sense of humor, joke around, and simply have fun with your spouse. Do silly things together as it will help you feel young not only as individuals, but also as a couple who just started dating.
11. Leave the past behind
If you have been wronged in the past, move on before your old experiences instill fear and make you do wrong to the right person.
Moreover, remember the successful marriage tip which is to forget the past shortcomings between you and your spouse and start over again. We all make mistakes and can grow from them. Indeed, a beautiful love-story awaits us all.
Related Reading: 

Forgiveness & Intimacy: How to Leave the past in the Past
12. Apologize
Whenever you and your spouse get into a bad argument, learn to push back your ego and apologize for your part in the fight.
This would make your partner realize your good intentions, and rather than blaming you; they might help in resolving the conflict. Remember, it's not you two against each other; it is always you both against the problem.
13. Be financially responsible
Money, without a doubt, is the most controversial aspect of any relationship. No matter how much you love each other, if your financial aspirations are not aligned, your relationship can struggle.
Building a better marriage means to be sure to discuss your financial priorities in advance so that the future does not come as a surprise to you. Also, ensure that you keep your plans flexible enough to accommodate any urgent necessities.
14. Respect each other
To develop a strong bond, it is necessary to respect each other for love cannot exist without respect. Respect their choices, their values and opinions even though you might disagree.
15. Saying, "I love you"
To let your partner know that you love them every once in a while is a great way to bring you both emotionally close and make your marriage better. Not only does this strengthen your relationship, but it helps in building a strong marriage.
16. Compromise
How to have a happy marriage? Well, every relationship has phases when one has to make compromises out of love for their spouse. The compromises you make, prevent your relationship from breaking apart.
17. Remain consistent
This doesn't put your partner in doubt about your feelings for them and, in return, also keeps your relationship intact. Stay clear of mentioning ending the relationship unless this is actually what you want. Bringing the break up in a conversation can instill insecurity and fear in your partner.
18. Make maintaining a strong marriage your top priority
Make sure you pay attention to your marriage every single day – yes, every single day. That way, you'll never drift apart because you don't allow life to cause you to forget to work on making your marriage stronger every single day.
19. Maintain a daily dose of love and respect for each other
Practice kindness and forgiveness too. If you are both expressing your love, compassion, and respect for each other and you are kind to each other, you'll never be able to do anything but be loving, respectful, and kind. And that's pretty special.
To use this strategy to make your marriage stronger, make sure you remind yourself to do this daily. Even when the chips are down.
20. Never forget why you married in the first place
Remind yourself daily why you married your husband or wife, and remember why you love their little idiosyncrasies – even if they are driving you crazy right now.
Remembering to remember these things, especially when you are in a loving state makes it impossible to drift apart from anybody (especially if both parties are practicing this strategy).
Be grateful for your love and relationship, and hang onto that. Doing so every day will make your marriage stronger every day – even if you didn't think you could make it any stronger.
21. Take care of your 'self' work on yourself, address your need
We don't just mean physically, but also emotionally and mentally. But that doesn't mean that you should look to your Husband or Wife to fulfill these needs. Instead, look at yourself and seek to understand why you need those things.
You might find you don't need some of them anymore after closer inspection. And you will be able to understand why you need the things that you do need. Making it easier to explain to your Husband or Wife why you need them too.
So that you can help your partner to understand what is really important to you and why.
Sometimes, when we want something, but cannot have it, we may project this sense of lack onto those closest to us and blame them for letting us down.
Such as having a dream of a 'happy family life', realizing that the reality of a 'happy family life isn't anywhere near the fairytales we imagined, and then blaming our husband, or wife for letting us down and not stepping up.
Or, spending too much time away from the family home, because you think your Husband or Wife is stifling us and you need space. When really, you have a personal issue with sharing your space that you need to reconcile.
We don't mean to project these issues out onto those close to us, it's just a natural phenomenon.
Being mindful about it, and aware when it happens, particularly when it comes to managing your desires and expectations, will help to make your marriage stronger because you'll avoid the conflict that is likely to ensue as a result of this type of projection.
22. Respect each other's needs
If you're in a loving marriage, and your partners, in their attempts to make your marriage stronger, have worked on their self-development and have expressed that there are some things that they need, even if you don't fully understand 'why', give them the space to do what they need (as long as it fits in with your relationship boundaries – discussed later).
If you find that you are feeling a sense of lack somehow because your partner is distracted, see points 1-4! And get to work on yourself.
Related Reading: 

10 Reasons Why Respect Is Important in a Relationship
23. Set clear relationship boundaries
Discuss what aspects of life are a deal breaker for you in advance. Agree to a set of boundaries around your 'deal breakers', so that you both understand where the lines are.
This will make your marriage stronger because you won't unconsciously walk into a problem, and similarly, each partner won't use the excuse that they didn't know that something was a problem (creating personal responsibility).
This makes discussing any breaches of the relationship boundaries and the implications of any breach a little clearer and easier to understand what they need to do for each other. Hint! Ideally, you don't want to breach the boundaries! Especially if you want to maintain a strong relationship.
24. Invest in your relationship with your partner's family
Spend time with each other's families. After all, it's always the family in the end that counts. Also, respect each other's need for time away from the relationship with friends and family.
25. Make time for each other
Enjoy a date night, take out some family time, go for walks, and meals, and develop strategies for what to do when the conversation might run dry.
What does a successful marriage mean to you?
For many people, a successful marriage is one in which both partners are happy and satisfied. They may have a strong relationship based on mutual respect and common interests. A successful marriage can also mean being able to work through difficulties as a team.
Every couple will face challenges at some point in their marriage. Being able to handle these challenges together can lead to a stronger bond and help the couple to work through difficult times.
Wrapping up
So, how to make your marriage better? These 25 tips on how to build a strong marriage peppered with a healthy dose of affection, patience, and gentleness will go a long way in nurturing your relationship with your partner and growing your bond.
Share this article on
Want to have a happier, healthier marriage?
If you feel disconnected or frustrated about the state of your marriage but want to avoid separation and/or divorce, the marriage.com course meant for married couples is an excellent resource to help you overcome the most challenging aspects of being married.
More On This Topic
You May Also Like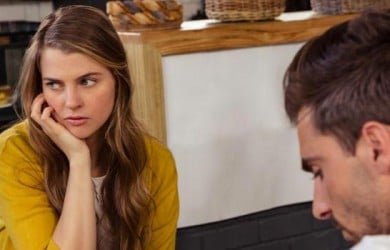 Popular Topics On Married Life