Is Your Relationship Symmetrical or Complementary?
Every individual has an idea of the kind of relationship they want. Hence, when you meet someone who shares the same ideologies with you, or someone who completes your deficits, you will be happy to enter into a relationship with them.
This is what symmetrical and complementary relationships are all about. Both types of relationships have distinguishing features that show us the beauty of human diversity. After reading this piece, you will know the difference between symmetrical and complementary relationships, and you will be able to tell your preference.
Difference between symmetrical and complementary relationships
Symmetrical and complementary relationships give a good picture of the primary forms of a union between two partners. In a symmetrical relationship, both partners put equal effort into making the relationship work. They would be jointly involved in running the relationship, as no one would be left out.
In a complementary relationship, the responsibilities are divided between the partners based on their strengths, capacities, and interests. Sometimes, symmetrical and complementary relationships might not be fully inclusive when looking at them individually.
To know more about Symmetrical and complementary relationships, read this article by Marie Hartwell Walker. It helps you know the differences from a medically evaluated standpoint.
What is the meaning of a symmetrical relationship?
A symmetrical relationship is becoming more popular nowadays. To answer the question of what is a symmetrical relationship, this is a type of relationship where both partners contribute equally to a different aspect of their union. Hence, their roles would be similar, coming from two different or the same standpoints. This is one difference between symmetrical and complementary relationships.
People in a symmetrical relationship must have come to an understanding before they entered the union that they would perform similar roles. None of them would be left out when it comes to running the affairs of the relationship. If they get married, it would equally be the same thing.
They can decide to be joint-breadwinners, performing other essential roles like home care, taking care of the child, etc. One of the significant reasons symmetrical relationships are becoming more popular is because of the way the world is now structured.
Many women are becoming more involved in running organizations and businesses, and some schools of thought believe it is wrong to saddle her with the traditional home duties compulsorily.
Therefore, in heterosexual relationships where a man and woman are involved, they will share the division of housework. This would help both of them face their career squarely without letting the home suffer.
Usually, people in symmetrical relationships are attracted to each other because of their similarities. This research study by Joel Wade seeks to explain why it is so. The study is titled The Relationships between Symmetry and Attractiveness and Mating Relevant Decisions and Behavior.
Do you want to know if your relationship partner is the right person for you, then check this video:
What is the meaning of a complementary relationship?
In answer to the question of a complementary relationship, it is often referred to as a traditional relationship that was more mainstream several years ago and even till now. Both partners perform entirely different roles in a complementary relationship to make the relationship work.
They divide the roles between the two and assign based on different factors like gender, income, strength, career, interest, and the likes. In a heterosexual relationship, a typical picture would be the husband performing roles like working multiple jobs and taking care of the whole family.
All the responsibilities would rest on him, and the wife can help out occasionally. The wife would oversee cooking, taking care of the kids, washing the clothes, and other related functions.
If the wife has a career path she loves, she might have to sacrifice it if it would disturb her marital functions. While the man would most likely be allowed to keep working and chasing his career goals. Provided both partners perform their roles effectively, there would not be conflict in the home.
To learn more about complementary relationships, check out this masterpiece by Rebekah L. Davis and Wind Goodfriend. The article is titled Complementarity in romantic relationships, and it looks at the constructs involved in individual and partner change.
Also Try: 

How Heterosexual Is My Sexual Behavior Quiz

`
Symmetrical or complementary relationship: Which is better?
When it comes to a complementary relationship between man and woman, or a symmetrical relationship, it is correct to say that no one is considered superior to the other. The reason is it all depends on the preference of partners in their union for both symmetrical and complementary relationships.
Some partners are open to both of them sharing their roles and ensuring that they cover up for each other if anyone gets busy.
Since they agree, they would work towards ensuring that they get the best out of their relationship by performing the tasks on the ground. Other couples can be wonderful with doing what has been allotted to them when the relationship started.
However, this does not rule out that they can help out with other unassigned roles once in a while. One of the primary reasons for symmetrical and complementary relationships is individual differences.
We all have different views on how our relationships should run. This is why getting a partner who sees eye to eye with you is very important. Someone who prefers a complementary relationship might find it challenging to keep a partner who wants a symmetrical relationship.
They would find it difficult to get along because of their preferences, which is often why relationships have conflicts. Complementary relationships still exist because some roles are still considered gender-specific.
For instance, even though some men can cook, the number cannot be compared to the number of women who are great at cooking. Hence, even when in a symmetrical relationship, there is a chance that you will see some complementary traits.
Both symmetrical and complementary relationships have unique features that make them special. Therefore, it is impossible to state that one has the edge over the other. It all depends on the mindset, personalities, and partners' decisions in the relationship on what works for them.
How to know if your relationship is symmetrical or complementary?
After knowing what it means to be in symmetrical and complementary relationships might be challenging to know which one you currently belong to.
Signs of a complementary relationship
A complementary relationship comprises people with different behaviors and characteristics. This is why they seem to get along because of the common saying that states, "opposites attract."
A reserved partner and an outgoing partner
If you are a reserved person, and your partner is the outgoing type, you are probably in a complementary relationship. First off, both of you have different behaviors that can dictate your personal lives, even in a relationship.
Hence, the outgoing partner will likely keep more friends and have a larger network. At the same time, the reserved person would help their outgoing partner to choose the right friends because of their ability to tell if someone is genuine or not.
Related Reading: 

10 Characteristics of a Good Partner
A physically active partner and a not-too physically active partner
A physically active partner is likely to be the breadwinner in a relationship because of their ability to be all over the place and possibly multi-task. They would cover much ground for their partner because of their ability to give their best in almost everything.
On the other hand, the not-too physically active partner is more likely to work behind the scene, ensuring that everything is in shape. If they are married, the not-too physically active partner might be responsible for working behind the scene. Such partners would prefer to work virtually instead of in the on-site workplace.
The motivator and the recipient
In a complementary relationship, one of the partners might be the one who always gives the push. They are always motivated to succeed at everything, and it begins to rub off on their partner. The recipient might be self-motivated too, but their weakness might lie in the execution.
However, having a partner who makes the push can be inspired to achieve something.
It is essential to mention that complementary relationships stem from the desire to be complete. As we grow old, we realize that we are inadequate in some aspects of our lives, and we look forward to having partners who complete us in several ways.
This is why people look for partners who have attributes of what is missing in their lives.
Signs of a symmetrical relationship
A symmetrical relationship can be likened to a union of two individuals with an independent mindset. No one would want to depend on the other because they consider themselves self-sufficient. If they are doing fine in a relationship, they might equally do fine if they were single.
One of the ways to know if you are in a symmetrical relationship is when you discover that your partner has similar attributes. This means that you will do things together most time, and it would be easy to achieve goals because you are like-minded.
Partners in a symmetrical relationship might find it easy to collaborate on a task. However, there is the possibility that conflict could arise if they want to exert their influence or knowledge.
Conclusion
You can be in a complementary or symmetrical relationship and still have a successful union. No rule states that one is better than the other. The success of both symmetrical and complementary relationships depends on the partners' decisions on their relationship.
Therefore, it is important to know the kind of partner you want to marry so that you can figure out how to tailor your relationship on the right path.
Share this article on
Want to have a happier, healthier marriage?
If you feel disconnected or frustrated about the state of your marriage but want to avoid separation and/or divorce, the marriage.com course meant for married couples is an excellent resource to help you overcome the most challenging aspects of being married.
More On This Topic
You May Also Like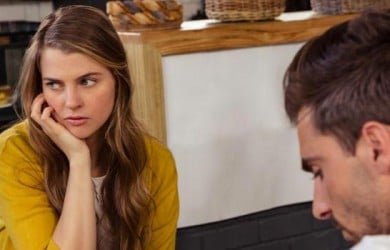 Popular Topics On Married Life