7 Types of Insecurities in a Relationship & Their Effects
No matter how successful or content we are, insecurities pop up in numerous aspects of our lives at some point. Even our private lives are not immune to these worries. Different types of insecurities in a relationship will attempt to rock your world if you permit them.
Over the years, research has shown that the two most legitimate causes of relationship insecurities are childhood trauma and unhealthy prior relationships.
There's every possibility that victims of trauma and childhood abuse will get into romantic relationships with a lot of insecurities. Hence, they'd depend heavily on external validation from their partners and usually express common insecurities in a relationship.
Therefore, in this article, we came up with a list of relationship insecurities that might plague your relationship and how they affect you. First, let's examine what being insecure in a relationship means.
What is insecurity in a relationship?
Relationship insecurity is a state of uncertainty and lack of confidence in your love relationship. It's a deeply held conviction that you aren't good enough for your spouse, that you don't deserve love or any other stifling ideas that give you anxiety.
In an insecure relationship, you feel unworthy of any attention you get from your partner and struggle with low self-esteem. Worse still, feeling insecure in relationships will cause you to doubt your partner's sincerity and what they do when they aren't with you.
Relationship insecurities are frequently the result of your past experiences and unresolved trauma. In some cases, overconfidence and narcissism can be symptoms of a deep insecure relationship.
What causes insecurities in relationships?
The first step to dealing with the various types of insecurities in a relationship is to understand the causes of those insecurities. After careful analysis, we have curated a list of the major causes of insecurities in relationships.
7 types of insecurities in a relationship
At some point, you may be plagued by insecurities – no matter how successful you are. If allowed to stay on, these insecurities can eat away the fabric of your relationship and strain your connection with your partner.
Here are the types of relationship insecurities.
1. Emotional insecurity
Emotional insecurity is characterized by doubt and inadequacy regarding one's feelings. Depression and the dread of asserting yourself in situations are common signs of emotional insecurity.
People who are emotionally insecure frequently quarrel about trivial matters. Emotional insecurity is frequently caused by a lack of trust in your partner's actions and your decisions, which leads to regrets.
Related Reading: 

14 Tips on How to Control Your Emotions in a Relationship
2. Attachment insecurity
Individuals suffering from attachment insecurity struggle to maintain a consistent emotional connection with their spouse. Most of the time, they avoid becoming too close to their partner. They're usually the first to bail when things seem to be getting serious.
Conversely, attachment insecurity can also show itself as being unnecessarily clingy. When you can't allow your partner out of your sight because you think they'll dump you the next second, that may be because you're feeling insecure in the relationship.
3. Physical insecurity
A recent survey revealed that over 50% of American adults aren't comfortable in their own skin. How we appear is one of the primary sources of insecurities in a relationship.
Think of it for a second. Everywhere you scroll on social media, you'll see pictures of models who look like they stepped straight out of the other world. The males bear uncanny resemblances to Greek gods who have come to visit earth.
If you aren't careful, these images can burn themselves into your mind and make you uncomfortable with your less-than-ideal body type. Hence, people continually inundated with pictures of the perfect body are prone to physical insecurity.
4. Financial insecurity
Financial insecurities are some of the most common types of insecurities in a relationship – regardless of what you may think.
Being with someone who earns way more than you can affect your psyche (if you permit it to). Studies have shown that men are most affected when their female partners earn more than they do.
Regardless of gender, however, many partners may get insecure when the other half has to bear the brunt of breadwinning for the family.
Related Reading: 

5 Psychological Effects of Money on Relationships
5. Professional insecurity
One of the important types of insecurities in a relationship that is visible these days is surrounding professional achievements and opportunities.
Professional insecurity is the state of uncertainty concerning continued employment or job security. This could result from workplace factors like massive layoffs or personal variables like when the quality of a professional's work reduces due to pressure from other aspects of their lives.
Professional insecurity is that type of insecurity that can have a direct impact on the overall quality of a person's life. When you lose your job, your source of income almost dries up immediately, which can negatively impact every other aspect of your life – including your health.
6. Insecurity over basic needs
Basic human needs include food, shelter, rest, safety, hygiene, and healthcare. One of the first steps toward feeling secure is to have these requirements met – at a basic level.
If you struggle to meet these demands at any point in your life, that insecurity might stick with you for a long time and damage your behavior and relationships.
When asked, "what are insecurities in a relationship?" insecurity over basic requirements may not be the first thing that comes to mind, but it certainly plays a role.
Insecurity about basic requirements can open the door to a myriad of emotional insecurities that hurt a relationship. You may bring that fear into your relationship if you have experienced the anxiety of having to struggle for a meal or to pay rent.
In addition, you may continuously feel your partner does not appreciate what they have. You may drive yourself to exhaustion, fearful of slipping back into the life of hardship you're just coming out from.
7. Social insecurity
Even though social insecurity may not appear to be a prevalent problem, it affects many couples worldwide. Many couples feel pressured to present the picture that they're madly in love every time they appear in public, even if that isn't the case.
This type of insecurity in a relationship isn't just about how rich you appear as individuals (even though that's part of it); it is more about how you appear as a couple.
If left unchecked, social insecurity eventually leads to relationship troubles and, in extreme cases, a breakup or divorce.
Related Reading: 

How to Stop Being Insecure in a Relationship – 10 Way
10 signs of insecurity in a relationship
These signs will confirm whether or not you are feeling insecure in your relationship. You may want to pay closer attention if many of them play up in your unique situation.
Learning how to deal with insecurities in a relationship can become easier when you can identify the insecure meaning in relationships.
1.A constant fear of losing your partner
One of the symptoms that you are being insecure in a relationship is having a persistent fear of losing your lover. Relationship insecurities make you feel unworthy of someone's time and love.
Therefore, you're thrown into a never-ending loop of worrying if your partner loves you, enjoys sex with you, is attracted to you, finds you tiresome, or wants to leave you for someone else.
This concern appears justified if you have been through a difficult period in your relationship, during which you may have lost your trust.
A relationship is doomed if it lacks trust. You should not be together if you are genuinely concerned that you will not be able to trust your partner. Is it worth it to be insecure in love? A healthy relationship is built on trust.
Related Reading: 

How to Cope With the Fear of Losing Someone You Love?
2. Consuming jealousy
A healthy dosage of jealousy is necessary for a successful relationship. After all, you're in a committed relationship and don't want someone else to destroy what you've worked so hard to create. At some level, though, it can easily deteriorate into overwhelming insecurity.
Common manifestations of this toxic form of jealousy include
Spying on your partner.

Constantly wondering where your partner is and badgering them every chance you get.
The downside of this jealousy is that it can easily exhaust your partner and push them away from you.
3. Disbelief
Constantly questioning your partner's location and intentions can be exhausting for both of you and harm your connection. Unfortunately, trusting your partner is the most difficult thing to do when you are insecure.
When disagreeing with your partner about where they've been, remember that you have no reason to disbelieve them if they haven't given you one before. Constant disbelief is a sign of relationship insecurities and it can (sometimes) be all you.
4. You dread being left alone
Being alone is your biggest dread if you're in an insecure relationship. The silence is eerie. You'd rather be anywhere but alone with your thoughts because you'll be forced to analyze the growing fear about your relationship you've been stifling.
This dread of being alone might also lead you to stay in an unhealthy relationship with someone you know you should have left an eternity ago.
5. Always trying to snoop on your partner's devices
It isn't uncommon for your partner to have access to your devices (know your passwords) while you know theirs. However, constantly snooping on your partner's devices, such as their phone, tablet, or social media messages, is proof of relationship insecurity.
It may appear frightening initially, but accepting that you cannot dictate your partner's behavior by monitoring them like a security guard can be the peace you desperately need. In the end, you either trust or don't trust your companion.
Then again, ask yourself this million-dollar question. "What happens if, by a stroke of luck, your fears are confirmed one of these days?"
6. You seek unnecessary attention
Some attention-seeking habits, such as the desire for frequent reassurance, are similar to those borne out of unresolved insecurity.
We all need healthy attention from our partners to thrive and enjoy our relationships. However, if your desire for attention comes in the way of your partner's productivity and the attainment of their dreams, you may want to reassess yourself.
Then again, another way to confirm if you're dealing with insecurity issues in your relationship is to check how you respond when your partner fails to give you attention. Do you throw a fit? That's a red flag there.
Related Reading: 

What Happens When There Is Lack of Attention in Relationship?
7. You argue unnecessarily
Every relationship has disagreements, healthy or unhealthy. Healthy debating employs effective communication strategies to arrive at a point of understanding and agreement. An unhealthy argument arises from a lack of trust, unsolved insecurities, and the worry that honest communication would lead to your partner's departure.
Suggested video: Stop bickering. It's killing your relationship.
8. Excessive worrying
Some types of insecurities in a relationship might not necessarily show themselves on the surface. It's possible to bottle up your emotions, even when you're constantly worried that your spouse is cheating, lying, or about to split up with you.
Related Reading: 

How to Handle Overthinking in a Relationship
9. You constantly stalk them on social media
Your fears will not be muted even if you have your partner's email passwords or access to their phone. You obsessively scan their social media timeline to see who they're engaging with and who's following them back.
In extreme cases, you may even follow their exes online and look for signs of getting together behind your back. This might result in harmful debates and deeper insecurities.
10. You suspect everyone around your partner
Insecurities in a relationship can make you assume that everyone is out to take your partner away from you. This belief haunts you and can push you to hurt your partner with your words and actions as you constantly accuse them of wandering eyes.
Related Reading: 

How to Understand Your Partner Better: 15 Ways
Some commonly asked questions
Insecurities in a relationship can harm the bond that a couple shares. Here are some questions that you may have regarding this:
How do I fix insecurities in my relationship?
These tips will help you fix insecurities in your relationships.
Cherish intimacy

Boost your self-esteem

Don't make assumptions

Exercise self-love.

Consult a specialist in mental health.

Practice an open dialogue with your partner
Are insecurities normal in relationships?
Everyone exhibits some level of insecurity in their relationship at some point. However, you should be concerned if you are frequently plagued by overwhelming thoughts and actions that cause you to act erratically.
In conclusion
The first step to dealing with the various types of insecurities in a relationship is to understand the causes and types of insecurities. Afterward, strip yourself of any guilt you may feel if you discover you're insecure.
There's good news. There is still hope, even if you believe you are drowning in relationship insecurity.
Start by openly communicating your fears with your partner and hearing what they say. Commit to reinforcing your bond as a couple by spending quality time together and embracing transparency at all times.
If you still feel insecure after these, your challenges may be tied to some traumatizing experiences in your past. Consider enlisting the help of professionals for relationship counseling at this point.
Share this article on
Want to have a happier, healthier marriage?
If you feel disconnected or frustrated about the state of your marriage but want to avoid separation and/or divorce, the marriage.com course meant for married couples is an excellent resource to help you overcome the most challenging aspects of being married.
More On This Topic
Recent Articles
You May Also Like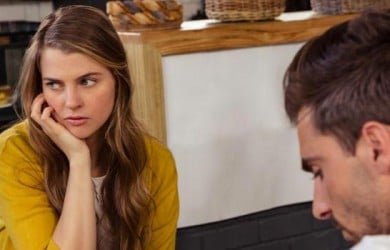 Popular Topics On Married Life