How to Handle Overthinking in a Relationship
"Logical thinking won't save you now. To fall in love is to see the sun in the shadow if you dare". Poet Geo Tsak isn't telling us to not use our heads at all. He's just saying that often it doesn't help. Besides, overthinking in a relationship is painful.
Overthinking in a relationship can aggravate pre-existing issues in a relationship. It can make you feel anxious and stressed about things that may be minor.
The article here will look at how overthinking can harm the harmony in your relationship and how you can control your overthinking tendencies from taking over your life.
How overthinking is bad in a relationship?
Everyone over-thinks sometimes. Nevertheless, too much of anything can be unhealthy. Although, as this BBC article on the upsides of worrying reminds us, we worry for a reason.
Like all emotions, worry or anxiety is a messenger motivating us into action. The problem is when we overthink too much.
Overthinking relationship anxiety is when you become a victim of your thoughts.
Those thoughts almost become obsessive and while the overthinking disorder doesn't exist in the latest edition 5 of the Diagnostic and Statistical Manual of Mental Disorders, it can lead to other mental issues. These are depression, Generalized Anxiety Disorder and Obsessive-compulsive disorder, among others.
All this overthinking in a relationship negatively impacts you and your relationships, details of which we'll see below. In short, you'll push people away and potentially drive yourself to an early grave. After all, the human body can only cope with so much stress.
If you're asking yourself, "why do I overthink in my relationship" consider that what causes overthinking is inherently linked to the age-old debate of nature versus nurture. It could be due to partly your genes and partly your childhood experiences.
On top of that, trauma can trigger overthinking in a relationship, as can belief systems. Essentially, you can tell yourself that worrying about something or someone shows that you care but then you take it too far.
We all need to ground ourselves at times and are sensitive to extremes in the wrong conditions.
And all extremes have potentially disastrous effects on ourselves and those around us.
10 ways overthinking ruins relationships
Is overthinking bad in a relationship? In short, yes. The art of living a content life with a supportive partner is to find balance in everything.
Otherwise, your thoughts drive you into parallel worlds where problems have already happened, that those problems are bigger than they are or that they might never happen. You create emotional suffering for both you and your partner.
See if any of the following resonate with you and if you're struggling, don't hesitate to reach out to a relationship therapist. The brave thing is to ask for help, not to hide away and suppress the pain.
1. You're not present
Overthinking in a relationship builds an assortment of dark emotions that overwhelm you and distract you from life. Those emotions have a powerful impact on your behaviors and moods.
As you go over and over the same negative thoughts, your body becomes increasingly agitated and you can find yourself lashing out at those nearest to you. Simultaneously, you need to catch up on their current mood and context.
Without living in the present, we are blinded by our biases and emotions, so we misinterpret situations and usually reach the wrong conclusions about ourselves and others. This leads to conflict and suffering.
Related Reading: 

10 Ways of Being Present in a Relationship
2. Distorted thinking
There is no overthinking disorder in the world of psychiatry, although, in popular media, some like to refer to the term because overthinking can lead to other disorders. It's also connected to distorted thinking which is the basis for several mental disorders.
When we ruminate, we often jump to conclusions, overgeneralize or focus on the negatives of life. It's worth exploring those distortions so that you can observe them in yourself and, with time, reframe them to give yourself greater inner calm.
3. Misaligned expectations
Overthinking in a relationship means you're never content with what is happening around you. As you spend excessive time questioning yourself and if your partner truly appreciates you, you miss the good things they do for you.
Overthinkers are also so caught up in their thoughts that they struggle to solve their problems. They lose motivation to meet their goals because they worry too much about not meeting them, so, in a sense, why bother?
This is frustrating and demoralizing for your partner, who will feel resentful as they feel misaligned.
4. Impacts mental health
Is overthinking a bad thing? Yes, if you follow Susan Nolen-Hoeksema, psychiatrist and expert on women and emotions.
Not only did she show that women are more prone to rumination and depression but she stated that we are currently suffering from "an epidemic of overthinking". Of course, men can also overthink.
Most specifically, Susan specifically showed the link between overthinking in a relationship with problems in behavior and mood. This can lead to anxiety, lack of sleep, eating disorders and substance abuse, although the list continues.
Related Reading: 

4 Key Points to Know About the Impact of Mental Health on Relationships
5. And physical health
Following on from the previous point, overthinking in a relationship also impacts your physical body. All that stress builds up and can lead to heart disease, high blood pressure and low appetite.
Overall, you feel constantly stressed with little ability to concentrate. At the same time, your aggression levels increase as your emotions try to find a way out.
Related Reading: 

5 Facts About Physical Abuse in a Relationship
6. Miscommunication
Overthinking a relationship means you're not looking at it with neutral eyes. Of course, it's very hard to be completely unbiased when it's our relationship. Nonetheless, overthinkers add dimensions that don't exist.
So, for example, you're talking from a place of fear of being left by your partner and they're planning a fun holiday. The potential for miscommunication is boundless and can only lead to confusion and frustration.
The next thing you know, your fears become a reality.
Related Reading: 

10 Common Causes of Misunderstanding and How to Solve Them
7. You no longer know what's real
An overthinking relationship anxiety generates so many negative emotions that crush your spirit. You might be lost in extreme hyper-stress and not even discriminate between what happens and what you think.
You become frozen in fear and unable to function as you sink into depression. The hole gets deeper as your endless thoughts convince you that no one likes you and you can't do this or that.
Alternatively, your rumination pushes you into the victim loop, where everything is always someone else's fault. You then succumb to life challenges with impulsiveness and abandon wisdom.
Most partners can't keep up with such an approach to life and would prefer someone who takes responsibility for their actions.
8. Erodes trust
Whether you've been betrayed or not, overthinking in a relationship can take over such that you're constantly blaming your partner for something. Naturally, everyone wants the perfect relationship with a dream house and job, but that's not how life works.
So, rather than overthink why you don't have the perfect job, partner or house, find ways to be grateful for what you have. We'll look into this more in the next section, but the point is to learn to trust that things happen for a reason.
Most importantly, only some things are about you. So, if your partner is bored with you, talk to him about what's happening with them. Could they just be having a bad week at work?
The mind is very good at making everything about us, limiting our ability to trust others and vice versa. One way around this is to ask yourself what other viewpoints you might be missing.
9. Pushes partners away
So, is overthinking a bad thing? In a nutshell, you alienate yourself from friends and family. No one wants to be caught in your whirlwind of overthinking in a relationship. And neither do you.
The good news is that there's hope. As we'll see in the next section, anyone can break away from the chains of overthinking in a relationship. In the process, you'll discover a new viewpoint of the world and your role within it.
10. You lose yourself
It's easy to succumb to overthinking a relationship. Ultimately, there are so many pressures to be perfect in today's society and we're constantly bombarded by the media, convincing us that everyone else is perfect. All this leads to comparison and rumination.
Moreover, everyone tells us that relationships should be like a meeting of soulmates. So, we're driven to overthink as we wonder what's wrong with us. We try to talk to our partners to check if "it's me" but they ignore us. This usually escalates into frustration, anger and break up.
Related Reading: 

7 Ways to Keep from Losing Yourself in Your Relationship
Letting go of thinking too much
Are you saying to yourself, "overthinking is ruining my relationship"? Then it would help if you broke the cycle. It won't be easy and will take time, but a good first step is finding healthy distractions. Hobbies, exercise, volunteer work and playing with children or pets are great examples.
Considering what causes overthinking can be anything from your brain structure to your upbringing and the obsessive, instant society we live in, each person will be different. Everyone has to find a way to deal with overthinking in a relationship.
But it is possible.
Try out the following tips and play around with them until you find your ideal balance and way forwards for a healthier approach to your relationship and life.
1. Self-reflect
Are you still wondering, "why do I overthink in my relationship"? The danger with self-reflection is that you can overthink even more. That's why you frame self-reflection differently.
For this one, you want to avoid asking why things are the way they are. Instead, reflect on the impact of overthinking on you and your relationship. What emotions are you experiencing? What triggers your overthinking in a relationship?
Then, tell your overthinking self that this is not helpful. A useful trick is to develop your inner stop moment.
Another option is to connect the thought "stop" to something you always do. For example, whenever you get a cup of coffee or open a door. The idea is to use an everyday trigger as a reminder to stop overthinking in a relationship.
Related Reading: 

10 Reflection Questions to Know You're Ready for a Relationship
2. Practice gratitude
It's hard not to spiral when all we can focus on is "overthinking is ruining my relationship". It takes a bit of effort but you can still look for the positives around you.
Ask yourself what you're grateful for in your partner and your relationship. The more you prime your brain to look at the positives, the more it will access positive rather than negative memories and thoughts. Your mood then lights up as you distance yourself from your negative rumination.
3. Develop a mindfulness approach
A powerful technique to stop overthinking is meditation and mindfulness. The aim of those practices is not to generate calm, although that is a wonderful benefit. On the contrary, it's to develop focus.
Most overthinking in a relationship comes from a lack of focus. We're constantly distracted by phones, people and so on that our thoughts pick up the habit and go around in circles.
Instead, you can learn to focus on your breath or anything else that feels comfortable such as your body sensations or sounds around you. As your mind picks up this new habit, you'll start freeing yourself from ruminating thoughts.
Naturally, you should schedule your meditation time so that mindfulness becomes a natural state of being. Another interesting complementary approach is to schedule your overthinking time. This attempts to limit the impact it has on the rest of your life.
Watch this video by neuroscientist Andrew Huberman for a unique approach to meditation:
4. Challenge distorted thinking
Overthinking ruins relationships but it is challenging to break from. We mentioned distorted thoughts earlier, where we overgeneralize or jump to conclusions, among other examples.
A useful technique is to challenge those thoughts. So, what evidence for and against do you have those thoughts? How would a friend interpret the same situation? How else can you reframe your conclusions with a different viewpoint?
A journal is a useful friend to help you with this exercise. The simple act of writing allows you to sort through your thoughts while creating some distance.
Related Reading: 

15 Harmful Cognitive Distortions in Relationships
5. Ground yourself
A person overthinking about life and relationships can feel untethered. One way out of the spiral is to ground yourself so that you connect to the earth and let all those negative emotions flow out of you and back down to earth.
American psychotherapist Alexander Lowen coined the term grounding in the 1970s. He likened it to when an electrical circuit is grounded through the earth wire, letting out any high-tension electricity. Similarly, we let our emotions flow to the ground, keeping the spiral in check.
A good way to ground yourself is with the 5-4-3-2-1 exercise and the other techniques listed in this worksheet.
Another approach to overthinking in a relationship is to ground yourself by seeing positive people. Sometimes they can distract you as you rebuild your positive energy through their positivity.
6. Build your self-esteem
Finally, overthinking in a relationship is best beaten by believing in ourselves. In sum, it's a sure way to stop self-doubt and comparison.
Self-esteem takes time to develop but even 10 minutes of focus daily can turn things around for you. As we mentioned before, challenge your inner critic, focus on your strengths, and use them intentionally.
Last but not least, surround yourself with the right role models and influencers. That doesn't mean just your friends but also learning to appreciate what older people can teach us.
We're in a society that puts youth on a pedestal but did you know that most older people don't ruminate anymore, as this study shows? How can you tap into this approach and wisdom?
FAQs
What are signs of overthinking in a relationship?
Is overthinking bad in a relationship? The simple answer is yes, both for you and your partner. Typical signs are if you're spending too much time going over past events or rehashing mistakes in an endless loop.
A person overthinking might also over-focus on things outside their control or panic about imagined worst-case scenarios that never happen. More specifically, overthinking in a relationship can involve overanalyzing whether your partner is cheating on you.
We see problems that don't exist when we overthink or blow things up to outrageous proportions. This usually leads to conflict with those around us.
Summing up
Now that we know that overthinking ruins relationships, how can you stop overthinking? First, you need to develop healthy distractions. Secondly, you ground yourself in the present. This stops the chain of never-ending thoughts.
Make sure you don't succumb to overthinking in a relationship; otherwise, your health and relationship will suffer.
If you feel stuck, reach out to a relationship therapist because no one deserves to live a life trapped by thoughts. Or, as Einstein wisely said, "If you want to live a happy life, tie it to a goal, not to people or things".
Share this article on
Want to have a happier, healthier marriage?
If you feel disconnected or frustrated about the state of your marriage but want to avoid separation and/or divorce, the marriage.com course meant for married couples is an excellent resource to help you overcome the most challenging aspects of being married.
Learn More On This Topic
You May Also Like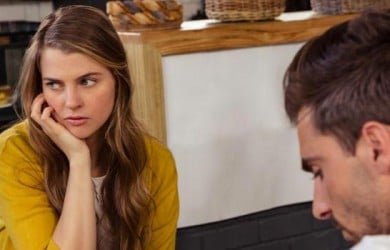 Popular Topics On Married Life