5 Psychological Effects of Money on Relationships
Do you know that there are psychological effects of money on relationships? As a tool, money is important in a relationship. As a matter of fact, recent surveys show that financial challenges are some of the leading causes of breakups in marriages and relationships.
Continued financial arguments can also decrease the level of satisfaction in a relationship.
If these studies are any indication, you can see that a relationship and money can be deeply connected. For one, your partner's financial choices can come back to haunt you or be the reason you can enjoy looking at a safe and sound future.
It can be challenging to maintain peace in a relationship, with money being a deciding factor. That said, it is important to understand the role money plays in relationships to make better financial decisions in your and your partner's interest.
Does money affect relationships?
A simple answer to this question is, "yes, money affects relationships."
The truth of the matter remains that you need money to survive. You'll need money to pay the mortgage, settle your utility bills, stay fed, keep your kids (if you have any) in school, and attend to many other life's responsibilities.
Think about it for another second. Except you work very close to your house, you would need money to get to work every day. Considering how important it is, you must understand the psychological effects of money on your home, partner, and relationship.
To best understand the money and love relationship or the effects of money on your relationship, you must first understand the intersection between money and relationships.
5 psychological effects of money on relationships
Now that we have established the fact that there's a strong connection between money and relationships, let's take a look at the psychological implication of money on marriage and romantic relationships.
1. Negative emotions
One thing that has become too common in romantic relationships is the surge of negative emotions that may follow when one partner begins to make a lot of money when compared against what their paycheck used to be like.
When you get a promotion at work, get a new job that pays you a bigger salary, or start a new business and suddenly get struck by so much profit, you expect your partner to be happy for you, right?
What happens if they cannot fully be happy because of a smidge of jealousy that starts creeping in? That can be one of the psychological effects of money on relationships.
Over the years, science has proven that one of the biggest emotional needs of every human is to feel needed by the ones they love. Being the financially responsible one in a relationship can create a situation where you might begin to feel like your partner needs you.
When you suddenly experience a big break and find yourself with much more money than you used to have, your partner may start experiencing conflicting emotions concerning your newfound financial status.
It is necessary to point out, at this point, that the internal battle your partner may experience is one of the psychological effects of money. It does not indicate that your partner dislikes you or doesn't want what's best for you. You must handle this situation with tact and wisdom.
The first step to finding your way out of this situation is understanding why your partner feels the way they do. Are they afraid that you'll change now you have the means? Are they scared that your relationship will hit rock bottom now that you have become busier than before?
Are they just insecure because they have been trying so hard to improve their financial status to no avail?
Effective communication will remain a powerful tool you can deploy to handle this dicey situation. No matter how uncomfortable it might become, have a deep conversation with your partner. Reassure them of your love and commitment to them.
Assess yourselves together and ensure that you have a healthy relationship with money. Now that you earn more, you may want to consider taking up some more financial obligations at home so that the weight on your partner is reduced a bit. If you can, consider helping them improve their finances.
Encourage them to submit more applications for better-paying jobs, teach them what you know about financial management, or you can consider encouraging them to start a new business.
Your partner will let go of these negative emotions that crept in as a result of insecurity when they see the lengths to which you've gone to help them become financially better.
Related Reading

: 

14 Tips on How to Control Your Emotions in a Relationship
2. Scope of arguments over money
Some of the biggest disagreements that can come up in your relationship might eventually be related to money. How do you split the bills with your partner? Who will be responsible for the children, the mortgage, utility bills, and the daily living expenses at home?
So, how does money affect relationships? Money can test your trust, love, and loyalty for your partner.
At some point, you would have to sit down and talk about your financial expectations from your partner or your relationship may suffer a dangerous hit in the long run.
3. Your partner's future and safety
The way one person manages money can have a direct impact on the plans and ambitions of the other person. For example, when one partner constantly makes terrible financial decisions and gets consistently into debt, the other may have to clean up their mess.
To do that, they may have to dip their hands into monies they may have kept aside for other uses. This, in turn, can strain the relationship, cause mistrust between both parties, and/or cause one person to say goodbye to some of their plans.
For example, to pay off a debt one's partner may have incurred by gambling, they may have to let go of all the money they'd been saving to further their education or get a bigger house.
Learn 6 steps to resolve financial conflicts in marriage through this video:
4. Personality differences
Understanding how your partner was raised to relate to money will play a major role in the success of your relationship.
When evaluating the subject of money management in relationships, it's easy to see how personality differences can strain otherwise beautiful relationships. There's been an age-long conversation of spenders and savers.
When you (as a saver) are in a relationship with someone who loves to spend and sees nothing wrong with living an extravagant lifestyle, you might get irritated as time progresses.
The only way to handle these lifestyle differences is to have the inevitable conversation about how you'll both spend in your relationship and reach a compromise.
Related Reading

: 

16 Personality Temperament Types and Marriage Compatibility
5. Financial secrets
Another psychological effect of money is the tendency for one to keep others away from seeing the entire picture when it comes to their financial status. One of the things that can ruin your relationship is to discover (after committing to someone) that they weren't as buoyant as they made you think.
Related Reading

: 

15 Tips to Manage Finances in Marriage
5 reasons why money is important in relationships
So, how important is money in a relationship? Now that we have examined the connection between a couple's phycological health and money, here are some of the ways money plays an important role in relationships.
1. Facilitating personal goals
Think about all the amazing things you promised you'll do for yourself when you finally become an adult. You may not be able to accomplish many of them when you don't have money. With money, you can facilitate your career and professional goals and work toward a more promising future as a couple.
Related Reading

: 

15 Marriage Goals for a Healthy and Lasting Relationship
2. Raising a family
If you intend to have children in the future, you'll need money to give them the best life they can ever imagine. Money is required to give them the best medical care (when the need arises), send them to good schools, and put a roof over their heads.
For this reason, pay attention to your finances even as you decide to settle down with your partner without any negative psychological effects of money.
3. External needs
What happens when a member of your extended family reaches out and requests some help? There might be days when you may have to make some unexpected expenses in your life and relationship. You'll need to be financially stable to meet up with those responsibilities.
4. Relationship security
Research has shown that women prefer mates who are more capable of earning money. One of the ways to increase your chances of getting and keeping the woman of your dreams is to be financially free.
Although this might be an unpopular opinion, there's an amount of security that comes from knowing that you don't have to worry about your money at all. That way, you can channel your energies into doing the other things that matter to you.
Related Reading

: 

What Is Security in a Relationship

?
5. Instances of embarrassment
Imagine the trauma that will come from coming home to an eviction notice, after a long night of work. Can you think about how embarrassing it would be for your neighbors to see your electricity getting cut off because you couldn't pay the bills for the month?
Does money matter in a relationship? Yes, because you can save yourself the stresses of getting worried, uncomfortable or embarrassed over little things which you can afford. As much as you can, work toward financial stability with your partner to avoid the adverse psychological effects of money.
How do you combat money issues in relationships?
Effective communication plays an integral role in helping you combat relationship money problems. It helps to understand your partner's feelings and insecurities before you make any final decisions. Also, being on the same page is crucial if you would overcome any financial challenges you might encounter as a couple.
Effective financial planning is the key
As we have studied so far, there can be many psychological effects of money on relationships. To enjoy your relationship to the fullest, you must understand how money works, and your partner's beliefs about finances, and be willing to make efforts where necessary.
If you face challenges while financially planning as a couple, you can consider going for relationship counseling. Feel free to enlist the help of professionals to help you sort out your money problems.
Share this article on
Want to have a happier, healthier marriage?
If you feel disconnected or frustrated about the state of your marriage but want to avoid separation and/or divorce, the marriage.com course meant for married couples is an excellent resource to help you overcome the most challenging aspects of being married.
More On This Topic
You May Also Like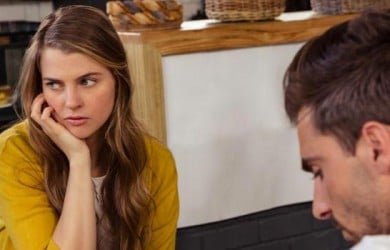 Popular Topics On Married Life