How Twin Flame Relationships Work
Many of us go through life hoping that we will one day find our soulmate, and most people have heard of the idea of a soulmate.
What is perhaps less common is the notion of a twin flame relationship. In reality, the twin flame connection maybe what we are seeking, or perhaps what we need the most.
The chances are that you have never heard of such a relationship because it is not talked about as often as the concept of a soulmate.
However, meeting your twin flame can be a powerful soul counter that you would not want to miss. In this article you will learn a lot about twin relationships and how they operate.
What is a twin flame relationship?
According to experts, this type of relationship occurs because, at birth, our souls are split into two identical halves, with one of these halves remaining with us and the other going to a person who is our "mirror." In this way, we are eternally connected with our twin flame.
In a twin flame relationship, two people come together and find that they are the perfect balance for each other.
One person may be an introvert, while the other is an extrovert. Regardless of each person's exact qualities, in such relationships, two people bring to the surface the parts of each other that require healing.
Put simply, a twin flame relationship occurs when two people come together and feel as if they have each encountered the other half of their soul. When this occurs, there is such a strong connection that it is impossible to conceal it.
Related Reading: 

How Important is an Emotional Connection in A Relationship
25 signs you've found your twin flame relationship
If you feel you may have found your twin flame, some signs can help you to confirm whether this is the case.
Here are 25 signs you've met your twin flame:
When you meet each other, you feel a sense of being home.

You feel as if you two have met each other before or known each other your entire lives.

You find that you start to make positive changes in your life after meeting your twin flame.

When you tell the stories of your lives, the two of you have several similarities in your backgrounds or upbringings.

You find that the areas where you are weak are your twin flame's strengths.

You feel strongly unified with your twin flame, despite an age gap.

You can feel each other's emotions, even when you are not physically together.

The two of you have difficulty functioning when apart.

You have

unconditional love

for each other.

Negative qualities or baggage that would be "deal breakers" in another relationship are excusable with a twin flame.

Testing each other's limits is a regular part of the relationship.

Your relationship started when you did not expect it, such as when you were both already in seemingly

happy relationships

.

The connection between the two of you may be so strong that one or both of you feels overwhelmed and tries to leave the relationship.

You and your twin flame try to break up or separate several times, but you keep coming back together.

Highs and lows are a normal part of the relationship; you swing between extreme passion and pain.

When you look back at other relationships, you find that none of them can even compare to the relationship with your twin flame.

You have a feeling that other relationships in life have prepared you for your twin flame.

You and your twin flame can pick up on each other's thoughts and feelings, almost telepathically.

Any emotional reaction to the relationship seems exaggerated; for example, happy moments are intensely joyful, but bad moments can feel dreadful.

There is a high level of empathy between you and your partner.

There is an instant sense of familiarity when you and your twin flame come together.

While you are very similar in many ways, the areas in which you are different are complementary. For example, if your twin flame struggles with attention to detail, you may be particularly attentive to details, so you can help your partner compensate.

You feel a magnetic connection to your partner as if you two are physically drawn to each other.

The relationship can seem tumultuous or difficult because it challenges you to grow and face parts of yourself you may have been uncomfortable with previously.

You and your twin flame challenge each other to be better and become the best versions of yourself.
Related Reading: 

Signs You're Getting Too Comfortable In A Relationship
Twin flames stages
While there are some telltale signs that you've met your twin flame, it is also important to understand that there are stages in the development of a twin flame relationship.
The twin flame relationship stages are as follows:
During this stage, you recognize that there is someone out there for you, and you long to meet them, but you must do work on yourself to prepare.
You and your twin flame come together, and there is an instant attraction, followed by falling for them quickly.
This is a happy period when the relationship is fresh and positive, and it lasts until the couple is confronted with challenges.
At this stage, the two of you begin to experience challenges, which are signs of work the two of you need to do to improve yourselves, rather than work needed to improve the relationship.
At this point in the twin flame relationship, the relationship is put to the test. Insecurities and attachment issues come to the surface, and one partner may even leave the relationship.
This is the push/pull phase of the relationship, when one partner walks away and the other chases after them. Usually, one partner will pull away completely, and the two will separate.
At this point, you and your twin flame come back together again. Sometimes, it takes years to reunite and surrender to the relationship.
During the final stage, twin flames accept that they were meant to be together, and the relationship becomes more balanced as they support continued growth in each other.
Also Try: 

Are We Right for Each Other Quiz
Elements required for a twin flame relationship to work
As indicated in the stages, there can be uncertainty in these relationships, as one partner may pull away while the other chases. These relationships also tend to involve insecurities and attachment issues that test the relationship.
What all of this means is that it takes work for twin flame relationships to function. Many experts believe that there are four elements required to make a twin flame relationship work:
Twin flames can reflect each other's flaws and insecurities, so for this relationship to work, both partners must be aware of their unresolved wounds and areas that need healing. A twin flame will bring out traits in you that you may be ashamed of, so you must be able to be vulnerable with your twin flame and accept this emotional connection.
Twin flames have such a strong connection and tend to share interests and passions. For the relationship to work, you must find your partner to be mentally stimulating so that you can have conversations and never run out of things to talk about.
When twin flames come together, they are physically drawn to each other. Not only is the sexual connection strong, but the partners also feel blissful and harmonious when physically close to each other. You must be prepared to accept the intense physical energy that exists with your twin flame.

The twin flame relationship can be full of ups and downs because it causes each member of the partnership to learn soul lessons and heal former emotional wounds. For this to happen successfully, both partners must be prepared to love unconditionally and accept each other. This also requires each partner to complete their healing.
In essence, for a twin flame relationship to work, both members of the partnership must be emotionally, mentally, physically, and spiritually ready for such an intense connection.
Both must be willing to bring unpleasant parts of themselves to the surface and heal past wounds and accept the other as they go through the same process.
Also Try: 

Is Yours A Spiritual Marriage Quiz
Twin flame vs. Karmic relationships
The karmic relationship vs. twin flame is a comparison that is often made, but the two are different. As relationship experts explain, a karmic relationship usually teaches a lesson but is not meant to be lasting.
People in a karmic relationship are working through a problem from a past life, but once the problem is resolved or the lesson is learned, the relationship ends.
A karmic relationship has some similarities to a twin flame relationship because the partners feel an intense pull toward each other, but karmic relationships tend to be emotionally and physically exhausting, whereas the latter can be rather healing.
Also watch: 8 unmistakable signs you're in a karmic relationship.

Twin flame relationships vs. Soulmates
Another comparison that is often made is twin flame vs. soulmate relationships, which are also different. Both relationships involve a feeling that you have known each other forever, but the chemistry is less intense with a soulmate.
Soulmate relationships tend to be happy and fulfilling, whereas twin flame relationships can be tumultuous, especially if both partners are not ready for such an intense connection.
Some people think of soul mates as being the "next best thing" when compared to twin flame ones.
One big distinction with twin flame vs. soulmate relationships is that twin flames are the same soul, whereas soulmates are not. Soulmates may be cut from the same cloth, but they do not offer the same intensity that a twin flame does.
Soulmate relationships aren't always romantic either; you may have friends that you view as soulmates because you are so similar and can be your most authentic self around them.
Finding your twin flame
If you are intrigued by the concept of a twin flame, you may wonder how to find yours. The reality is that not all of us have a twin flame, but most can find true happiness with a soul mate.
On the other hand, if you feel a yearning for something more, there is a chance you have a twin flame.
The first step in finding your twin flame is looking closely at yourself and developing self-love and acceptance. When you truly reach a point of self-love, you will be able to attract your twin flame.
You may find that they look different than you had expected, but if this is a true twin flame connection, it will be evident.
Related Reading: 

Self-Esteem Makes Successful Relationships
FAQs about twin flame relationships
The complexity of these relationships leads to some common FAQs:
Are twin flames meant to be together?
It is said that twin flames are eternally connected, and while they go through a period of separation because of the ups and downs of the relationship and the need to do their own spiritual work, they will eventually reunite.
While it could be said that twin flames are destined to be together, this doesn't mean that such relationships always work.
Twin flame partners may break up, especially if they are unable to resolve conflicts or handle the intensity that comes with having someone reveal the pieces of your soul that need healing.
Are twin flames in love with each other?
Most experts would agree that twin flame relationships are full of deep, unconditional love. The love that occurs between twin flames is said to be passionate and unlike anything that the people in the relationship have experienced previously.
Unfortunately, these relationships can become toxic. Given the fact that twin flames tend to have trouble functioning when apart, they may become codependent if they are not balanced and do not set healthy boundaries.
The emotional intensity and ups and downs can also become toxic.
If the partners are not ready to be vulnerable with each other and not ready to face areas where they need to grow and heal, the relationship can be quite toxic.
On the other hand, if both partners are supportive of each other, spiritually ready to accept personal growth and cope with emotional wounds, the relationship can bring out the best in each.
Research suggests that there is a link between supportive relationships and personal growth. Hence when the partners are ready their relationship will thrive.
Can your twin flame reject you?
Twin flame relationships might involve rejection at some point in the relationship. These relationships can have a emotionally intense relationship dynamic, and they may overwhelm one or both partners, especially if they are not ready for such an intense connection.
This means that the partners are likely to separate or pull apart for a period, but ultimately, it is said that twin flames come back together when each partner has healed and is ready for the relationship.
Can you only have one twin flame?
In theory, it would make sense that it is only possible to have one such relationship during your lifetime since these relationships are said to develop when one soul is split into two.
Are twin flame relationships always romantic?
In most cases, these relationships are described as being romantic.
That being said, the essence of a twin flame relationship is the magnetic attraction between two people, which could occur between friends, but most people think of twin flames as being romantic partnerships, given the intensity of the connection.
Related Reading: 

What Is the Importance of Romance in a Relationship
Conclusion
Twin flame relationships can be incredibly rewarding. When you are in this type of relationship, your partner becomes your spirit twin.
When both members of the relationship are ready for the intensity that comes with a twin flame relationship, it can be a passionate and healthy relationship, full of unconditional love and support.
The two of you will bring out the best in each other and challenge each other to continue to grow together.
On the other hand, if one or both partners is not ready for the intensity of the connection or is unprepared to look at their own flaws and wounds, the relationship can be tumultuous. This may cause twin flames to have rocky relationships or to separate.
However, they may eventually come back together when they are ready. At the end of the day, these relationships can be the most rewarding, fulfilling relationship of your life if you are ready to be with someone who seems to know you better than you know yourself.
Share this article on
Want to have a happier, healthier marriage?
If you feel disconnected or frustrated about the state of your marriage but want to avoid separation and/or divorce, the marriage.com course meant for married couples is an excellent resource to help you overcome the most challenging aspects of being married.
More On This Topic
You May Also Like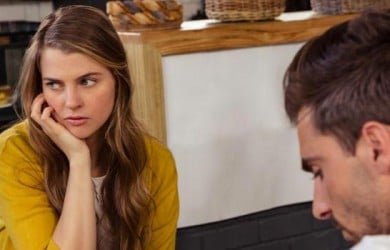 Popular Topics On Married Life