What Is Toxic Shame? Signs, Causes and How to Cope
Are you concerned that you may be affected by toxic shame? There are some things you likely need to know if this is the case. Keep reading for information related to what is toxic shame, including the signs, causes, and what can be done to combat it.
What Is toxic shame?
To define toxic shame, you have to know what shame is in the first place. If you are feeling shame, this means that you have made a mistake, and you feel bad about it.
When you are able to process shame effectively, this can be beneficial, but when you cannot, you may internalize negative feelings about yourself because of it.
Toxic shame occurs whenever you feel like you are worthless than other people. You may think that you aren't good enough. While everyone experiences shame, the toxic shame definition emphasizes that your shame will likely impact your personality.
In other words, it will change who you are, where you may not be able to stop being ashamed of yourself at all. Moreover, it is possible that you will think negative things about yourself on a regular basis. As you can see, what is toxic shame is not as easy to define as you would think.
Related Reading: 4 Tips on How to Get Rid of Negative Thoughts in Relationship
Characteristics of toxic shame
The chances are that you will be affected by shame in your life. This is something that you can work through since you can change your behavior in the future or apologize when you make an error.
On the other hand, in the case of toxic shame, there are characteristics that make it distinctly different from shame. Toxic shame causes a person to think they have no goodness in them. This can also lead them to talk bad about themselves internally, as well as have negative thoughts.
Having this type of thought consistently could lead to the development of depression or another mental health condition. Moreover, toxic shame syndrome may cause a person not to process their feelings.
How to identify toxic shame
When you are thinking about What Is Toxic Shame and are wondering about symptoms of toxic shame, it might be easier to identify this condition through your behavior rather than a set of symptoms.
When you find it hard to get angry, you may be dealing with toxic shame. There's a chance that you feel like any negative thing that someone says about you is true.
On the other hand, you may get angry when you actively feel shame since you try your best to avoid feeling shame for much of the time.
If you have a hard time making a decision
If someone has a hard time deciding, regardless of how minor it is, it may be due to toxic shame. They likely feel like their opinion doesn't matter.
If you don't have a sense of belonging
Having a difficult time figuring out where you fit in with your friends or other groups of people, shame may be greatly affecting your life.
If you are unsure of who you are
Another aspect that might let you know that you are experiencing toxic shame is when you are not sure of who you are. You may not know what your likes and dislikes are.
If you think you're worthless
Do you feel like you are worthless or less than other people? This likely means you are experiencing toxic shame. It may be due to events that have happened to you in the past.
To hear more about what is toxic shame and how to overcome it, check out this video:
How toxic shame likely starts
So, What Is Toxic Shame, and how does it start? Do you remember a time when you messed up, and you thought it wouldn't be a big deal, but you were ridiculed for your mistake instead? This is the way that toxic shame starts.
As a human, sometimes you may mess up, which is to be expected. However, when you have messed up, and you were told you were never going to amount to anything or that you were stupid because you weren't perfect, this may have caused shame.
Instead of being able to deal with your mistake, you might have internalized the shame. This can be where toxic shame begins, especially if you didn't take steps to change your behavior.
The causes of toxic shame
There are a few toxic shame causes that you may want to keep an eye out for.
If you have experienced trauma
If a child experienced trauma in their life, was talked to in a way that traumatized them, or was treated in a way that led to trauma, this may be a cause of toxic shame.
Also try: Do I Have Ptsd From Emotional Abuse Quiz
When you have been exposed to neglect
Neglect as a child may also be a source of toxic shame for an individual. In some cases, a parent could shame themselves and take it out on their offspring. Neglect occurs when a child doesn't have their needs fulfilled.
Related Reading: Spot the Signs of Child Neglect and Take Measures Accordingly
Once you have suffered emotional abuse
Children that have undergone emotional abuse can also be at risk for developing toxic shame. This is another area where a parent may be taking out their inadequacies on their children.
Moreover, they may become frustrated at times and say the wrong thing to their kids, which the child might then internalize, causing shame that sticks with them for years.
Related Reading: 50 Signs of Emotional Abuse and Mental Abuse: How to Identify It
Not being disciplined properly
When you haven't been disciplined properly, as in you were given harsh punishments for making small mistakes, this may lead to toxic shame. It could be that you decided that you were deserving of the harsh punishments because you think you are only capable of being a bad person.
Related Reading: Discipline with Love — How to Talk to Kids
If you suffer from mental health conditions
If you already experience a mental health condition, feelings of toxic shame could be a symptom of this illness. A psychiatrist may be able to tell you if this is the case because they can diagnose a mental health ailment.
How toxic shame can affect a relationship
If you have toxic shame in a relationship, there are a few ways that this type of shame may affect it. One is that the person that is experiencing shame may not be able to commit fully to the relationship.
For example, you might not want to share details or let another person find out more about you. Essentially, you might be distant from a partner because you are ashamed of who you are. Furthermore, you may not be able to handle criticism, even if it isn't given in disrespect, especially if this was a trigger for you growing up.
You could become angry when you feel shame in a relationship since you likely try your best to avoid these feelings.
Staying distant from a mate may greatly hinder you from being intimate, both emotionally and sexually, which can also prevent you from being able to bond and build your relationship.
Tips on how to deal with toxic shame
Now that you are aware of What Is Toxic Shame, you may be concerned about how to let go of toxic shame. There are a few ways to go about this.
Working with a therapist is perhaps the most effective technique when it comes to toxic shame healing. You can first talk to them about what is toxic shame and perhaps inquire about how to learn more about your triggers, so they can be avoided.
A professional should be able to utilize a few different types of therapy, which may allow you to change the way you are thinking about yourself.
Additionally, you might be able to alter your negative self-talk with their guidance. If you are feeling shame because of a mental condition, they will be able to test and diagnose you, so your symptoms can be treated properly.
When healing toxic shame, you may also find benefit in talking to someone you trust about it.
If you have a good friend that you would like to open up to, they might be able to provide you with a different perspective. Having another's point of view can give you a better idea of what shame looks like and also how other people see you.
Related Reading: How Seeing Things From Your Partner's Perspective Can Boost Your Love
Another tip on how to overcome toxic shame is to take a minute to yourself when you need to. If you are feeling ashamed or overwhelmed in a specific situation, you should walk away from what you are doing and take a few minutes to practice mindfulness.
Pay attention to the things that are going on around you, as this may be able to help you calm down. You can talk to your therapist for more coping strategies on overcoming toxic shame as well.
Conclusion
If you have ever wondered what is toxic shame, this is something that is easy to define, but it may be harder to pinpoint.
When a person is experiencing toxic shame, they might be unable to make decisions, they may have negative feelings about themselves and could feel like they are less than other people and don't want anyone to find out about it.
On the other hand, there are ways to investigate how to heal toxic shame. You can work with a therapist, talk to loved ones, and practice mindfulness. Any of these things might be able to make a difference in your life and how you feel.
Share this article on
Want to have a happier, healthier marriage?
If you feel disconnected or frustrated about the state of your marriage but want to avoid separation and/or divorce, the marriage.com course meant for married couples is an excellent resource to help you overcome the most challenging aspects of being married.
More On This Topic
You May Also Like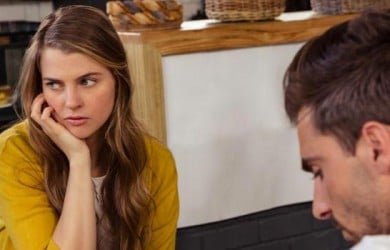 Popular Topics On Married Life