15 Signs of a Superficial Relationship
In the modern age, there are several types of relationships even in the context of romance and love. But what kind of romantic relationship are you in?
Are you questioning whether you're in a superficial relationship?
You may even be wondering what is a superficial relationship? Maybe you're confused about how serious your relationship is. It's alright.
These questions can easily arise in romantic relationships. It happens.
A big reason why you might find yourself reading this article is that you'd like your relationship to be serious before you begin investing your energy or time.
Or maybe you'd really like to take the next step of commitment with your boyfriend or girlfriend or partner.
To navigate your way through concepts like superficial relationship definition, superficial relationship examples, superficial relationship meaning, the signs of surface-level relationships, and more, just read on!
A superficial relationship: What is it?
First things first, let's address the meaning of a superficial relationship. A relationship that isn't serious or isn't taken seriously by one or both partners is a superficial relationship.
From the very name of such a type of relationship, the bonding or intimacy of such relationships is wholly on the surface level. Such relationships are almost entirely based on physical attractiveness.
Some of the main motives of such relationships are to just have fun-filled times together and sexual intimacy is usually as far as it goes in terms of proximity and connection.
The lack of the desire for long-term commitment is present for either both partners or just one partner. It's important to learn about such relationships because things can get very awkward and upsetting if one partner wants more out of the relationship, but the other partner doesn't.
An easy example of a superficial relationship is sort of like the ones you may have had as a young teen. Those "spring flings" are a great example of relationships that are short-term and based on physical attractiveness.
Simply put, superficial relationships lack depth unlike relationships based on love. Such relationships do progress beyond a one-night stand situation but don't extend beyond sleeping together.
20 tell-tale signs that a romantic relationship is superficial
Now that we've covered what does superficial mean in a relationship, let's move on to the signs including some of the things you might hear your partner say to figure out whether you're in a superficial relationship:
1. Lack of intimacy beyond sexual intimacy
Sex is important in romantic relationships. However, in serious relationships, it's not the only important aspect. For superficial relationships, it's different. Sex is probably the only important aspect of that connection. In fact, the connection may just be physical and/or sexual.
As already mentioned, superficial relationships are sort of like a fling where you or your partner may be drawn to each other based on how physically attractive you perceive each other to be. So, superficial relationships involve a lot of sexual intimacy.
Related Reading: 

How a Lack of Physical Intimacy Can Hurt Your Marriage
2. It just feels convenient
What comes to your mind if you're asked why you're with your beloved? Is it because the relationship with your partner just feels "convenient". If convenience is the first thing that occurs to you or the first thing that occurs to your partner when asked about the relationship, it may superficial by nature.
There is a certain component of safety when it comes to superficial relationships. You may find your partner to be helpful in your life and vice-versa. Maybe either or both of feel that your basic needs (physical and sexual) are being met and that you don't require any emotional fulfillment from it.
3. An on-again-off-again situation
Another sort of indirect sign of a superficial relationship is that you and your partner have broken up and patched up multiple times. Basically, you're in an on-again-off-again sort of relationship. Ask yourself why either of you keep coming back to each other?
One of the reasons for this breakup and makeup cycle may be due to one of the partners pushing for commitment and the other backing out.
4. Friends with benefits
This is another one of the key signs of a superficial relationship. If you or your partner believe that you're both single and just mingle with each other when you want to have sex, then you're basically friends with benefits.
There's no dating, no meeting outside the living space to just hang out, no deep conversations, no getting to know each other in a 'friends with benefits' situation. It's just sex.
Also Try: 

Do You Have Friends with Benefits quiz
5. Withholding information
Another subtle sign of superficial relationships is the habit of withholding information from each other. This is not to suggest that your partner may be doing this intentionally. They may just not think it's important to share information with you about their life, work, loved ones, their feelings for you, and so on.
The unwillingness or the idea that it's not important to talk to one's partner is a subtle sign that your partner may be considering the relationship to be a short-term, surface-level relationship.
6. Lack of communication
Think about the kind of conversations that you have with your partner. What do you both talk about and how often do you communicate with each other? Is the communication regular, direct, and open? Do you both talk about your feelings or your thoughts or your aspirations?
The reason that you're reading those questions and wondering about the answers is that in superficial relationships, communication (both non-verbal and verbal) is lacking. This is not to say that the partners don't communicate at all. No. They do. But it lacks depth and regularity.
Related Reading: 

3 Detrimental Effects of Lack of Communication in Marriage
Here's how you can fix a lack of communication in your relationship:
7. No discussions about the future
One of the top signs of a superficial person and a surface-level or casual relationship is that the partners don't have any conversations about the future.
If you have brought up conversations about the future of the relationship quite a few times but your partner has deflected the conversation or hasn't answered, it may be because the relationship isn't serious to them.
8. Out of sight and out of mind
A common aspect of being in love or sharing a strong friendship with someone is that you do think about them even when they aren't physically present or talking to you (on the phone, text, video call), right?
But if you notice that either you or your partner do not think about each other (for even a few fleeting moments) when you're not physically present with each other, it may be because of the superficial nature of the relationship.
9. Lack of understanding
Because a superficial relationship lacks the scope for deep conversations about feelings, fears, thoughts, ideas, etc., there is a natural gap in understanding each other.
Think about this: does your partner really know much about you or understand you? Do you feel understood? If not, it may not be very serious.
Related Reading: 

How to Improve Understanding in a Relationship
10. Not caring about the other's needs
Since there is an overall lack of communication and lack of emotional connection, the desire to care for each other's needs is also absent in superficial relationships.
In superficial relationships, partners don't really talk much or enough with each or spend enough time together or even gauge each other needs or desires.
11. Trivial arguments
An indirect indication of the fact that you may be potentially in a relationship that is superficial is if you notice that the kind of arguments that you have with your partner are trivial in nature.
A serious relationship based on love comes with a fair share of giving and taking. This happens because it is impossible for two individuals to always see eye-to-eye in all situations. But the topic of arguments is more diverse and requires compromises and sacrifices.
However, in superficial relationships, the topics are trivial and immature.
12. Absence of shared values
In a superficial relationship, either one or both partners spend time together to primarily have fun and chill together. There's also the possibility of having sex.
But when the fun is always the key motive, there isn't much scope to observe, talk about, or verify the values of your partner and vice-versa. That's why superficial relationships, unfortunately, lack the presence of shared values.
13. Rampant lying
Think about the people whom you deeply care for and respect. Do you find yourself frequently lying or withholding information from them? Probably not, right?
It's because when it comes to your loved ones, you wouldn't think it's right or even necessary to lie to them if you don't want to spend time with them sometimes, right?
However, in superficial relationships, you may find yourself on the receiving end of very lame excuses in case you've proposed to hang out with your partner, but they don't want to.
Because your partner may perceive the relationship to be superficial, they may not feel comfortable being honest with you.
14. The attraction that is based solely on looks
Unfortunately, a surface-level relationship is based on how physically attractive two (or at least one) people find each other. As already mentioned, superficial relationships are a lot like crushes or flings.
It's also important to remember that sex or sexual intimacy and having fun together are the main motives for superficial relationships so the main "chemistry" or attraction from at least one partner is just based on looks.
15. Having an open relationship
Now, this is not to say that all open relationships are superficial relationships. No. Absolutely not.
The point here is that if you've heard your partner opine that they wouldn't mind if you dated someone else or slept with someone else while being with them, it can be indicative of the fact that they aren't serious about the relationship.
Related Reading: 

20 Pros and Cons of an Open Relationship
16. No marriage conversations
This is very specific. If you've brought up the possibility of marriage (even tentatively) and you've noticed that your partner has indicated that they're not at all interested in marriage and haven't at all thought about it, they may not be serious about the relationship.
17. Lack of emotional connection
As superficial connections lack regular communication and depth, there is hardly any scope for vulnerability from either partner.
And if partners aren't vulnerable with each other, there, unfortunately, won't be any emotional connection. All this stems from the lack of interest in getting to know each other better.
Related Reading: 

How Important Is An Emotional Connection In A Relationship?
18. No shared interests
Usually, superficial relationships don't involve the partners spending a lot of quality time together apart from the time spent on sexual intimacy and physical intimacy. Therefore, going out to do activities together, talking about each other's passions or interests is a rarity.
19. Forgetting important occasions
This is hurtful but quite a direct sign that your partner may not be serious about the relationship. Forgetting important occasions like anniversaries, birthdays, important social events, repeatedly and not just once or twice, is a sign that they may just be with you for fun and nothing serious.
20. Only meeting for sex
This is different from the friends with benefits situation. This sign is subtle. Think about where you both hang out. Is it either at their place or your place and is it only to have sex? Then this connection may just be superficial.
Are most romantic relationships superficial by nature?
Although it is difficult to say whether most romantic relationships are superficial, it is quite simple why you may be wondering why people have superficial relationships.
Firstly, it depends on the motives of people. If you're at a place in your life where you don't feel the need for emotional connections and you wish to have your physical or sexual needs met, a superficial relationship is what you may choose.
However, apart from mindfully making this choice to have a few casual relationships, people often find themselves unknowingly involved in superficial relationships.
This happens because people usually want their partners to make those first moves or show interest.
Apart from that, poor communication skills, excessive criticism, self-centered motives, and getting caught up in playing the blame game are some other reasons that people unknowingly end up in surface-level relationships.
Takeaway
Superficial relationships have a tendency to break because a strong bond did not get established in the first place. If you wish to have a serious relationship, it's worthwhile to consider doing a course on how to have a serious romantic relationship. You may even consider some counseling.
Share this article on
Want to have a happier, healthier marriage?
If you feel disconnected or frustrated about the state of your marriage but want to avoid separation and/or divorce, the marriage.com course meant for married couples is an excellent resource to help you overcome the most challenging aspects of being married.
Learn More On This Topic
You May Also Like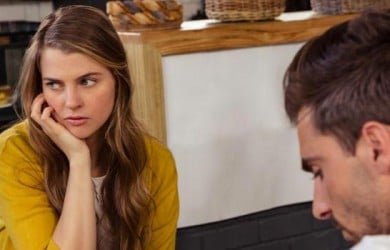 Popular Topics On Married Life