The 15 Signs of Relationship Disconnect and How to Fix This
If you are in a relationship and feel that you are disconnected from each other, you may want to find out as much information as you can. While we all go through this phase of a relationship, it is crucial to identify if it's a phase or the problem is bigger than that.
Here is a look at 15 signs of disconnect in a relationship. They will help you figure out if you need to work harder or if you want to think about other options.
What does feeling disconnected mean?
When you are experiencing relationship disconnect, your relationship isn't as strong as it once was. You may find that you are growing apart, aren't spending as much time together, and don't seem to care about your mate as much as you used to.
This can happen in any relationship, and it occurs over time. It won't appear overnight, so it may be hard to see the signs until the situation is terrible.
What causes disconnection in relationships?
A few different things may cause a disconnect in a relationship. You could have been growing apart for some time, don't have the time to spend with each other like you used to or one or both of you might have stopped putting in the effort you used to.
Once you find yourself in a disconnected relationship, you have to determine if you want to work hard to connect again or if it may be time to move on.
It is necessary to note that any relationship may experience disconnect at times.
This is nothing that you need to be concerned about. People get busy, and they may not realize that they aren't being intimate or connecting like they used to. Once you notice a loss of connection in a relationship, this is the time that you should do something about it.
For more information on signs of disconnection in a relationship, check out this video:
15 Signs Of Relationship Disconnect
You may want to focus on these signs of disconnection in a relationship. If you notice these things happening in your partnership, you might need to determine what you want to do next.
1. You fight a lot
If you are fighting more often than not, this may be one of the major signs of disconnection in a relationship.
While fighting occurs in any pairing, if you cannot get along with each other, you should consider what is causing this feeling of disconnect between you two. It isn't beneficial to argue with your partner all the time.
You should be able to talk to each other. Fights in a relationship can be helpful since it allows you to work out problems, but when you aren't working through these issues, this is not likely to build up your relationship.
Related Reading: 

10 Reasons Why Fighting Is Good in a Relationship
2. You don't makeup after a fight
When you aren't making up after a fight, this could indicate that you are feeling disconnected from your partner.
You may not care to solve disagreements that you are experiencing with one another, or you refuse to recognize their point of view. The whole process may seem pointless to you, which could let you know how tired you are of some of the things in your relationship.
3. You don't remember how to talk to each other
In some cases, you may think I feel disconnected from my boyfriend, and I don't remember how to talk to him.
If you are ever trying to talk to your partner and can't find the words or don't know what to say to them, work may need to be done in your relationship.
Think about how you used to talk to each other and the things you would discuss. This may help you reconnect.
Related Reading:

 How To Reconnect With Your Spouse In 7 Ways
4. Your partner gets on your nerves
Have you found that your mate is getting on your nerves more than he used to? This may be because you are feeling distant and disconnected from them.
Take some time to think about how you feel and why you may be feeling this way. Perhaps it isn't your partner's fault, or maybe you get on his nerves too. You may need to cut them some slack and find out what is on their mind.
5. You are leading separate lives
Upon occasion, you may be living a completely separate life from your spouse. You may both be busy and hardly ever see each other, and it might be hard to find time to talk even if you see each other for a moment throughout the day.
This can be problematic since you need to be able to spend time together if you want to reconnect with your mate. Additionally, this is one of the signs of disconnection in a relationship that must be addressed to salvage your partnership.
6. You aren't being intimate
You can be intimate with your partner, including staring into each other's eyes and talking about your day. However, when you are not being physically intimate with each other, this could cause you to feel disconnected sexually.
You may be able to reconnect physically, but you possibly need to reconnect emotionally first.
7. You'd rather do other things than be with them
If you find that you would instead do other things or hang out with different people instead of your mate, this likely indicates a lost connection in the relationship.
This may also be letting you know that you don't feel the same way about your partner that you once did. You can start by telling him you feel disconnected if you wish to.
8. You want different things
At some point, you may realize that you and your partner want different things. After you comprehend this, it can cause you a love disconnection.
You may be wondering how to get the things you want and if it is possible that they can get the things they want as well.
It would help if you also considered this one of the more troubling signs of disconnection in a relationship since there may be no solution to this issue.
Related Reading: 

6 Signs of an Emotionally Disconnected Marriage
9. You find yourself being critical of your mate
Once you start to think about how you are feeling disconnected from your partner, you might find that you are being critical of your mate.
You need to think about if this is because you want them to change, or are you simply mad at them for one reason or another? You may be able to work things out and feel more in sync with them again.
10. You are often mad at them
If you are often mad at your partner, this isn't something that will allow the relationship to flourish.
It is up to you to tell them how you feel, to see if they would be willing to compromise with you. If they are, you must give them a chance to do so. If not, you should think about other options available to you.
Related Reading: 

6 Compromises in a Relationship Needed for a Healthy Marriage
11. You aren't getting your needs met
When you feel disconnected from your spouse, you may feel like your needs aren't being met.
Research shows that romantic relationships can be beneficial for your health, but this may not be the case when you aren't in a healthy relationship. This is why it is necessary to work things out when you think that you are currently not on the same page relationship.
12. You don't feel like putting in an effort
Do you feel like you don't have the energy to put effort into your relationship anymore? This can be pretty challenging regarding signs of disconnection in a relationship.
When you aren't willing to work with your partner on issues and figure things out together, you may be on the road to breaking up. You need to determine if this is what you want or not.
13. Your mate isn't putting in the effort either
On the other hand, your partner may not put in the effort it takes to nurture your relationship.
If they seem to be doing the bare minimum and it isn't enough, you should tell them what you expect from them. They might not notice how they are acting and step up their game.
14. You don't discuss feelings with each other
Is your mate the last person you call when you have good news or need to talk about an issue? If they are, then this is something that doesn't bode well for your partnership.
It would be best if you were discussing your feelings about one another and other topics. This can help you stay on the same page and work through arguments.
Related Reading: 

How to Share Your Feelings With Your Spouse
15. You often ignore each other
If either of you seems to ignore the other party, even when you are sitting across the table from them, you need to do something if you want to continue in the relationship.
Looking at your phone instead of talking to your partner will not only send the message that you don't care, but it is also something that may hurt their feelings.
How do you fix a relationship that is disconnected?
When you wish to work on how to stop feeling disconnected in a relationship, there are a few ways to go about this.
Talk to your partner about how you are feeling
Tell them about the signs of disconnection in a relationship you have noticed within your duo, and see if you can develop solutions to these issues.
If they are willing to hear you out, you must allow them to speak as well, since they may have noticed some issues as well.
If you are feeling disconnected, you might need to build up your intimacy with each other. You can start by talking amongst yourselves and spending time with one another to see if this can improve how you interact.
You may not have had the time to spend together that you wanted to, but you must make time to hang out since this is quite important.
Related Reading: 

4 Tips to Build Intimacy in a Marriage
When you want to build your relationship back up, this may require help from a professional. Consider working with a therapist to address the signs of disconnection in a relationship.
They should be able to help you learn how to communicate more effectively and work through the problems that are vexing you.
In some cases, your relationship may be at the end of its life. If this is the case, you have to know when the right time is to let your partner go.
If they are unwilling to work with you to build a relationship or don't think the things you say are valid, these could indicate that you aren't with the person who is right for you. It may be time to move on and find a new partner.
Conclusion
Once you notice that there are signs of disconnection in a relationship in your couple, you might be afraid that you have to break up or get a divorce. However, this is not always the case.
Every relationship goes through its ups and downs and may feel disconnected at times. The critical part is acting in time to strengthen the pairing after noticing the disconnection effects. This can help you save your intimacy, work well as a team, and resolve any feelings that need to be addressed.
Be sure to talk to each other when you are concerned about the signs of disconnection in a relationship.
You may also meet with a therapist to learn how to talk to each other better, and it might even help you work out any lingering arguments or disagreements.
It could take a lot of time and effort to build up your relationship after you have felt the effects of disconnection, but if you care and love your partner, it will be worth it.
Share this article on
Want to have a happier, healthier marriage?
If you feel disconnected or frustrated about the state of your marriage but want to avoid separation and/or divorce, the marriage.com course meant for married couples is an excellent resource to help you overcome the most challenging aspects of being married.
More On This Topic
You May Also Like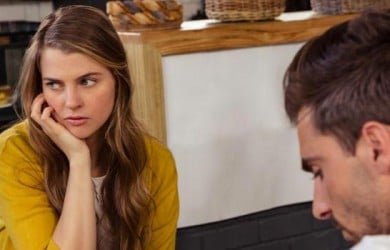 Popular Topics On Married Life