55 Soulmate Affirmations to Attract Your Soulmate
Suppose you feel unlucky in finding a suitable partner. Positive soulmate affirmation might help you attract an ideal partner and offer you the best of love relationships. How? Keep reading this article to find out more about affirmations for a soulmate.
Regarding relationships, some people accept whatever comes from their potential partner. Others, however, feel they deserve better. As such, they reject anything below their expectations. Getting that ideal love interest might seem impossible when you realize many people don't value committed relationships.
What do you do then? In that case, soulmate love information is your best bet. In other words, you can use love affirmations to attract a soulmate. After all, "You are what you think." How to attract a soulmate? Learn more in the following paragraphs.
What is a soulmate?
Before you use affirmations to attract a soulmate, an understanding of what a soulmate is will help you know the exact words to use when using affirmations to attract love. So, what is a soulmate?
Soulmates are exceptional individuals with whom you naturally form a strong bond and connection. While others put so much effort into achieving happiness in their partnership, a relationship with your soulmate comes with no pain, stress, or baggage.
You can argue or fight once in a while, but you will always find ways to come back together. With your soulmate, the connection is so deep that you can't do without each other, yet you aren't dependent on each other.
Being with your soulmate is blissful, fulfilling, and satisfying. When you meet your soulmate, they instantly understand you no matter what you say or do. You love them unconditionally and vice-versa. You don't need to go the extra mile to prove your affection for them. Therefore, when people seek how to use soulmate affirmations to attract a partner, you can't blame them.
How do affirmations work?
If you have never tried attracting your soul mate, you may wonder how stringing certain words together will draw the love of your life to you. How exactly do you use affirmations for manifesting love or affirmations for a soulmate?
To begin with, attracting anything to your life, including a worthy partner, is possible if you believe it. Affirmations for attracting love work hand-in-hand with your mindset – the way you think. Once your mindset changes, your attitude changes as well. Also, without the right mindset, it's hard to achieve anything.
If you believe you deserve all the good things in life, you will naturally be attracted to all good things till you achieve your objectives. For example, suppose you wish to travel to a particular country. Naturally, you will learn more about the country through books, videos, music, and the natives of that country.
In that case, the more you learn about the country, the more nature gravitates you towards the country and planning a trip. For example, you may start saving up for your trip or speaking like the people of this country.
Affirmations to attract a soulmate opens your mind to the possibility of fulfillment, contentment, and happiness in life. According to Carol Dweck's book, Mindset: The New Psychology of Success, "You're in charge of your mind; you can help it grow by using it the right way." If you desire a great relationship, verbalizing it aloud can be life-changing.
It doesn't matter if you keep attracting the wrong person or you've given up on love. You will get the correct result if you believe deeply in true love affirmations and soulmate love affirmations.
How to attract your soulmate using affirmations?
How to attract your soulmate using true love affirmations? Attracting your soulmate involves reciting love manifestation affirmations daily. This "seemingly small action" can significantly impact your love life.
As you proactively use the words daily, you will develop attitudes, traits, and behavior that will improve your mood and draw your true love to you. The words can indirectly guide you in the right direction to finding your soulmate.
The following are ways love manifestation affirmations can help you in other aspects of your life:
You develop a

gratitude mindset

– appreciating the good things in your life instead of focusing on what you don't have.

Having a positive and growth mindset – believing everything is possible.

Loving and taking care of yourself better.

Daily love affirmations help you develop healthy habits.

You develop a

forgiving mind

.

You focus on essential things in your life.
Use love affirmations to attract a soulmate by following the steps in the following:
Identify the

negative thoughts

stopping you from picturing yourself with your soulmate.

Write a comprehensive list of what you want precisely in a potential partner. Ensure you don't hold anything back.

Use the list of characteristics you want in your soulmate as a source of inspiration, telling yourself that people who have it good are not better than you.

Pick out two – three of the list of things you want in a soulmate and make it a habit to repeat the words 10 – 15 times daily. Ensure each session last up from 2 – 5 minutes.

Do this anywhere or anytime from when you wake up till you go to bed at night. You may do it in front of a mirror and say it aloud while doing chores.

Be patient

! You deserve good things, and they will come to you.
55 soulmate affirmations to attract your soulmate
Even when developing some love affirmations to attract a soulmate, it can be frustrating when nothing seems to be working. Well, the problem may lie in the vocabulary you use.
Besides, creating a list of statements to repeat every day can be exhausting. Thankfully, we have a list of positive soulmate affirmations to help you eliminate negative thoughts and open your heart and mind to the perfect partner. Here they are:
1. I'm letting go of all negative thoughts, past pains, and experiences
This soulmate affirmation helps prepare the foundation for your mind. The truth is you can't let in positive affirmations without ridding your mind of things that make you unhappy. You can't be stuck in the past and focus on the future.
2. I deserve the best love the universe has to offer
You can't use affirmations to attract love if you are still thinking about the past. Regardless of your experience, you deserve the best. Even if you have misbehaved in the past, everyone deserves a second chance.
3. I open my heart to love
Reciting a soulmate manifestation every day is one thing. Still, if you don't allow your heart to love, your effort is abortive. Opening your heart to love means giving potential partners a chance.
4. My true soulmate will come to me naturally
Believe strongly that your soulmate is near, and you won't have to stress yourself before they come.
5. The universe will work in my favor
Believe everything will work to your advantage in achieving a significant and lasting relationship.
6. I deserve a fantastic partner
This statement is one of the affirmations to attract love to yourself. See yourself meeting only the best people no matter how small their number is in the world.
Related Reading: 

80 Love Affirmations for a Specific Person
7. I am making room to accommodate my partner
Even if it's not happening yet, you must prepare in advance. By repeating this soulmate manifestation, you will prepare to accommodate your partner. For example, you may have to set aside your weekend for a couple's date and outings with the love of your life.
8. I am confident that my other half is out there looking for me as well
It will help if you believe your potential partner is making the same effort as you are to achieve harmony.
9. I am attracting my soulmate at this moment
How to attract a soulmate? Believe it's happening already. Repeating this soulmate manifestation gives other soulmate love affirmations the power and energy to occur.
10. I am attracting the perfect person
A person can be the best but not the best for you. By repeating this affirmation, you are drawing the perfect person that fits into your values and way of life.
11. I am surrounded by love every day of my love
Out of all affirmations for attracting love, this particular one helps you see only the best relationships within your vicinity. It deepens your positive mindset.
12. I will be loved for who I am
This affirmation helps you be the best version of yourself instead of making unnecessary changes. If you need to change, it will be for the best.
13. My heart is open to the gift love has to offer
Believe you deserve everything love has in its package.
14. I am ready to receive love and give my soulmate love
Be ready to give out as much love as you receive. It's blissful and fulfilling!
15. Love is safe for me
Attracting your soulmate with this affirmation is one of the best ways to love again. Regardless of your past experiences, know that love won't harm you.
16. I am happy and grateful for my present life
Being happy regardless of what you go through helps you with the right inspiration to pursue great things. It puts you in the proper mindset to accommodate your soulmate.
17. I permit myself to be loved fully
This affirmation makes it easy for you to receive love when it eventually comes – and it will come!
18. I allow myself to be seen for who I am by other people
This soulmate manifestation makes you more visible to potential soulmates and people who might work in your favor.
19. I am attracting a healthy and loving relationship
You want a good relationship, but not desperate. Therefore, only a loving and healthy relationship will come to you.
Related Reading: 

10 Tips for Attracting More Positive Relationships
20. I will spread love to everyone around me, and it returns to me in abundance
This affirmation helps you become more loving towards people. That way, you get it in return quickly.
21. I have the power to give and receive love endlessly.
If you don't believe you can give it, you can't receive it.
22. I attract love everywhere I go, naturally
This soulmate manifestation ensures your heart is open to love everywhere you go.
23. I am irresistible to my soulmate
This affirmation makes you attractive enough for your soulmate.
Check out these signs that tell you you've found your partner in this video:
24. I attract only positive, loving relationships
Whether a romantic or friendly relationship, you deserve it all.
25. Love is attracted to me, and I am drawn to love naturally
This affirmation draws you only to meet the best people.
26. I attract romance into my life with ease
Again, soulmate affirmations ensure you don't stress yourself before being loved.
Related Reading: 

The Role of Romance in a Relationship and its Importance
27. I will be loved the way I want
With these love affirmations, you don't deserve less, so you won't receive anything below your expectations.
28. I am beautiful and worthy of experiencing my soulmate love
You are attractive and worthy of your soulmate. Don't ever think otherwise!
29. I am grateful for the abundance of love in my life currently
You may be using affirmations to attract a soulmate, but you should appreciate the love you receive in your life at the moment. If you get disappointed while seeking love, the statement helps you move forward quickly.
30. I see and feel unscathed love everywhere I go
The perfect love can be seen anywhere.
31. I trust that love will find me soon
Believe that your soulmate is near.
32. I want the best partner in the universe
The universe has a lot to give out, so ask for yours.
Related Reading: 

25 Ways on How to Choose a Life Partner
33. I will radiate love so powerful that my soulmate will be drawn to me right now
These affirmations to attract love allows you to behave accordingly till your soulmate finds you.
34. I am confident that my soulmate is out there
Believe it so much that it begins to manifest.
35. Now is the right time to meet my partner
Believe it will happen anytime soon.
36. Every step I take from now leads me to my soulmate
This soulmate affirmation prompts you to start seeing your soulmate in real life.
37. I am grateful that I am connected to my soulmate
Even if you haven't met your soulmate yet, be appreciative.
38. Every moment of connection in my life brings in the love of my life
This soulmate manifestation draws in your soulmate more.
39. I allow myself to receive unconditional, undying love
Don't deny yourself the best love.
Related Reading: 

Unconditional Love: Meaning, How To Give It and Know If It's Healthy
40. I am divinely connected to my soulmate
You and your soulmate are meant to be – it will happen.
41. I am worthy of receiving love
You are as worthy of love as any other person in the world.
42. I trust that true love will follow me everywhere I go
Yeah! You will attract love everywhere.
43. I am thankful for my lifestyle and that of my partner
Be grateful for the life you envisioned for yourself and your partner.
44. My romantic relationship is fulfilling and rewarding
Know that you have the best relationship.
45. I am attracting a relationship based on love, trust, honesty, and respect
Envision a complete relationship.
46. I am cherished and loved fully
You don't deserve less than others.
47. Love is flowing through my soul and body every second
You radiate love throughout your body system.
48. I am worthy of receiving love, romance, and joy
You truly are.
49. I am surrounded by love
Love is everywhere; receive it in abundance.
50. An attractive and impressive partner will seek me soon
Yes!
51. My soulmate and I have a healthy and exciting relationship
Picture it already before it begins to happen.

Related Reading: 

 21 Ways to Keep Your Relationship Strong, Healthy, and Happy
52. I choose to love and everything that comes with it.
You deserve all the good things love has to offer.
53. I am thankful for a caring and sweet partner
Practicing gratitude sets your mind on the right path.
54. I give and receive love happily every day
Manifest that you will give love freely regardless of the person.
55. My soulmate and I are infinitely connected
With this soulmate affirmation, you see beyond the present. Your relationship is meant to last a lifetime, and so shall it be.
Related Reading: 

15 Signs You Have an Unexplainable Connection With Someone
Takeaway
A healthy and fulfilling relationship involves partners who are genuinely committed to each other. Not finding one on time might make you feel like something is wrong with you. However, only you have the power to evoke a significant change in your life.
You are worthy of deep and abundant love. Thankfully, reciting affirmations to attract a soulmate can help you find the right person and build the perfect love for you. Also, practicing these love affirmations to attract your soulmate can give you the confidence needed in your everyday life.
Share this article on
Want to have a happier, healthier marriage?
If you feel disconnected or frustrated about the state of your marriage but want to avoid separation and/or divorce, the marriage.com course meant for married couples is an excellent resource to help you overcome the most challenging aspects of being married.
More On This Topic
You May Also Like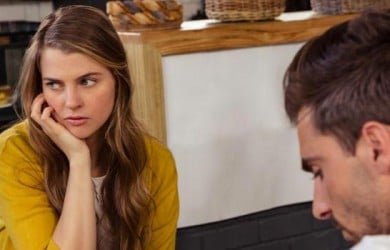 Popular Topics On Married Life