10 Signs You've Found Your Soulmate
As they say, we are in this world to find not just our one true love but our soulmate. It's as if we are not able to complete our mission in life if we do not meet "the one".
Finding your true love is different than finding your soulmate in fact, not every one of us would be able to find our soulmate in this lifetime. It's both a beautiful and sometimes a mysterious experience. That's why looking for soulmate signs is one of the ways where we would know if we have already found our missing piece.
What is a soulmate?
Do you belong to the group of people who believe that you have a soulmate or do you belong to those who think that soulmate connection signs are just modern fairy tales?
We all want to find our true love but finding your soulmate is a whole different thing. Surely, you've heard about the soulmate signs and how fate can do wonders to make your paths cross as we all see in the movies but what does soulmate really mean? Is it real?
A soulmate is your missing puzzle, someone who will complete you in many terms.
They are your missing piece, the one that fate has prepared for you but the path to each other's hearts is not easy, in fact some may live a life of fulfillment without even knowing that somewhere out there – was their soulmate. You're considered blessed and fortunate if you have already experienced the signs you found your soulmate and for those who haven't – there are reliable soulmate signs to look out for.
10 Signs you found your soulmate
Who doesn't want to meet their soulmate? Before you get too excited in knowing the top 10 signs you found your soulmate, we have to understand first that while meeting the "one" will make us a better person and will complete us, let's not think that everything will be smooth and easy like in the movies.
In fact, you may not realize it but meeting your soulmate may not be as stress-free as it may seem and you might not even get along with each other in the beginning.
To better understand, here are signs you met your soulmate already.
1. You're drawn to them
There is something with this person and you just feel it. You just know it because something deep inside you is drawn to this person and no it's not just physical attraction.
It's like with this person your heart knows that you belong, you are comfortable and you feel totally drawn to this person even if you have just met them.
2. The right time
Want to know the signs he's your soulmate? You'd be surprise to know that you may have already crossed paths with this person before but you didn't even bother talking to them. You may have lived across the street before or have been school mates but didn't have the chance to get to know each other.
This is because it wasn't the right time yet. Meeting your soulmate has its perfect timing.
3. You complete each other's sentences
If ever you have seen a couple who are just too close that they can now complete each other's sentences then they might be soulmates.
For some, they might look like they just know each other because they're married or have spent so much time together but it's definitely more than that. It's that connection that your souls have been together before and has known each other as if they are one.
So if you have found that someone who just gets you all the way – he might be your long lost soulmate.
Related Reading: 10 Signs You've Found Your Platonic Soulmate
4. You want to spend your life with them
One of the signs of soulmate love is when you just know that this person is the one you want to spend your lifetime with. You may have fallen in love numerous times but this one is different, this person may not be physically attractive or may not have the traits that you want but there's just something that you know that this person is the one you want to be with for the rest of your life.
5. You have a special connection
You know you have found your soulmate when you feel the signs your soulmate is thinking of you and you just have this feeling and connection with each other.
Have you had the urge to call this person and even before you try dialing their number you get surprised that they are already calling you? Now, that's one definite soulmate signs coincidence.
6. Fate leads you back together
Life is hard and today, there are so many ways in which a relationship can be broken but with two people who are soulmates, life may be hard but somehow, fate will lead them back together.
Of course, this isn't like the ones we read or watch. Just like any other relationship there can be hardships and trials but there will come a time that circumstances will bring you together again.
7. You feel at peace with them
Can you imagine being with your partner in a comfortable and quiet place just enjoying the beautiful breeze and just feeling at peace? That no matter what life brings you, as long as you are together – you won't give up?
If you feel this inner peace and happiness then you are with your soulmate.
8. You bring out the best in each other
One of the signs you've met your soulmate is when you have the same life goals and you know that with this person, you can achieve your dreams and success. That you bring out the best in each other and support each other's weaknesses.
9. You feel connected more than just in a romantic way
Look into each other's eyes and feel that deep connection much more than the romantic love, much more than being together for years. It's that feeling of being one and being complete. If you have this feeling of utmost happiness with this person. You've found the one.
10. With them everything makes sense
You know that they are the one when everything just makes sense. When all your previous heartbreaks begin to make sense, while all these years you haven't gotten married or had children and when everything had let to this moment – the moment where you and your soulmate are with each other's arms.
Soulmates – Entwined fate
We may not be able to easily recognize some of the soulmate signs that we have but fate has its way of leading us to our right path, that no matter how hard, no matter how confusing at first – our entwined fate with our soulmates will always find its way to each other and once you have met your soulmate, do everything you can to make the most out of each other.
Share this article on
Want to have a happier, healthier marriage?
If you feel disconnected or frustrated about the state of your marriage but want to avoid separation and/or divorce, the marriage.com course meant for married couples is an excellent resource to help you overcome the most challenging aspects of being married.
Learn More On This Topic
You May Also Like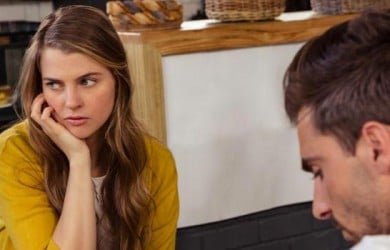 Popular Topics On Married Life