6 Ways to Bring Your Best Self to Your Relationship
Through the years of providing counseling to couples before or during a marriage, my approach has continued to evolve. Yes, we address a couple's struggles and challenges by helping each person in the relationship bring more skin to the game, show up more, and make individual changes to improve the relationship.
You can sidestep the challenges, but they will continue to take up more of your energy and will get you nowhere. And this just leaves you feeling stuck. And, honestly who wants to be stuck?
The days of 'if, then' (if my partner does this, then I will do that) have taken a back seat to demand more from people to live their best life, be authentic, and take the necessary steps to bring their best self to their marriage.
Because doesn't it get exhausting waiting for the other person to change? Wouldn't you want to take the steps YOU need to make to feel better about yourself and demand more from your marriage or relationship believe so?
1. Own your own stuff
Simply identify your challenges, your issues, and take stock of what you need to change. We all have something to change. Own it, tackle it, and take the necessary steps to move you down a new path.
A path that empowers you and holds you accountable to yourself and to your marriage.
Don't walk away from your challenges, run towards them. Embrace them and know this is the way to living a fulfilled life.
2. Improve your emotional intelligence (EQ)
EQ is being able to manage your own emotions and express how you feel to another person without exploding. It's become critical in relationships – both at work and at home. EQ comprises four components:
Self-awareness-

Your ability to be self-aware of how you are thinking, reacting, feeling, and behaving in the moment and long term.

Self-management-

Your ability to manage yourself is dependent on self-awareness and your ability to utilize your awareness of your emotions and stay flexible to direct your behavior positively.

Social awareness-

Your ability to be perceptive of another person's emotions and understand what's going on with them. Being tuned in and not tuned out.

Relationship management-

This combination of self-awareness, self-management, and social awareness to improve relationship interactions.
3. Identify your triggers
We all have triggers. So please don't be the person that falsely believes they are exempt of this. What are they? Why do you have them? Where do they come from? When was the time that you experienced these triggers differently? Did someone or something bring them back into your life? If so, what will you do to work through them?
4. Up your ability to communicate
Yes, more easily said than done, but it can be accomplished. A few quick skills to implement in your life:
Start with a soft startup. Ask, is this a good time to talk or would another time work better?

Turn toward your partner. When your partner is reaching out for 'bids' (John Gottman), then turn towards them even if at the moment you are not in the mood. This will turn up the connection between both of you.'

Take a timeout. Feeling overwhelmed? Ask for a timeout (short period of time) to regroup or calm yourself down. However, make a commitment to return to the conversation.

Listen and hear. Yes, we all listen but are we actually hearing our partner or are we just waiting for them to stop talking so we can talk about we feel.
It's important to listen, validate, and clarify. You would be surprised how just repeating back what someone has said, makes us realize that we weren't really listening.
Be present. Turn the tv off, put your phone down, close your computer. Besides, when did those things become more important than the person sitting across from asking us for attention? I have no doubt that Facebook or Instagram can wait (yes, a little snarky, but it's the truth).
5. Remain curious
Remember back in the early days of dating, how much fun it was to learn about the person that would eventually become your spouse or your partner? Where did those days go? Do you still ask them about their day? Their interests? Their hobbies? Do you still talk about the fun and exciting things you can do together? Are you a curious person and do you remain curious about your partner or spouse? This is key to a long-lasting and healthy relationship.
6. Demand more
This is a mean, but a way that promotes health and well-being, growing together, helping one another reach your full potential, and not settling.
Learning and recognizing that each person continues to have the capacity to continue to evolve and become their best person.
Demanding more isn't setting high expectations that cannot be met, but just working towards giving a little bit more than before.
Relationships thrive when they each person shows up with intention, attention, and being present. Do you want to be your best person not just for yourself but for your relationship?
Share this article on
Want to have a happier, healthier marriage?
If you feel disconnected or frustrated about the state of your marriage but want to avoid separation and/or divorce, the marriage.com course meant for married couples is an excellent resource to help you overcome the most challenging aspects of being married.
More On This Topic
You May Also Like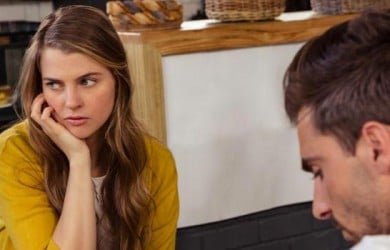 Popular Topics On Married Life