Dating Emotionally Unavailable Woman: Signs & Ways to Deal
One of the expectations people have before entering a relationship is finding a partner who resonates with a similar emotional frequency. However, it can be painful having a partner who is not emotionally available at critical times.
Usually, you will notice it after spending some time with them in the relationship.
This is the period when your love and commitment are tested, and you will realize that your partner is emotionally unavailable. In this article, we will be looking at the signs of an emotionally unavailable woman, their needs, and how to make them happy.
Hannah Saunders and other brilliant authors take a deep dive into the theory, research, and intervention of emotional availability. If you are looking for an exhaustive explanation of emotional availability, you can have a read before we move ahead here!
What is the meaning of emotionally unavailable women?
Are you aware of emotionally unavailable meaning? Keep reading if not.
Emotionally unavailable women are not open to revealing their emotions and feelings. They are usually unpredictable and difficult to understand because they are either unclear or confused about how they truly feel.
It is nearly impossible for an emotionally unavailable woman to feel empathy or understand your pain because they struggle to accommodate theirs. Hence, they think of a relationship as a chore instead of a romantic commitment.
If she's emotionally unavailable, it means that she needs to work on some aspects of personal development to make her a better spouse.
What are the needs of an emotionally unavailable woman?
One of the primary needs of an emotionally unavailable woman is she does not want to be bothered by any of your problems.
For instance, if you face any problem at work, when you are dating an emotionally unavailable woman, don't expect any support because they will be too busy with themselves.
Also, a woman who is emotionally unavailable most times wants to be left alone in their world. They will only come out of their emotional shell when convenient for them.
What are the traits of an emotionally unavailable woman?
If you love an emotionally unavailable woman, you need to know her traits to keep the relationship. It is crucial to know that the behavior of an emotionally unavailable woman is not due to the relationship.
One of the prime traits of an emotionally unavailable woman is she does not like having conversations. Other traits that may make you question "Is she emotionally unavailable?" include
Difficulty expressing feelings:

They may struggle to openly share their emotions, making it hard to establish an emotional connection.

Avoidance of vulnerability:

Emotionally unavailable women may avoid discussing personal or sensitive topics, preventing deeper intimacy.

Prioritizing independence:

Independence is vital to them, sometimes to the point of avoiding reliance on others for emotional support.

Limited availability:

They may be consistently busy or unavailable, making it challenging to spend quality time together.

Past emotional baggage:

Unresolved past traumas or relationship issues can hinder their ability to engage emotionally in a new relationship.
21 clear signs of an emotionally unavailable woman
Are you wondering what the signs of an emotionally unavailable woman are? Here are some evident traits that show you that she is emotionally unavailable.
After reading through, you will be more guided on how to help her through her condition for your relationship to be more successful.
1. She does not want to know you more
One of the obvious signs of an emotionally unavailable woman is her unwillingness to get to know you. Usually, the reason is, that she does not want to reveal herself to you. If she has been in past relationships, her experience must have forced her to be uptight.
Therefore, it is like a defense mechanism for her, and she cannot help it. However, if you put more pressure by showing her love and affection, she will be interested in knowing you more and opening up to you.
2. She is available when she feels like
It is difficult to force an emotionally unavailable woman to have time for you unless she feels like it. She does not see the importance, so she would rather face her engagements instead of attending to you.
One of the signs of an emotionally unavailable woman is her inability to care about her feelings, so she does not do it for others.
3. She always wants your attention
If you call an emotionally unavailable woman a narcissist, you might not be far from the truth.
Such women do not see the need to give you their attention, but they always want yours. If you are busy and don't spend time with them like before, they could get angry. All she wants is to leave what you are doing and attend to her.
4. She doesn't want commitments
Many emotionally unavailable women are afraid of commitment because of childhood trauma or past relationships. Some of her previous romantic relationships have not been successful, so she is afraid of trying again.
5. She guilt-trips you
Guilt-tripping you is one of the signs of an emotionally unavailable woman. When she makes a mistake, she will not admit it. Instead, she will find a way to pin it on you. If you conflict with her, she will paint you as the oppressor while playing the victim card.
There are chances that she has encountered some heartbreaks in her previous relationship, so she is trying all she can to avoid it.
6. Her career is the most important thing in her life
For everyone, our career is probably on our priority list alongside other aspects of our lives. However, the case is different for an emotionally unavailable woman. One of the telltale signs that she is not available emotionally is when she places her career way above the relationship.
Her career or business matters the most to her, and no one can take that spot.
7. Her expression of love is vague
One of the signs of an emotionally unavailable woman is cryptically displaying love. You would have to unravel what she meant before realizing that she is expressing love to you. It can be draining, especially if you show her love plainly without beating about the bush.
8. She doesn't know how to communicate
An emotionally unavailable woman will always find it difficult to communicate her feelings and emotions.
When there are conflicts, she would rather avoid or overblow the issue instead of tackling the root problem. Their inability to communicate could also suggest that they are not interested in you.
9. She doesn't like confrontation
One of the signs of an emotionally unavailable woman is she avoids confrontation by all means. She sees serious conversations as potential arguments, and she tries everything within her power to stop the discussion.
When you notice this habit, it suggests that she does not have the qualities to be a lifelong relationship partner.
10. She still has feelings for her ex
Have you noticed that your woman is still in touch with her ex, and she doesn't mind going out with the person?
This means that she finds it difficult to move on because her heart is still with someone else. You can confirm this for yourself by being extra attentive when she mentions her ex-partner.
Here's a video that shows you signs that she may be messing around:

11. She feels you don't deserve her
Some emotionally unavailable women usually reveal how they are so underrated. Hence, you will hear them making statements like "you don't deserve me," "you don't know my worth," etc. Such ladies will have boasted about her past and her current suitors.
She will make you feel bad about yourself, and gradually, your worth in the relationship begins to decline if you take her words to heart.
12. She easily gets angry
An emotionally unavailable woman has little or no control over expressing her emotions. She cannot manage her emotions, which is why she gets angry easily.
When she is calm after the outburst, she will see no reason to apologize to you for the harsh words she used. If you request an apology, it might lead to another conflict.
13. She tries to exert control
One of the most apparent signs of an emotionally unavailable woman is how she tries to control you all the time.
People who like to control others have low self-esteem, which is responsible for this unhealthy behavior. So, you might find her making decisions even when they are not ideal.
14. She evades your questions
Anytime you ask an emotionally unavailable woman questions, she doesn't like answering them. She knows that she will divulge much about her past if she attempts to answer.
There are chances that she has something to hide, so she avoids your question by changing the topic. If she eventually bows to your pressure, she will share little about her past life and leave out the crucial details.
15. She doesn't want you to have a relationship with her family and friends
An emotionally unavailable woman will discourage any attempt at establishing a relationship with her family and friends. She will ensure that you don't meet with her family and friends, and she will sever any coincidental connection.
An emotionally unavailable woman understands that she will need to be more committed when you are close to her family and friends.
16. She does not want a relationship with your loved ones
Just as she does not want you to be close to her family and friends, she does not crave a close relationship with your loved ones.
Since she cannot maintain a close relationship with you, it would be nearly impossible to have a tight bond with anyone else. She will frustrate any attempt to make her relationship with your loved ones.
17. She does not want your relationship to be public knowledge
One of the emotionally unavailable woman traits to check for is she prefers to keep the relationship private. She might not want to feel additional pressure from the public which comes with many questions.
Therefore, she will keep the relationship out of her social circles. More so, she will suggest you do the same because she doesn't want anyone to know.
18. Her vibes are not consistent
One minute, she wants to play with and disturb you. The next minute she does not want anyone to disturb her, and she would snap if you tried to force yourself on her.
Someone emotionally unavailable has inconsistent vibes and enthusiasm. So, you cannot rely on them to have a happy day because you are not sure how she is feeling.
19. She is addicted
One of the signs of an emotionally unavailable woman is she is addicted. Hence, she will pay more attention to her addiction instead of relationships. An emotionally unavailable woman might be addicted to drugs, alcohol, the internet, gaming, sex, etc.
20. She is seeing someone else
An emotionally unavailable woman will have little or no time for you if she has feelings for someone else. Whenever she is bored with her second relationship, she will give you little energy and attention. However, do not think she will give you the full love and affection you deserve.
Marian Lindner's book titled The Emotionally Available Partner shows you other signs you should watch out for and how you can make the relationship work out.
21. She shows defensive behavior
Imagine you're discussing something sensitive with someone, like your feelings or a relationship issue. If the person becomes defensive, it means they start to protect themselves instead of having an open conversation. They might get upset or try to avoid taking responsibility for their actions.
How to make an emotionally unavailable woman happy
If you are wondering how to make an emotionally unavailable woman happy, you should be ready to put in the work. Having recognized the signs, you now have a better understanding of her character and needs, so you don't need to push them.
Emotionally unavailable women usually try to put up a wall so that they will frustrate you to stop loving them. However, shows her love without expecting it in return. When she gets angry at you for no reason, do not react.
You can also help her seek help by seeing a mental health counselor uncover the root cause of her problem and suggest ways to live peaceably and lovingly.
Stella Smith's book titled The Cure for Emotional Unavailability explores how spouses can have a positive and prosperous relationship.
How to deal with an emotionally unavailable woman: 7 quick tips
Here are 7 quick and relatable tips to guide you when you're dating an emotionally unavailable female
Encourage

honest conversations

about emotions and expectations, emphasizing that you value her feelings.

Understand that change takes time; give her space to open up at her own pace.

Clearly define what you need in the relationship, ensuring your emotional well-being.

Try to understand her perspective and past experiences that may have led to emotional barriers.

Demonstrate emotional openness and vulnerability in the hope that she may follow suit.

Don't push her to change or open up; it may lead to resistance.

Focus on your own well-being and happiness, ensuring that the relationship is balanced and fulfilling for you as well. Don't be afraid if maintaining your well-being means leaving an emotionally unavailable woman altogether.
Commonly asked questions
Maintaining relationships with emotionally unavailable women can be a daunting task. Here are straightforward answers to some common questions
Can emotional unavailability be temporary, or is it a permanent trait?
Emotional unavailability can be temporary, often tied to personal issues or past experiences. With support and willingness, some individuals can become more emotionally available.
How can I communicate with an emotionally unavailable woman?
Approach her with patience and empathy, create a safe space for open conversations, and express your feelings calmly and honestly.
Can a relationship work with an emotionally unavailable person?
It can be challenging but not impossible. Both partners must be committed to growth, communicate openly, and seek professional help if needed.
Do emotionally unavailable women miss you?
Emotionally unavailable individuals may miss your presence but may struggle to express it or act on it due to their emotional barriers.
Do emotionally unavailable women come back?
In some cases, they may return when they're ready to open up emotionally, but there are no guarantees. Patience and open communication are key.
Helping her open up to you
The signs of an emotionally unavailable woman are not entirely hard to spot. With the traits mentioned in this article, you can have a sound idea if your woman is emotionally available or not.
Dating an emotionally available woman can be tedious, but you can turn things around by helping her find a lasting solution by seeing a therapist for all-inclusive help.
Share this article on
Want to have a happier, healthier marriage?
If you feel disconnected or frustrated about the state of your marriage but want to avoid separation and/or divorce, the marriage.com course meant for married couples is an excellent resource to help you overcome the most challenging aspects of being married.
You May Also Like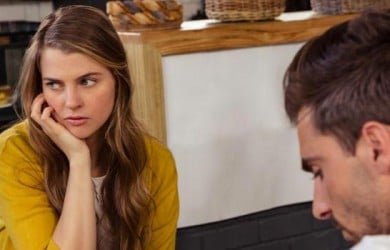 Recent Articles
Popular Topics On Married Life