10 Reasons to Compromise in a Relationship
Compromise in a relationship is something many people don't understand. Read this guide to the end to learn tangible reasons to compromise in your relationship.
Being in a relationship comes with its baggage. There are happy and sad moments. Everyone looks forward to the good and lovey-dovey moments.
While we acknowledge the good side, we don't pay much attention to the boring moments in a relationship. Therefore, it's hard to cope when your relationship isn't as bubbling as in the initial stage.
The truth is, for any relationship to work, you have to make sacrifices. Any relationship therapist will tell you that relationships are about compromises. In other words, you may have to accept certain things that sometimes go against your principal.
There is wisdom in knowing how to pick your battles in a relationship. When to stand firm or when to say no. Knowing all of these is what makes up compromises. Some of the questions people in relationships ask are:
What does compromise mean in a relationship?

Why is compromise important in a relationship?

What are examples of compromise in a relationship?
Learn the answer to these questions in the subsequent paragraphs.
What is a compromise in relationships?
What is a compromise in a relationship? Compromise is equal to sacrifice in a relationship. It is about making changes based on your partner's experience, needs, and perspective to make things work. Compromise in a relationship is about finding the middle ground between your and your partner's preferences, wishes, habits, and interests.
We all have different backgrounds and experiences that shape our personalities. There are bound to be clashes when these factors come together in a relationship. However, you can mitigate the repercussions by understanding how to compromise in a relationship.
In addition, compromise is about finding balance. It is when partners come together for critical decision-making around their lives. For instance, partners must agree on how they spend money, live together, spend time together, accommodate others, and accomplish chores.
Couples can figure out a compromise on their own. But sometimes, they may seek a relationship therapist to help them determine their partner's needs and how to respond appropriately.
Know that compromises are best enjoyed when the partners are on the same page. It can be emotionally draining if one person makes a huge sacrifice while the other person gets to enjoy them. Also, a lack of reciprocation regarding compromise in relationships can lead to anger, frustration, and resentment.
Why is a compromise in relationships important
One vital question many people ask is, why is compromise important in a relationship? Compromise is important in a relationship because it helps you understand your partner better. It helps fulfill each other's needs and demands. This action, in turn, makes both of you happy and fulfilled.
In any relationship, there will be situations where you need to let go of something or ignore and accept some circumstances to make your partner happy.
Therefore, compromise in a relationship is important because it helps you respect your partner's wishes and needs and strengthen your bond. It also helps develop your relationship and make it stable.
Compromise in a relationship is important because it helps you understand your partner's point of view. This increases your empathy and allows you to make better decisions in the future. It also helps you support and care for them better.
You can best enjoy compromise in a relationship when there is mutual trust. A lack of compromise in a relationship creates a huge gap between couples. It makes them drift apart and cause resentment toward each other.
Moreover, a lack of compromise in a relationship can make one partner feel cheated and used, thinking the other person is selfish and unkind. These are red flags in a relationship and should be avoided.
How to compromise in a relationship
Compromising in a relationship is important, but knowing how to do it is best. Indeed, it's about making sacrifices, but knowing what sacrifices are worth it is important. If you find compromise in a relationship difficult, check out the following ways to learn how:
1. Communicate
Talking is the first step to knowing how to compromise in a relationship. Speak to your partner about your feelings concerning the situation. Ask why it is important to them. Let them know what you think and ask them what you can do.
If your partner wants something and you don't, it's best to talk to them and state your reasons for saying no calmly. Be vulnerable, and don't hide anything from them. The goal here is to understand each other's needs before deciding.
Related Reading: 

20 Ways to Improve Communication in a Relationship
2. Meet in the middle
Now that you understand each other's needs, reasons, and justification, you must reach a common ground. How do you make your partner see your point of view without neglecting their needs?
If your partner wants children now and you don't, is there a way to make them wait? Can you give them a specific time you might be ready?
3. Make a fair deal
Eventually, one of you might have to compromise if you love each other. However, it would help if you gave the person making the compromise something in return. This doesn't mean a gift, but an agreement or a promise.
For example, if your partner wishes to have children now but feels otherwise, you may agree as long as your partner will compensate you. That means they must be willing to be emotionally, financially, and physically available.
4. Create a 'no compromise' lists
Compromises in a relationship don't mean letting go of your personality. Doing that can make you lose your self-identity. Instead, create non-negotiable lists.
For example, you may insist that whatever happens, you aren't going to change your religion for your partner. Highlight everything you can't negotiate and let your partner do the same.
Related Reading: 

4 Rules on How to Never Compromise Yourself in the Relationship
5. Listen to each other
If you want to know how to compromise in a relationship, ensure you listen to each other. It's normal to shout and scream at each other while requesting a change. However, it won't help both of you. Instead, be calm and listen to your partner's point of view.
Listening involves having an open mind and understanding their perspective. Importantly, do your best to make them know your point of view.
5 examples of compromise in relationships
If you are wondering what it means to have a compromise relationship, it is best to know some compromise examples. That will guide you in taking the right action. Check out the following examples of compromise in relationships:
1. Spending time together
One example that makes a compromise relationship is how you spend your time together. If you enjoy being alone and spending time alone, you must rethink it in a relationship. Now, you need to share your time with another person.
You should learn to spend time together without affecting your time at work, with friends or family.
For instance, while spontaneous dates are romantic, you must consider your partner's work and schedule. If you enjoy going to the cinema and your partner doesn't turn your living room into a mini cinema.
Related Reading: 

How to Find Ways of Spending Time Together on Holidays
2. How you socialize
If you love clubbing and going out often, you must slow down when you are in a relationship. Now, you must share that time with your partner. Think about how your partner socializes.
For example, they may prefer to avoid clubbing or choose to meet only a few people. A quiet dinner or date may be your best option. Also, you may need to reduce your time with friends to accommodate your partner.
In addition, you may have to put your phone on silent when discussing with your partner. This shows you respect them and are ready to listen actively to what they say.
3. Chores and duties
We all have different backgrounds growing up. Your parents might have ingrained in you the act of prioritizing house chores, while your partner's parents didn't emphasize them. As you grow up, such training shapes how you build your home.
When you realize this difference, it might cause a lot of fights. Instead, make your partner understand that it's part of your obligation as an adult now to be responsible and take up some tasks.
They don't need to know how to do the laundry, but they should go grocery shopping occasionally. With this balance in sharing housework, no partner will feel cheated.
Related Reading: 

15 Ways to Get Your Husband to Help More with the Chores
4. Spending money
You should complement your partner's income and finances to relieve them of expenses. This is especially true if you are both married. It also means talking about how much you spend on certain things. Although it's your money, it is best to talk about expenses if you plan to share responsibilities.
5. How do you have sex
Sex is one of the things that bring a partner closer, and every partner has a sexual preference, needs, and frequency. These factors have great impacts on your relationship.
Besides, people have different sexual experiences, and you need to consider this to make your relationship work. This isn't the time to make assumptions; you must discuss with your partner and reach a compromise on the frequency and manners of having sex.
10 reasons to compromise in your relationship
Sometimes, you may not see the need to compromise in your relationship, especially if everything looks perfect. Nonetheless, a little sacrifice can make your relationship last longer. Here are ten valid reasons to make a compromise in your relationship:
1. Finances
A top reason to make compromises in a relationship is finance. As a couple, if you decide to share bills or hold joint accounts, you must compromise on how you spend your money.
You can't spend money frugally the way you do before the relationship. You will share many differences in this aspect. Therefore, it's important to make compromises here.
Related Reading: 

12 Tips to Deal With Money Imbalance in Your Relationship
2. Sex
Sex is another valid reason to compromise in a relationship. You both have different perspectives and preferences on sex. Learning to accommodate these differences will ensure everyone is on the same page and satisfied.
For example, if your partner loves foreplay and you don't, you may have to learn and engage in it for some minutes.
Related Reading: 

10 Ways Regular Sex Can Make Your Relationship Better
3. Family
Another common area you need to compromise is each other's family. How you accommodate extended family, allow their interference in your affairs, and so on must be considered.
Sometimes, one partner may like his extended family to be around, while you value privacy. In this case, you should learn to accommodate for a few days, then discuss with your partner and agree on an arrangement.
4. Fights
Fights are inevitable in a relationship. Every healthy couple has had its share of disputes, disagreements, and arguments. How you react and make an effort to resolve them determines a lot.
A little disagreement can become a serious fight when not resolved on time, creating gaps in your relationship. Decide how to communicate and tackle disputes in the future. For instance, you may want to complain to your partner calmly instead of screaming at them.
5. Traveling
Going on vacations helps couples relieve stress and spend quality time together. When picking a destination, however, you may realize you and your partner are different.
Therefore, you may compromise by agreeing to go to a place where your partner is picked. Then, during your next trip, pick a place you love. Ensure you discuss this so everyone is on the same page.
6. Habits
Habits make up who we are. Therefore, there will be differences in how your partner behaves. For example, you may be a morning person, while your partner is a night person. Learning to wake up early might also help you get some things done.
7. Food
Compromising is also a common way to accommodate your partner's preference. If your partner is allergic to a particular meal, you mustn't cook with it. Once they are not around, you can have this food as much as you like.
Taming your likeness for the particular food when they are around is the compromise.
8. Children
How you raise your children is another aspect that might need compromise in a relationship. Remember, the children belong to both of you. Therefore, you should exercise patience and occasionally see from your partner's perspective.
9. Hobbies
You and your partner are individuals with unique personalities and interests. Your partner may love watching football while you enjoy the volleyball game. You will only spend time together if you get involved in these activities.
However, it's important to spend time together as a couple. One way to compromise in this case is to pick a couple of days to watch football with your partner. Show interest by asking about a player and the way he plays.
Related Reading: 

6 Hobbies That Will Strengthen Your Relationship
10. Ways of giving and receiving love
We all have a way we want to be loved. Understanding your partner's method will help you love them better. You may need help understanding why your partner recognizes love through service, but trying your best to support them will show your effort.
You may not share the same way to give and receive love, but the compromise would mean tabling out these things and making agreements for the future.
Related Reading: 

10 Things to Do When a Couple Has Different Love Languages®
Watch this video to learn about green flags in a relationship:
Some commonly asked questions:
Here are some questions that give you more clarity about the importance of compromise in a relationship:
Is compromise good in a relationship?
Yes, compromise is good in a relationship. It fosters peace and brings partners closer. Although compromising all the time might be draining, you need a little sacrifice to make your relationship work.
What should I not compromise in a relationship?
It would be best if you didn't compromise on your relationship with your family, dreams, career, self-love, values, respect, and physical and mental health.
How much should a partner compromise?
You should compromise as much as you can. In a relationship, making sacrifices as much as possible without affecting your mental health and happiness is normal.
Final takeaway
Compromise in a relationship means balance in a relationship. It helps partners meet in the middle and sacrifice for each other's happiness. Also, compromising in a relationship allows spouses to understand each other and strengthen their bond.
Some reasons to compromise are finances, sex, fighting, parenting, travel, and family. If you seek more help, you may consult a relationship therapist.
Share this article on
Want to have a happier, healthier marriage?
If you feel disconnected or frustrated about the state of your marriage but want to avoid separation and/or divorce, the marriage.com course meant for married couples is an excellent resource to help you overcome the most challenging aspects of being married.
Learn More On This Topic
You May Also Like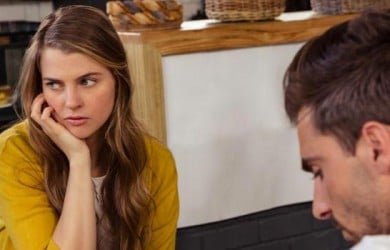 Popular Topics On Married Life