15 Ways to Manage Long Distance Separation Anxiety
Long distance separation anxiety is one of the most common challenges associated with long distance relationships. Anxiety over relationships can be common when the person you love is far away from you and communication can't be done in real-time.
Under these circumstances, insecurity in long distance relationships may come up. However, managing relationship anxiety in this scenario is a critical skill you must develop if you intend to enjoy a healthy relationship alongside your peace of mind.
In any case, this article will show you long term separation anxiety effects and strategies for getting over separation anxiety. It will also equip you with all you need to rid yourself of long distance relationship anxiety.
Signs of separation anxiety in long distance relationships
Simply put, long distance separation anxiety in relationships is a feeling of intense worry and fear, or a collection of other unpleasant emotions and thought patterns that two people in a relationship tend to experience when they have to be apart.
In long distance relationships, anxiety levels can be traceable to how far away from themselves both lovebirds are.
According to a recent report, up to 6.6% of American adults have to grapple with separation anxiety when away from someone close to them. This implies that a significant amount of people may be dealing with this in their relationships.
In any case, separation anxiety in long distance relationships can present itself in many ways. Here are a few ways in which it affects individuals:
1. Indescribable despair
While it is expected to feel a bit lonesome when your lover isn't close, separation anxiety in long distance relationships leaves you feeling dejected and completely helpless.
Also Try: Do I Have Separation Anxiety Quiz
2. Feeling that something is about to go wrong
One sign of long distance separation anxiety in a relationship is that the person dealing with the challenge can't help but have negative premonitions about their partner and the relationship. You may think they would have an accident, due in a crash, or get up to no good.
3. Distrust starts creeping in
One of the signs of separation anxiety in relationships is that you may begin to suspect your partner and even try to put them on a short leash, regardless of where they are and what they are up to.
If you find yourself always suspecting your partner when they aren't with you, it could be a sign that separation anxiety may be a challenge.
4. Fear and unease when traveling without them
This is another common symptom that shows you may be dealing with separation anxiety in your relationship. Are you able to travel without worrying about not seeing your partner again?
5. You may just end up becoming too clingy
As a result of all that's going on in your mind, you may present yourself in a way that your partner interprets as too clingy. This can, in turn, negatively affect your relationship.
15 ways to handle separation anxiety in long distance relationships
Dealing with the anxiety of being away from your partner can impact your mental and physical health. It can affect the relationship's health as well, and hence it should be dealt with in a considerate manner.
Here are some effective ways to deal with separation anxiety in a long distance relationship:
1. Acknowledge your emotions
One of the reasons why many people deal with separation anxiety at an adverse level is because they don't take the time to admit what they feel while it is still young.
It is easier to identify those negative thought patterns and nip them in the bud than deal with their adverse effects if you let them get to their fullness. Research shows that acknowledging negative emotions has health benefits for individuals compared to denying them.
2. Plan beforehand
An effective way to learn how to deal with separation anxiety in relationships is by planning. As you do this, agree on specific things with your partner.
Agree on when and how your communication will be, set times for calls and face timing yourself, and also decide how and if you are open to texting all day round.
It is easier to deal with separation anxiety when you have a laid-down schedule like this.
3. Keep tokens close by
These could be printed pictures of your partner, a symbolic gift they once gave you, or anything that strongly reminds you of their presence. It is easier to overlook the anxiety when you have tricked your mind into believing that they are still with you.
4. Communication is key
Consider this a continuation of point 2. An effective way of dealing with relationship anxiety is by communication. Under these circumstances, voice or video messaging is more effective because hearing your partner's voice and seeing their face serves as a constant reminder that they are still with you.
Research shows that couples in long distance relationships can form powerful bonds, provided that the communication between them is compelling, dynamic and adaptable.
5. Keep yourself happy
Research has shown that positive thinking (which is associated with happiness) is an effective lifestyle change that can help you combat any form of anxiety – including long distance separation anxiety in relationships.
One of the primary reasons you find yourself freaking out when your partner isn't close is that your mind is clouded with thoughts of negative things.
Instead of worrying about how everything can go wrong, plug that extra free time with activities that make you happy and help you think happy thoughts. This keeps you productive at the same time.
Also Try: Am I Happy In My Relationship Quiz
6. Talk to your partner
Communication isn't just the regular partner banter you have with them. This speaks of something deeper and more meaningful. To deal with long distance separation anxiety, you need to let your partner in on what goes on in your mind every time you are apart.
This might feel like ripping the band-aid off an open wound, but it helps to be on the same page as your partner on matters like these.
7. Remind yourself that the separation is temporary
Reminding yourself that they will only be gone for a while before they return to your side is a great way to deal with the effects of separation anxiety in relationships. No matter how long you spend apart, remind yourself that it will end.
This singular trick will help you let go of the anxiety and feel more relaxed.
8. Stay active; physically and mentally
Physical activities can come in handy as you seek to lighten up your day and let go of the stress of long distance separation anxiety. When you are productively active, the time seems to go by in a flash and before you can tell what's happening, your partner is back to your side.
9. Do (at least) one meaningful thing for yourself
The time you are spending away from your partner shouldn't be torturous. You can commit to doing one significant thing for yourself to make it memorable. If there's one thing that you have wanted to do for the longest time, this is the best time to keep busy by doing that.
Related Reading: 10 Steps to Practice Self-love
10. Numb the pain with surprises
Big baby or not, everyone loves a good surprise. You love surprises and your partner does as well. Why not take the time you have spent apart to plan your next big surprise for them?
This activity gives you something beautiful to channel your energies into, permits you to let down your creativity, and provides the perfect platform to reinforce your relationship.
Instead of sitting around and moaning the next time you have to be away from your partner, take the time to plan a good surprise for them. It doesn't have to be anything grand. Even planning a dinner date to their favorite restaurant counts as something noble.
11. Revitalize other important relationships
If this long distance separation anxiety is any indication, it could be digestive that you may have spent all your time with your partner in the picture. Another effective coping strategy would be to seize the opportunity to service other important relationships in your life.
Take a moment to visit your parents and stay with them for a while. Stay over with a close friend.
Do something that puts the spotlight on other beautiful relationships you have with the other people in your life. This gives you something else to think about and also ensures that you do not get up to no good when they are away from you.
12. Create a new routine
This routine should be packed full of physical activities like exercising, yoga, trying out new meals, and even the things that make you happy (even if it is a little bit of shopping). Having a new routine is one sure way of dealing with long distance separation anxiety.
When you have a new routine, you add a little bit of uncertainty to your life. This is great because it gives you something new to look forward to every morning and keeps you occupied throughout the day.
As part of your daily routine, you may want to interact with a support group. It helps to be in a community of people trying to achieve a common goal, even if they are trying to achieve learning how to make new dishes.
Maintaining a routine is sure to add a little extra space to your days and you may not even remember that your partner is gone until they are back.
To learn more about developing a daily routine to fight off depression, watch this video:
13. Disciplined contact
One of the knee-jerk reactions to separation is to get on the phone with the partner immediately. Here, you desire to call, text, DM, and talk to them every second of the day.
Since communication is necessary to help you get over long distance separation anxiety in relationships, excessive communication will only leave you feeling miserable and highly lonesome. This is a crucial symptom of separation anxiety in relationships.
As a rule of thumb, set a limit on the number of times you can communicate with them every day and decide how this communication is carried out.
This is why (depending on how long you would be separated) you should spend some good time creating a new daily routine. This way, you wouldn't be left with blocks of time during which you are not productively busy.
14. Focus on your needs
Is there a better time to figure out what you want from specific areas of your life than when you aren't all tangled with your partner? The period of separation is arguably the best time to assess your life and define what you want out of it.
If there are personal ambitions you set aside for the sake of the safety and continuity of your relationship, you may want to take this time to take care of yourself first.
Your time apart is the best time to analyze if you truly have an independent life of your partner. Do you make enough time for relaxation and hobbies? Do you have healthy sleep habits? These and more are what you need to analyze before your partner returns.
15. Enlist a specialist
Sometimes, long distance separation anxiety just won't let go of you until you have gotten someone else to help you set things in perspective.
People dealing with this as a result of some past trauma are unlikely to completely move on if they don't address what's haunting them. This is where enlisting the help of therapists and psychologists comes in.
If you have tried everything we have discussed so far with no improvements, you may want to seek expert help. Click here to find a good therapist.
Summary
Long distance separation anxiety is real and can plague your life if you don't make it a point to nip it in the bud. This article has outlined some strategies you can adopt to ensure that you begin living a more productive life when your partner isn't close to you.
Follow all steps mentioned above to experience a complete transformation in this regard. Also, don't be afraid to talk to a psychologist or therapist if you need someone else to help you sort through what is going on.
Share this article on
Want to have a happier, healthier marriage?
If you feel disconnected or frustrated about the state of your marriage but want to avoid separation and/or divorce, the marriage.com course meant for married couples is an excellent resource to help you overcome the most challenging aspects of being married.
More On This Topic
You May Also Like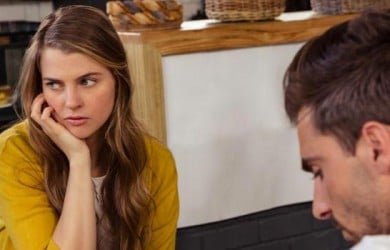 Popular Topics On Married Life