How Anxiety May Affect Your Relationships
Relationships are never a cakewalk. It required efforts from both the individuals in ensuring that it stays life-long.
If either of them backs out or refuses to cooperate, the dream castle will fall flat in no time. The challenge everyone faces in a relationship is to deal with individuals.
Since two individuals come close to each other, the individualism often creates trouble. The turmoil within a person can shake the base of a relationship.
Relationship anxiety is one of those negative feelings that has the capability to sabotage everything.
When you're in a relationship, you interact with friends and family of each other. The feeling that someone from your partner's side doesn't like or hate you can just walk into your mind.
These ifs and buts can really put you in a soft spot where you can develop anxiety in relationships. The only way to handle the situation is to catch signals and take necessary measures beforehand.
Listed below are some symptoms that show how anxiety ruins relationships.
Trust
Anxiety and relationships can never go hand in hand. While relationships need two individuals to trust each other, anxiety acts opposite to it.
The one with the anxiety gets doubtful about the actions of their partner and starts questioning their every move.
Seldom doubts and questioning is understandable and acceptable, but when things get regular, it takes a wrong turn.
Anxiety in a relationship makes the one with it have trust issues. When the other person starts to realize that their partner is not able to have faith and trust in them, the love starts to fade away and gradually they separate.
Dependable
Dependency, of any sort, can ruin a relationship. You are an individual and you do have a separate life beyond your relationship.
You have friends from work and your childhood buddies. You surely would like to hang out with them every now and then. A dependable person would stop you from doing it, and the source of this is their anxiety problems.
No one would want to be in a dependent relationship wherein one is not free to live their lifes on their own. Anxiety, if not addressed immediately, can lead to paranoid behavior.
This means that the person will restrict their partner's move and would want them to cut their connection from their friends and family.
Selfish behavior
'My anxiety is ruining my relationship.' People may be heard talking about it once they've realized that they've relationship anxiety.
The person with relationships anxiety disorder becomes selfish. This happens as they have developed a fear that their partner may leave them for someone else.
In order to avoid this to happen, they act selfishly. You would demand your partner to pay special attention to you, no matter what.
You would want them to spend time with you instead of their friends, even if it occasionally. You would forget relationship boundaries and won't think twice before taking extreme measures to make sure your partner stays with you.
Opposite of acceptance
When you're in a relationship, you must be attentive to the details. It is necessary for you to know which and what might be able to cause trouble to your relationship.
In the absence of anxiety, you're able to identify the situations; whereas, in the presence of anxiety, the senses die.
Relationship anxiety will not allow you to take healthy decision that can strengthen your relationship instead you would take up decision that will weaken the connection between the two of you. This eventually will break you as a person as well, since you would feel helpless and weak.
Jealousy
Wondering how relationship anxiety can ruin your relationship? As shared above, it makes you jealous. It makes you question every action of your partner.
It makes you doubt them. It makes you evoke negative emotions in you, which eventually ruin your bonding.
How to help your partner with anxiety?
Anxiety is treatable. With the right guidance and support relationship anxiety can be managed. Below are some quick tips on how to love someone with anxiety.
Aforementioned points suggest that one suffering from

relationship anxiety

have trust issues and become jealous easily. The only way to address is to be honest with them.

Don't become

a doctor yourself and start treating the issue

saying '

anxiety is ruining my life'

. It's advised that you visit an expert and seek their assistance.

Make them feel safe

and realize that you're not going anywhere. Those suffering relationship anxiety always have a feeling that you would leave them, which further creates various problems.

Be supportive.

Understand that your partner is going through trouble and need your help. They would need your support the most. So, be supportive and help them overcome this problem.

Staying with someone suffering from relationship anxiety can be difficult. It is essential that you start to maintain a life beyond your relationship so that you're able to keep your mental health upstate. Don't let their mental health affect you; otherwise you may consider walking out of the relationship as an only option.
Don't compare your relationship happiness with others. The definition of relationship is different in every relationship. Learn to define happiness in your relationship and be happy.
Share this article on
Want to have a happier, healthier marriage?
If you feel disconnected or frustrated about the state of your marriage but want to avoid separation and/or divorce, the marriage.com course meant for married couples is an excellent resource to help you overcome the most challenging aspects of being married.
More On This Topic
You May Also Like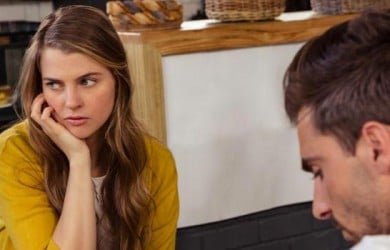 Popular Topics On Married Life