What Happy Couples Do Differently?
Everyone knows at least one couple who are genuinely happy. They've never left the honeymoon stage, they complete each other's sentences, and sing each other's praises in private and public.
They may make you jealous. They may make you feel guilty for not sharing a similar bond with your spouse. They may make you want to improve your relationship. Whatever your feelings toward them, it's hard not to notice them.
It's hard not to notice the love that they share.
It's hard not to notice that they're still crazy about each other.
It's hard not to notice that they show their respect and appreciation for each other without saying a word.
So, how in the world do they do it? As much as most of us would like to blame it on pure luck, there has to be something else to it. There has to be habits and routines that they've gotten themselves into that help keep the love alive.
With that, we've compiled a list of all the DOs and DON'Ts of happy couples around the world. Follow these tips, and before you know it, you and your spouse will be that couple that everyone envies.
DO: Unexpected acts of kindness
Marriage can become monotonous if you aren't careful. One day blends into the next one, then all of a sudden, it's 50 years down the line and you're lucky if you can still hear or see each other.
To break the monotony up, happy couples surprise their loved one with an unexpected gift or act of kindness from time to time. They know that if they just go through the motions, their old "go to" moves will lose their flavor fast.
Fellas, flowers on a random Thursday will stick in her brain more effectively than the ones that you get her every year for your anniversary. Ladies, surprising him with the golf club he's been eyeing will be remembered for years.
It's not that anniversary gifts or birthday gifts are less meaningful; it's just that they're more expected. You're not surprising anyone when that anniversary date rolls around. The gift is anticipated, therefore less memorable.
Take notes from the happy couples and do something nice for your spouse when it's unexpected. You'll thank me later.
DON'T: Stop complimenting
Since marriage is a lengthy courtship, compliments may fall by the wayside over time. You may think that since you said "I love you" 1,000 times and told your partner that they look good from time to time that you've done enough.
You're wrong.
Happy couples never stop complimenting each other. As time wears on, it's absolutely necessary to keep your partner in the loop on how you feel and what you're thinking. If they feel like you're not into them anymore, some nasty things could potentially happen. They could start looking for compliments elsewhere, which could easily put strain on the trust and honesty within your relationship. It could also start to erode their self-worth and make them become a shell of their former self. You may have married a radiant woman or dashing young man, but if you stop telling them these truths, they'll forget faster than you do.
Keep the compliments coming.
DO: Nip resentment in the bud
Resentment is an insidious poison in any relationship, and in a marriage, it can lead to separation or divorce faster than you'd think.
Happy couples stop resentment at its roots by clearly communicating with each other and trying to authentically resolve issues as they arise in the relationship. No one is perfect, and tensions will surely be strained at some point during a lifetime of partnership, but happy couples do a great job of letting their arguments not become issues that sit below the surface for years. They take care of it right then and there so that it doesn't become a reoccurring problem for years and years and years.
Rid your relationship of resentment by resolving the issue the first time. Reliving each argument time after time will only weaken the foundation of your marriage.
DON'T: Start or end your day without a kiss
In good times and bad times, having this routine keeps happy couples happy. It's the best way to start and end your day, but it's also a great reminder of the love that you share when things get stagnant or tense.
To know that that kiss is waiting regardless will keep those fights or disagreements in perspective. It's a profound reminder that says, "I know things may be tense right now, but trust that I still love you."
Couples that aren't so happy take little habits like these for granted. They let one night go or let a few mornings pass without showing a little affection to their partner, and then, before you know it, the spark that they had on their wedding day has all but vanished.
Keep the love alive and give your wife or husband some sugar as you wake and as you drift off to sleep. It's little things like this that keep the love alive.
Happy couples aren't perfect
Happy couples aren't lucky, they just play the game the right way. They aren't perfect, but they embrace those imperfections and aren't too proud to work on them. If you aspire to be a happy couple like the ones that you know of, then follow through with these DOs and DON'Ts whenever you get the opportunity.
Start by kissing your love goodnight tonight.
Good luck!
Share this article on
Want to have a happier, healthier marriage?
If you feel disconnected or frustrated about the state of your marriage but want to avoid separation and/or divorce, the marriage.com course meant for married couples is an excellent resource to help you overcome the most challenging aspects of being married.
More On This Topic
You May Also Like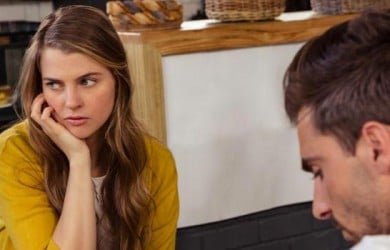 Popular Topics On Married Life