How to Restore Trust in a Relationship After Snooping:7 Ways
Have you ever looked through your partner's phone when they were in the shower? Were you looking at the photos you clicked together or was there an intention to find out what's going on in your partner's life that you don't know about?
If it's the latter, you might be guilty of snooping. What is snooping in a relationship, and how does it affect a relationship? Once a partner knows that they've been snooped on, can they trust their partner the way they did before?
How to restore trust in a relationship after snooping? Can snooping be forgiven so that the relationship can survive?
In this article, we're going to answer these questions and explore what snooping is in a relationship, how snooping affects a relationship, and how to stop it from ruining your relationship.
Related Reading: 

Spying On Your Mate: Is The Risk Worth It
What does snooping mean in a relationship?
According to the Cambridge dictionary, snooping means looking around a place secretly to discover information about someone or something. It also means trying to find out about other people's private lives.
You may think that when two people get into a relationship, they should tell each other everything.
So, you might not find anything wrong with snooping and discovering something even before your partner gets a chance to say it to you. What is snooping in a relationship anyway?
If you accidentally open a text or see who's calling your partner just because the phone was right in front of you, is that snooping? No, because you had no intention of going behind their back to find out something.
But you're snooping when you start digging up information on your partner without telling them or secretly keeping tabs on their movements.
That includes reading their journal without their consent, going through their stuff, and checking their purse, glove compartment, or drawers.
Snooping in a relationship can also look like checking your partner's phone when they are not around, reading their emails and texts to see who they've been talking to, or checking their browser history to know what websites they visit.
In extreme cases, snooping can look like installing apps on a partner's phone to access their phone files.
Recording their calls to listen to their conversation, track their location, see who calls or texts them, download and see recorded videos on a partner's device, etc.
Related Reading: 

15 Signs Your Spouse Is Hiding Something From You
What does Snooping do to a relationship?
While keeping secrets in a relationship is never a good idea, both you and your partner are entitled to some degree of privacy. You invade their privacy whenever you look through your partner's phone to read their emails or check their call history behind their back.
Snooping can negatively affect a relationship as it erodes trust, which is the cornerstone of all healthy relationships. When there's no room for privacy in a relationship, and you constantly feel the need to snoop on your partner, it shows that you can't effectively communicate with them.
That's why you got into the habit of secretly going through their phone and stuff to find out what they aren't telling you.
Snooping can be addictive, and once you fall into the habit of regularly going through your partner's texts and emails, you become somewhat paranoid whenever they're busy with their phone, and you can't see what they're doing.
Snooping keeps you preoccupied with finding hidden information about your partner to a point where you start to find problems that weren't there in the first place. Whenever your partner isn't around, you may start to feel the urge to find out new information.
Research has indicated that cell phone snooping plays a mediating role in exacerbating relationship problems like emotional instability, conflict, or intention to break up. While you might have reasons to snoop, nothing good can come out of it.
Suppose you don't find anything incriminating on your partner's phone. In that case, you're just wasting your time that you could use to build trust in the relationship, which would be productive for your relationship in the long run.
Regular snooping can make you feel more insecure and frustrated. When you decide to snoop instead of directly talking to your partner to clear any confusion, it causes a communication breakdown.
Even if you're not the one who started snooping and you're doing this to get back at your significant other, you may try exploring other effective ways like taking help from a licensed counselor.
However, a new study suggests that snooping can strengthen the relationship bond to overcome trust issues.
How to Restore Trust in a Relationship After Snooping: 7 ways
How to restore trust in a relationship after snooping? Here are 5 ways to help you rebuild trust after snooping.
1. Come clean
'My partner caught me snooping. What should I do?' If you find yourself in a situation where your partner caught you or confronted you, confessing would be your best bet, no matter how uncomfortable that feels.
You can't benefit from saying things like 'I wasn't snooping on my wife/snooping on my husband' when they've caught you red-handed. Tell them the truth but don't expect them to forgive you right away.
Watch this video to learn how to deal with trust issues in a relationship.

2. Explain why you snooped
You might have your reasons to go behind your significant other's back. Maybe they weren't open to you. Maybe they hid something in the past that affected both of you, and knowing it sooner could help.
Maybe they've cheated on you in the past and broke the trust that led you to snoop. While you shouldn't try to justify snooping, you need to explain the reasons behind your action calmly. Remember that you aren't trying to shift the blame and get away with it.
You need to figure out how to restore trust in a relationship after snooping. For that to happen, your partner first needs to understand why you snooped so that you can solve the underlying issues, and that's why you have to explain it to them.
3. Take accountability for your action
Once you acknowledge the snooping, it's time to admit that what you did was wrong and take responsibility for it. When you are willing to admit your fault, it shows your partner that you care about the relationship and are willing to work on it.
However, your partner also needs to take responsibility for their role in the relationship. If they've been keeping secrets from you, lying to you, or did anything suspicious to make you question their integrity, admitting it and working on it is necessary to rebuild trust.
4. Sincerely apologize
How to restore trust in a relationship after snooping? Well, instead of making excuses, owning up to your mistake is a great place to start.
Don't say things like 'I'm sorry, but I wouldn't have done it if you did.' Instead, tell them how sorry you are and admit that you're in the wrong.
Don't try to justify your snooping, and don't blame your partner for your actions. Reassure them that you'd NEVER snoop again if they give the relationship another chance. Yes, you've violated their trust, and they need to hear you say it to move on.
Related Reading:

 How to Apologize for Cheating: 10 Ways
5. Determine the root cause of the problem
Rebuilding trust after snooping can be challenging if both partners aren't willing to address the underlying problems and focus on only the symptoms. You need to voice your concerns and identify the factors that caused trust issues in the relationship.
Does your partner have a history of cheating, lying to you, or keeping things from you? Do you get a gut feeling that they're betraying your trust? Did your sex life die a slow death? Does your partner not meet your emotional needs anymore?
Do they have certain friends/colleagues with whom they're too close? Is there a valid reason not to trust your partner around that person? Can you talk to your partner about these concerns? How do they react? Figuring out the root causes will help you rebuild trust and stop snooping.
6. Openly communicate
They say communication is the key. In a trusting relationship, both partners should feel free to talk to their partners and ask questions that bother them(no matter how uncomfortable they are).
It creates a culture of open communication and nips the distrust in the bud.
If your partner has nothing to hide, they won't have a problem giving you an explanation should you need it. A relationship is a two-way street. Even though you are the one who snooped and violated your partner's privacy, they need to help you stop the practice.
If they get angry whenever you voice your concerns and avoid talking about specific issues, it may cause more problems in the relationship. Work together to figure out how they can put your mind at ease so that you can fight the urge to snoop again.
7. Develop an effective action plan
Surviving snooping in a relationship takes significant time and effort from both partners. When you wonder how to restore trust in a relationship after snooping, ask yourself what you need to do to build trust in the relationship.
Create a plan to have an honest conversation with each other regularly so that both of you can share any suspicions or fears you might have. Try setting healthy boundaries and take professional help if necessary.
You can learn how to stop snooping in a relationship when you learn how to build trust in a relationship.
Can a relationship survive snooping?
The short answer is: yes. A relationship has a fighting chance of surviving as long as both partners are willing to put in the effort and go the extra mile to rebuild trust after cheating and lying.
Both partners need to remember that nobody's perfect, and we all make mistakes. It's how you act after making the mistake that determines whether or not your relationship can survive snooping.
To salvage the relationship, both partners need to focus on how to restore trust in a relationship after snooping. However, snooping can be a wake-up call for some people. They might realize that lack of trust, intimacy and communication is causing the problem.
After that, if both partners agree that they're okay with sharing their password and giving each other permission to go through their stuff as they have got nothing to hide, the relationship can get even stronger.
But, if someone finds out that their gut feelings were right and their partner was cheating on them, it'd be a different ball game. When they confront a cheater after snooping, the way, the cheating partner handles the situation determines the relationship's future.
It also depends on how the betrayed spouse feels about cheating and if they're willing to forgive their cheating partner.
Can snooping be forgiven in a relationship?
It's a complicated situation as snooping affects different people differently. If your spouse has never done anything to make you question their loyalty, yet you kept snooping on them, it may hurt them more than someone who's cheated on their partner before the snooping started.
The partner who's been snooped on may or may not want to continue the relationship after confronting their partner. They might worry that their partners won't stop snooping as they've formed an addiction to it.
However, if the snoop is willing to take responsibility for their action and give their partners enough time and reassurance that they'd NEVER snoop again, trust can be rebuilt, and snooping may be forgiven.
Related Reading: 

Benefits of forgiveness in a relationship
Conclusion
Snooping and violating your partner's privacy is a symptom of a much bigger problem in the relationship. Your relationship doesn't have to end because one of you had trust issues and snooped on the other.
Be open with your partner and ask for what you need. Make sure to be there for each other so that you can figure out how to restore trust in a relationship after snooping. It's worth seeking relationship counseling to address trust issues and build an even stronger relationship.
Share this article on
Want to have a happier, healthier marriage?
If you feel disconnected or frustrated about the state of your marriage but want to avoid separation and/or divorce, the marriage.com course meant for married couples is an excellent resource to help you overcome the most challenging aspects of being married.
More On This Topic
You May Also Like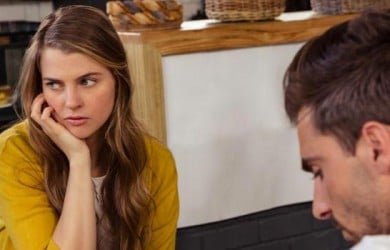 Popular Topics On Married Life