Vanilla Relationship – Everything You Need to Know
We all know the vanilla flavor in ice cream, right? It's the one option you go back to when unsure what to try. In the same vein, vanilla relationships are common even though not everyone likes them.
While some people frown at vanilla relationships, others welcome them with open arms.
The kinky community usually considers this type of relationship boring and may not want to be involved with a vanilla person. Well, nobody's going to crucify you for choosing what makes you comfortable.
In this article, we will take a look at vanilla relationships and define the pros and cons of these relationships.
What is a vanilla relationship?
A vanilla relationship is one with all the traditional values in dating, such as commitment, trust, no kink, heterosexuality in most cases, monogamy, and anything usual.
Vanilla couples focus on their main goal (building a stable, normal relationship) and never stray from it.
Sometimes, people in a vanilla relationship are looked down upon and called boring by those in non-vanilla relationships. This, however, is only sometimes the case. Some people want to love and be loved in simple terms, and that's okay.
Pros and cons of a vanilla relationship
In the present world, casual and non-monogamous relationships are the new normal. A recent survey showed that one-third of adult Americans say their ideal relationships are non-monogamous.
Just like any other relationship, vanilla relationships have their advantages and disadvantages. Here are some we know:
Pros
1. You feel emotionally satisfied
Unlike in casual relationships, where you care or know nothing about their emotional life, a vanilla relationship needs both partners' emotional availability.
You can rely more on your partner and grow stronger together. The emotions are genuine and rooted deeply.
2. Your emotions are genuine
In a vanilla relationship, you're ready to commit to your partner fully, and your partner knows that your emotions are real. There's no faking it, and you don't have someone you could share your love with other than your present partner.
3. You have contented sex
Since you both know your sexual desires in a vanilla relationship, you try as much as possible to fulfill them.
People who believe in a non-vanilla lifestyle (flings) hardly know anything about the other person. All they want to do is satisfy their sexual urges. But, with vanilla relationships, you are connected and not only based on sex.
4. It shapes your character
In the 21st century, where many people are talking about one-night stands and flings, you may seem odd from the rest once they find out you stick strictly by your rules and only have anything to do with your current partner.
At some point, you may be stressed. However, it gets to a point where you learn to filter out all the noise, and do what matters to you.
5. You have a defined purpose
When you have one partner you're in love with, you see a future with them and try to be as responsible as possible. You tend to focus more on your goals and make good decisions that benefit you.
Cons:
1. Maintaining a vanilla relationship is difficult
It would seem like everyone around you is after you and your relationship, because it is mostly after you start dating a new partner that other people come around.
How, then, do you focus on your partner, seeing that there may be a million other prospects around you?
One of the disadvantages of vanilla relationships is that they keep you from exploring other romantic prospects since you have already pledged your commitment to your partner.
This research talks about power and communication when only one partner in the relationship is vanilla.
2. You may want to go back to other sexual tendencies
This is usually normal for people who have been in relationships other than vanilla relationships.
They may be lost in the memories of their past relationships and forget that they've placed boundaries on themselves with their new commitment.
Some partners might find this intolerable and drift apart to avoid further disrespecting their feelings.
3. You may not easily find them
With over one-third of American adults admitting that they desire open relationships, finding someone who wants to be in a vanilla relationship may be difficult.
You may often meet someone who isn't on board with the full commitment, and they won't tell you. You may discover their negative intentions a long way down the line, which can affect your mental health.
4. You take a long time to heal after breakup
Since you truly love your partner in vanilla relationships, you imagine a future with them.
The thought of breaking up alone gives you heartache. So, if you eventually break up, getting back on your feet would be harder. Hence, you may end up hating your past lover for a long time.
That resentment will, in turn, keep you away from potential relationships as you may tend to project your hurts onto anyone who comes close to you.
However, if you are recovering from a breakup, these tips can help.
5. There are pressing disagreements
In casual relationships, you know that you don't have to be emotionally available for the person. You don't owe them anything.
This is different in vanilla relationships, where things are expected of you. Disagreements can arise when you fail to meet those expectations heaped upon you.
7 things to know about vanilla relationships
Now that we have established the meaning of vanilla relationships, here are seven things to remember about them.
1. There is absolutely nothing wrong with vanilla relationships
There is nothing wrong with doing what you've always done and loving it. The current trends should keep your romantic beliefs and preferences the same.
If you've always been a vanilla person, stick to vanilla. Don't listen to any opinions that don't resonate with your values.
2. It doesn't make sex less gratifying
Sex is objective and may mean different things to different people. Sex allows couples to explore themselves and share a deeper bond.
Nobody should stop you from doing so because they don't believe in vanilla relationships. Nobody should change that as long as you're both getting what you need from your sexual activities.
3. You're not boring because you're in a vanilla relationship
Stick to whatever rocks your boat. If you derive pleasure from vanilla sex, you shouldn't change your options because people will call you boring.
If you've once tried both kinky and vanilla, and prefer vanilla over kinky, don't let anyone bully you into changing your decisions.
Honestly, you're supposed to be the person to define what is boring for you, and not some other person who doesn't know you.
4. You can always try out new things
If you're the type to be versatile in the bedroom, you can add a bit of kink to your vanilla sex. It's the same way you buy vanilla ice cream and add some toppings to it.
But be sure to communicate with your partner. Understand their boundaries and remain within a safe zone.
You can also try to keep your versatility in check by not doing too much. Adding a little spice to your sex life isn't a big deal.
It only depends on what and how you present it to your partner. If your partner doesn't want to go beyond vanilla, then try to be understanding.
If it's the other way around, and your partner wants to add a bit of kink to your vanilla sex, try to be open-minded.
5. Try to make your vanilla sex life interesting
Being a vanilla person is not an excuse for being boring in the bedroom. Don't leave all the work to your partner when you can try to spice things up a bit.
A traditional relationship can also be interesting if you put in the effort. You don't exactly have to be wild to have an interesting sex life.
6. Define your vanilla sex
Vanilla sex may not be the same for all couples. Some may have some tweaks that you know nothing about. So, you shouldn't use your definition of vanilla sex to define other couples' preferences and vice versa.
They shouldn't tell you how your vanilla sex should be because you and your partner are the only persons allowed to define it.
7. Communicate
Research has proven that couples who fail to communicate their sexual needs mostly experience sexual frustration in their relationships. The worst thing to do is force your partner into a sexual relationship they aren't comfortable with.
Communicating with your partner is key to having an enjoyable relationship and sex life. Know their dos and don'ts in the bedroom.
If you were once into kinky sex, and over the years, you decided to settle for vanilla sex, you should let your partner know your change of plans.
How to make vanilla relationships more interesting
You can decide to make your sexual life more interesting while in a vanilla relationship. Spicing things up in a vanilla relationship isn't taboo, so don't be afraid to experiment with your partner.
The vanilla flavor is versatile and can be mixed with almost any other flavor, so be open to new things.
There are different ways to spice your vanilla relationship, both in the bedroom and otherwise. You're in control of your happiness, so don't let anyone make you feel bad or outdated for doing what you feel comfortable with.
FAQs
Here are some frequently asked questions about vanilla relationships.
1. What is vanilla in dating?
Vanilla dating is the typical traditional dating involving a man and woman bound by love and commitment.
They go on movie dates, travel together, and spend most of their time loving and being in their world.
2. What does it mean when someone is vanilla?
Being vanilla means you prefer monogamy and the usual relationship dynamics. A vanilla person is just someone who enjoys being in a heterosexual relationship where they can easily open up to their partner.
Some people might see vanilla as boring, but it is not so. A vanilla person can also be interesting and have an amazing personality.
3. Is it okay to be vanilla?
It is okay to be vanilla. Vanilla is conventional, so you should keep your vanilla relationships because they're no longer 'trendy.' If you no longer want to be vanilla, change on your terms, not on others.
4. What is the opposite of vanilla relationships?
The opposite of a vanilla relationship is a kinky relationship. A vanilla relationship is any relationship that follows the traditional path.
So, once any relationship doesn't follow the usual practices of commitment and monogamy, it can be called the opposite of a vanilla relationship.
In vanilla sex, the normal norms for having sex are followed as long as it satisfies your physical and sexual desires. Kinks, fetish, and other unusual sexual practices are the opposite of vanilla sex.
5. How should I get my vanilla partner?
While some people make it seem like vanilla people are hard to find. It's not exactly true. People who still value traditional dynamics can be seen all around.
If your partner is originally vanilla, but you want to add some spice to your sexual life, talk to them about it and give some suggestions.
There should be contributions from both parties to make the best decision for you.
Suggesting a little addition to your vanilla relationship with your partner is easy. Take things slow and give your partner time to adapt. Take your time with things because they might end up poorly if rushed.
The takeaway
Being in a vanilla relationship is not a bad idea. You should value an innocent and delicate relationship if you want to.
However, understand that being vanilla is relative, so what you think is the norm for other vanilla couples might not be so. Just do you to be truly happy in your vanilla relationship.
If you decide to base your relationship strictly on what people think or view their relationship, you're living for someone else and not yourself. So, value your relationship. Just be yourself as long as you're happy and satisfied in the relationship.
Share this article on
Want to have a happier, healthier marriage?
If you feel disconnected or frustrated about the state of your marriage but want to avoid separation and/or divorce, the marriage.com course meant for married couples is an excellent resource to help you overcome the most challenging aspects of being married.
More On This Topic
You May Also Like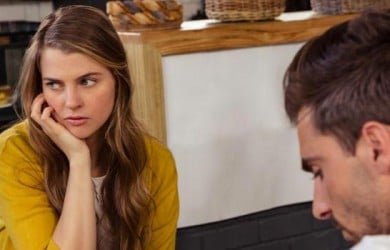 Popular Topics On Married Life