5 Surefire Work-Life Balance Tips for Female Married Entrepreneur
Ask any working wife how her life is, and she will most likely respond "Busy! I'm so busy!". Ask that same question to the female entrepreneur, and her response will be "Overwhelmed!" Unlike the wife who works for a company that is not her own, the female entrepreneur has the challenge of having to balance the competing passions in her life: her business, whose financial outcome depends entirely on her, and her husband and their marriage, whose happiness outcome is partially her responsibility.
70% of female entrepreneurs were married when they launched their first startup. How did these women manage to find their best balance between their business and their marriage?
Here are 5 surefire work-life balance tips for female married entrepreneurs
1. Communication
One of the most important tools you can use at home and at work is good communication skills. As an entrepreneur, you probably have honed this to a fine glow, with your convincing pitches to investors, briefings to your team, and motivational meetings. With your husband, you will want to use the same good skills. Your husband may not be part of your business, but he is your business, so keep him in the loop. Each week, sit down and show him what your upcoming schedule looks like, and where there may likely be some changes so he isn't caught off guard when you have to cancel that Thursday dinner with his parents.
Set up a system on Google Drive, Dropbox or any other file-sharing platform so you can update your schedules as needed and you each can see the changes in real time. Don't forget to express your love and gratitude to your husband each day; after all, his support and stability are the reasons you can allow yourself to take risks in the business world.
2. Approach marriage as a business, with a plan in mind
If you are a female entrepreneur, you are familiar with what makes a good business plan: a timeline with benchmarks to hit and goals to achieve. You may want to think about putting down on paper a "marriage plan." With your husband, decide the importance you want to give to things like time spent at work vs. time spent at home, number of weeks per year that are acceptable for work travel, when would be a good time to start a family, number of children, your plan for their care when you return to your business.
Define boundaries: how do you both feel about talking about your business when you are home? Should your house be a "no business talk" zone? Are you the type of woman who can easily shut down your entrepreneur mode and turn on your wife mode?
3. Get macro with your marriage plan
Not only do you want to sketch out the broad lines, but you should also focus on the small details, such as setting up a specific calendar for date nights (The entrepreneur Brad Feld calls these "Life Dinners" ). Drill down and define the parameters of the date nights: Is "shop talk" allowed? Will this time be used to reconnect emotionally and romantically with your husband, or is it a good opportunity to bounce off some new business ideas on him?
When you talk about having children, can you pinpoint dates when you'd like to start trying to conceive, making sure a pregnancy dovetails well with a future phase of your business? Could you take a year off from the business for the pregnancy, birth and early months of your baby's life? What if you decide not to go back to work? Getting macro with your plan will allow you to examine all the small details that, when put together, will allow you to move forward based on identifiable markers.
4. Feeling crunched for time? Get creative
Your business has taken off and is growing by leaps and bounds. You don't want to neglect your husband. How can you carve out time to connect with him? To find extra marriage-strengthening time on a schedule that seems to be packed tight, think outside the box. Get up a little earlier so you can connect with your husband before going to the office.
Traveling overseas to look at a new manufacturing site or meet potential clients? Book a few days in a five-star hotel at the end of the trip just for you and your husband, and have him fly out to meet you. Did a meeting suddenly get canceled, leaving you with a couple of hours in the middle of the day? Zip on over to your husband's office, and take him to lunch. Even though you don't have a strict nine-to-five job, you can always find some extra time in your day/week/month to devote to your marriage to keep it happy and healthy.
5. Delegate some responsibility to a second-in-command
Once your business takes off and the financial situation is looking robust, consider delegating some responsibility to a second-in-command. This doesn't have to be a forever-deal; call it a "sabbatical year" if you just want to see what a year off feels like. It may not feel comfortable at first—after all, you've been giving your business your all for so long—but taking some time off to pay attention to your marriage will reward you many times over. And this time off will also give you the energy you need to start thinking about your next big project! (Talk it over with your husband first!)
Share this article on
Want to have a happier, healthier marriage?
If you feel disconnected or frustrated about the state of your marriage but want to avoid separation and/or divorce, the marriage.com course meant for married couples is an excellent resource to help you overcome the most challenging aspects of being married.
Learn More On This Topic
You May Also Like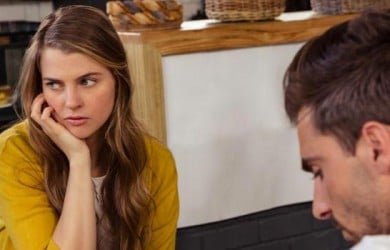 Popular Topics On Married Life