Work Husband – Pros and Cons of an Office Spouse
If you are a part of the workforce, you have probably heard the phrase "work husband." While there may be some misconceptions and even disagreements about what this phrase means, it is helpful to have a general understanding of what is a work husband.
What exactly is a work husband?
According to Women's Health, a work husband or an office spouse, in general, is a male coworker you feel comfortable confiding in, whether you are discussing matters that occur inside or outside of work. While there may be some variations in what an office spouse looks like, he will generally be supportive of you and help you out at work.
The office spouse is one of the more common relationships at workplace, as over half of women admit to having one. While an office spouse is someone you have a close relationship or friendship with, most office spouse relationships are not romantic or sexual in nature.
Still, wondering what is a work spouse? Here are some signs you have a work spouse, according to experts, as follows:
You have a go-to man in the office when you need snacks or supplies.

You and your office husband have jokes that only the two of you understand.

You are comfortable enough with a male friend at work that you can joke with him about spilled coffee on his shirt or some other aspect of appearance.

Your office spouse is the first person you tell when something exciting happens at work.

Your friend at work knows how you take your coffee or what you want for lunch from the local cafe.

You have a close coworker who knows the details of your personal life.

You can finish your coworker's sentences, and vice-versa.
What role does a work husband actually play?
We all spend hours of time at work. In fact, some of us may spend more time with our work husbands than we do with our actual families, given the demands of the modern workforce.
A study aimed at investigating the work-family conflict and job performance found that people working 50 or more hours per week had greater stress and substantially lower relationship satisfaction compared to ones who worked 35+ hours per week.
This means that the work spouse plays a significant role. He is someone we can turn to when faced with a challenge at work. He may provide advice, assist with a difficult project, or defend us when someone else in the office speaks poorly of us.
An office spouse provides emotional support and a source of social connection to help us cope with the long hours at work.
Office spouses will generally be understanding of the challenges we face at work since they work in the same location, which makes them strong sources of support.
Is having a work husband a good thing?
A study seems to agree that having a work spouse is a good thing. In fact, having an office spouse for support provides a safe outlet where you can vent about work-related issues. This contributes to emotional wellbeing and can improve your sense of work-life balance.
An office husband can also boost your confidence and improve your job performance, according to research.
Beyond this benefit, your office spouse can actually improve your relationship with your actual husband; when you have someone you can vent to about work-related issues during the workday, you won't have a need to bring the stress and frustration home with you.
Ultimately, the perks of a work husband are many. You have someone to provide support and to help you further your career, allowing you to enjoy your family outside of work without as much stress weighing on you. The benefits of the office spouse are seen both inside and outside of the workplace.
Is having a work husband cheating?
While there are benefits to having a work husband, some people may fear that the office spouse represents a workplace affair or infidelity. While people may have affairs with someone from work, having an office spouse in and of itself is not cheating.
As previously mentioned, most office husband relationships are not sexual or romantic, and experts report that married women can have opposite-sex friends at work, just like anyone else. The office spouse provides support to get you through the stress of work.
That being said, it is important to set boundaries to prevent the emotional connection from becoming an office affair that truly is cheating. In general, this means that the friendship should stay within the office.
Going on solo lunch or dinner dates with your work spouse or chatting with him on the phone after hours is crossing the line and could certainly concern your legal husband or your significant other.
Taking the work spouse relationship outside the office can cross the line into the territory of an emotional affair. Furthermore, establishing such a close friendship can lead to a sexual affair later down the road.
In short, work husband relationships in the office can be innocent and beneficial, but if they cross the line into a relationship that exists outside the office, you may be flirting with cheating.
What if my partner is uncomfortable with my work husband?
While work spouse relationships in the office can be harmless, if your work husband makes your partner or legal husband uncomfortable, it is important to sit down and have a conversation. It may be that there is a misunderstanding, and a conversation can alleviate your partner's concerns.
When your partner confronts you about concerns with your office spouse, it is essential that you listen without arguing or becoming defensive. Validate your partner's worries by expressing understanding.
You can also offer your perspective, explaining to your partner that the relationship with your office spouse is merely platonic, and you enjoy venting about work concerns to this person, so you do not have to bring your frustrations home.
It can also be beneficial to ask your partner what he expects from you and how you can make him more comfortable with the office spouse.
It is important to have clear boundaries in place, and you may be able to ease some of your partner's concerns by introducing him to your work spouse at your employer's next event. This establishes a clear boundary with the office spouse.
Ultimately, if your partner is still uncomfortable with the relationship you have with your work spouse, you must honor this concern.
Your primary loyalty is to your legal husband or partner, so you may have to take a step back from the office spouse if your actual partner is unable to make peace with it.
What if things start to heat up with my work husband?
What you do if the relationship with your office spouse begins to heat up depends upon your personal situation.
Obviously, if you are married or in a committed partnership, you must step back from relationships in the office when they become more than just a harmless office friendship.
In addition, if your work husband is also married, it is essential to step back if your relationship takes a turn into more romantic territory.
On the other hand, if you and your work spouse are both single and the relationship becomes heated, you may have to consider whether this is someone you might be interested in a more serious relationship with or if you just want to remain friends.
If you do pursue a real partnership with your work spouse, it is important to consider how this will affect your job and your behavior during the workday.
You should also consider your company's policies regarding relationships in the office, so neither of you is at risk of discipline or termination.
If your work spouse is your boss or oversees your performance in any way, a real relationship would not be appropriate and may require one of you to transfer to another department.
Also, watch the following video where organizational psychologist Amy Nicole Baker shares the real answers to commonly asked questions about romance at the office.

Pros and cons of an office spouse
Work husband relationships in the office can become complicated when things heat up, and it is important to remember that there are both pros and cons of having an office spouse.
Some pros of the office spouse relationships are as follows:
An office spouse provides a source of support, making the stress of work easier to manage.

When you have an outlet for venting during the workday, you don't have to bring your frustrations home to your family.

Having close friendships in the office can make the workday more enjoyable.

If you have a work spouse in your corner, you may be more successful in your career.
Despite these advantages, you may run into some cons when you have a work spouse:
Coworkers may become aware of the relationship and gossip about it.

Relationships in the office may become too heated, making your partner or your office spouse's partner uncomfortable.

If you and your office spouse are both single, the relationship may turn the corner into a romantic connection, which can make it difficult to remain professional and comply with company policies.
Takeaway: Does Having a Work Husband Serve a Purpose?
In summary, having a work husband serves a purpose. It provides a source of support and social connection that can relieve your stress at work and benefit your job performance.
That being said, if you have a partner or husband at home, it is important to set boundaries and keep the office spouse relationship platonic to avoid upsetting your partner or crossing the line into cheating.
Share this article on
Want to have a happier, healthier marriage?
If you feel disconnected or frustrated about the state of your marriage but want to avoid separation and/or divorce, the marriage.com course meant for married couples is an excellent resource to help you overcome the most challenging aspects of being married.
Learn More On This Topic
You May Also Like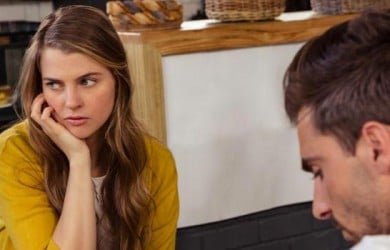 Popular Topics On Married Life