3 Relationship Advice for Friends
Having a friend can allow you to relax through thick and thin. They are always ready with their list of relationship advice for friends and willingly give you advice when you need it the most.
Whenever your relationship troubles you, your friends are there to help you through. It doesn't matter whether you need advice about love or you need advice about breaking up, your friends are there to pick you up and help you through.
Relationship advice for friends has to be everyone's favorite.
If you are wondering about how to give advice to a friend with a relationship problem, or you are confused about sharing relationship problems with friends, then read on below.
This article will let you know how and what are the few relationship advice for friends you can give, and will also provide you with a relationship problem solution.
Advice about relationship problems
When your friend comes over for relationship advice, you try and muster up the courage to offer her the truth. You do not want to mislead her, and you want to follow the guidelines of how to be a supportive friend.
Yet, when you hear the story about what happens, it makes your blood boil, and you'd want to protect your friend.
In situations like these, the best thing you can do is to sit back and take a deep breath. If you really want to help a friend in a bad relationship, then give relationship advice as mentioned below –
1. Take it easy
How to give advice to a friend with relationship problems?
Just say, take it easy!
This is the simplest and one of the best relationship problem advice given to someone. Try this one for relationship advice for friends.
Many times you can get caught up in fear-based on the need to control your significant other. This leads to a destructive compulsion that can shake the bases of the integrity of your entire relationship.
Arguments tend to replace compassion and respect with resentment and anger.
This advice helps in reducing the rate of reactivity from both parties and hence keeps peace, love, and happiness alive.
2. Your happiness is in your hands
A bit of good advice to give a friend about relationships is that their happiness is in their hands alone.
Many people think that their partner can make them happy. This is where they are wrong. It is not your partners' job to keep you happy; of course, they can make you feel good, but you do not need them to stay happy all the time.
Once you understand that you are responsible for your own actions, you will no longer fight for their attention.
This advice also reduces the rate of arguments in a relationship since you keep yourself jolly and avoid picking fights and slamming doors.
3. Stop waiting and live your own life
This is the best relationship advice for friends.
When it comes down to helping your friend out, giving relationship advice can be a tricky thing to do. You are not sure whether they want to start being single or stick in the relationship.
Having relationship problems is very common, but when they exceed from ordinary things to larger ones, this is where this relationship advice for friends come in.
Instead of being stressed out about being single and finding love again, your friend must relax and enjoy the time they get along. This time out will help them rediscover themselves. Many times when people are in a long and wrong relationship, they can lose themselves.
However, with this advice, they can enjoy the break and find themselves back again.
The best thing to do is to love yourself. When you love yourself and clear up your side of the road, you can find someone willing to stick up with you through thick and thin.
Relationship problems help
When running to advice a friend in a bad relationship, you must know that no matter what happens, you can never know the entire story. No matter what, you will always be biased towards your buddy and will support and advise them according to their decision.
However, this is where you can go wrong.
Sometimes, people who love their friends can end up encouraging them the wrong thing.
During this situation, your friend may end up leaving his partner even when the partner was not at fault. Your friend will lose a really great person all because they took the wrong advice from you.
When giving advice, you must make sure that you know all the details truly; nothing should be hidden, nor should it be sugarcoated. Even the little things that have happened between them should be known to you.
You must also put yourself in their position before handing out advice and know clearly what you would have done in such a situation.
Final thought
When advising a friend on a relationship, you need to make sure that you are stating everything clearly and not being biased. It might not be easy, but it is the right way to do it. Keep your calm, think neutrally and understand the situation.
Do not just blurt out solutions based on anger, rage, and resentment. Think clearly and with a clear mind in order to provide your friend with the best advice you can possibly give.
Share this article on
Want to have a happier, healthier marriage?
If you feel disconnected or frustrated about the state of your marriage but want to avoid separation and/or divorce, the marriage.com course meant for married couples is an excellent resource to help you overcome the most challenging aspects of being married.
You May Also Like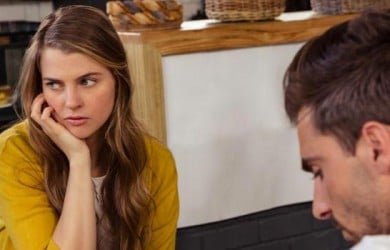 Popular Topics On Married Life