How to Use the Power of Silence After a Breakup?
You think you have found "the one" who you would spend the rest of your life with, but then your relationship ends. Calling it quits with the one you love is one of the most painful heartbreaks that one will ever experience.
No matter what the reason is, there is no easy way to deal with a breakup. We have different ways to cope with the pain of breaking up, but did you know that the power of silence after break up will be your best tool to move on?
Today, it's not uncommon to see social media posts talking about one's heartbreak experience. When someone breaks up with their partner, the first thing that they would do is to post their heartbreak on social media.
Some would choose to chase their ex and start stalking them to the point that their ex would already block any point of contact. We understand. It hurts to be dumped by the person you love the most.
It hurts to know that you will never be with them anymore. It hurts that you will never hear your ex's voice or feel the love you once shared. It hurts to be left behind by the one person who promised you happiness.
Silent treatment after a breakup may sound like an impossible approach, especially when your heart feels like it's about to explode, but hear us out first. You may need to pull yourself together after a breakup to come to the right conclusion.
Related Reading: 

Understanding the Role of Silence in Relationships
Why silence after a breakup is important?
Now that you and your partner have decided to call it quits, there will be misunderstandings, unclear feelings, hurt, and of course, even anger.
It's normal to feel that you want to resolve the issue surrounding the breakup. After all, the time that you have spent loving each other is worth it, right?
You try to reach out, talk and work everything out, but sometimes, this causes more damage to the relationship you are trying to salvage and yourself.
This is where the importance of silence after a breakup comes in.
By practicing the radio silence and the no contact rule, you are giving yourself a chance to analyze the situation objectively.
What do radio silence and no contact rules mean?
As the term suggests, it means that you will cut off any form of contact with your ex, and you stay silent. Even if you know your ex's phone number by heart – don't attempt to call.
Time will test you, but don't give in to the temptation to post anything about the breakup or attempt to do anything to catch your ex's attention.
Related Reading: 

How to Deal With Silent Treatment in Marriage
Silence – is it the best revenge for your ex?
When you're hurt and confused, you tend to be more vulnerable than you usually are. Chances are, you will be susceptible to actions that you will regret after.
Just stop and think.
Is this the path that you want to take? Yes, you are hurt, and you still love your ex deeply, but begging or trying to contact your ex to talk wouldn't help your already damaged relationship.
You might be pushing your ex farther away from you.
Is staying quiet and cutting all communication the best revenge? It could be.
If your ex hurt you so much or is trying to push you away, do you want to beg that person to stay in your life? Do yourself a favor and stay quiet.
The best revenge that you can do is not to react at all – or at least don't let your ex know that you are hurt. Moreover, whether or not silence is the best revenge may be the best route to save yourself from any further hurt.
Silent treatment, if not moderated correctly, can be emotionally draining for the other person.
Reasons why some people prefer silence after a breakup
Does the silent treatment work after a breakup? Why do some people choose to stay silent consciously and out of contact with their ex after a breakup?
The reason is simple. It gives you space and time to think about it, and it's also very effective whether you want your ex to come back or if you just want the fastest route to move on.
Remember this quote:
"Silence is the best answer to someone who doesn't value your words."
Related Reading: 

How to Get Over a Breakup and Grow as a Person
4 Benefits of the power of silence after a breakup
Now that you know the importance of silent treatment and the no contact rule let's talk about the many benefits of silence after a breakup.
1. You will have the upper hand
After a breakup, most people will still do everything they can to contact their exes. Some people would even suggest that they can still be "friends" while working on their relationship.
Please, don't do this to yourself.
Don't give your ex the upper hand by showing how desperate you are for this person's love. You're better than this.
If you use the power of silence after a breakup, then you will help yourself move on quickly. Aside from that, the no contact rule will help you have the upper hand.
2. Silence is louder
After the breakup, go completely silent.
No drunk dialing, no cryptic social media posts, no friends checking him for you – just complete silence. This will confuse your ex more than you can imagine.
3. You will have time to think
This method doesn't only aim to make your ex anxious. This advice is for you. The person who will benefit from this method is none other than you.
The power of silence after break up will give you time, and basically, that's all you will need.
Time heals, and that's true. It will hurt for sure, but you can endure that. You are stronger than you think and if you have time, use it to reflect.
Your clouded judgment will soon fade, and you will be able to think. Use this time to reflect on self-worth, self-love, and how some things don't work out.
4.Tables will turn
Even if your partner initiated the breakup, they might not be ready for you to give them a silent treatment post the breakup.
What's happening? Why isn't my ex calling me? Doesn't my ex value me? So, our breakup means nothing?
These are just a few questions that your ex will think about.
Can you see where this is going?
With complete silence, your ex will have the time to think as well. This will make your ex feel confused, lost, and at times, your ex might even start missing you.
To understand more about it, watch this video.
Related Reading: 

What to Do After a Breakup?
How can you use the power of silence after a breakup?
Silence is powerful; even science backs this up.
Almost all people will respond to silent treatment because it sparks curiosity and anxiety.
Usually, a person would react when you give them something to react to, right? But what if you take that power away by being silent?
Now that we understand that, the question here is how do we start using the power of silence after a breakup?
1. Start with the "The No Contact Rule"
Calling your ex is the most tempting thing that you will face post-breakup.
When your partner decides to end your relationship, you want to know why. You want to know if there is a valid reason for this person just to end a promise of love that you both shared.
You want to talk to this person, and it seems that no matter how much you try to stop, you have this urge to clarify things to this person.
Remember that your ex doesn't see it this way.
For your ex, you are starting to become more desperate and needy. This will just validate this person's decision to end your relationship. If you're hoping to get back – it won't happen.
You are already familiar with this number one rule, right? With the silent treatment and the no contact rule, you are saving yourself.
You stay quiet and just cut off everything that has something to do with your ex. This will give you the time you need to deal with the process of breaking up.
This is the hardest part of this process, but it's the most crucial start for you to move on.
Accept that it won't be easy, and there will be many times that you will get the urge to contact your ex – fight it!
Related Reading: 

Get Back with Your Ex With the No Contact Rule
2. Limit your contact
So you've done well with the first part of the no contact rule. Now, you are in control of yourself and your emotions – that's already progress.
There can be many situations where you and your ex need to talk. If you have a child together or if you need to talk about properties, then it's inevitable.
When you feel that you have completed the first stage, you can resume communicating with your ex – but remember to limit this. You don't want your feelings to come back for this person, right?
If your ex asks you a question – answer it straight.
Don't start asking how your ex is doing or if you can get together some time to have coffee. You've come so far; don't let all your hard work go to waste.
3. Treat them as just somebody else
The final step on how to win the silent treatment is when you get used to giving your ex the silent treatment that you realize that you are already healed.
When you talk to your ex, engage in a conversation where you feel no pain in your heart.
That's when you will realize that you've overcome your heartbreak and you've moved on.
4. Be normal if you run into them
It is a small world. If you run into your ex at a grocery store or the mall, be normal. Do not run or hide, and talk to them usually.
This will let them know that you are doing okay without them, which can be pretty irking if they have been thinking about you all this while.
5. Have faith
As much as you may not want to give your ex the silent treatment, you know it is needed. Taking some time off and giving each other the space to figure out your feelings will take you on the right path.
Even if the path is not the one you both walk together, it is likely to be the right thing for you eventually.
Related Reading: 

How to Deal With a Breakup: 15 Ways to Cope Up
What can you achieve with the power of silence after a breakup?
We're pretty sure that you now understand the power of silence after a break up and why the silent treatment works with an ex.
For some, there is still one question that needs to be answered – will your ex miss you?
It depends on the situation, but with the silent treatment, there's a greater possibility that your ex will start to miss you.
When you go completely silent and don't start bombarding your ex with annoying calls and messages – this person begins to think.
Without being annoyed, this person slowly realizes that something is missing.
Memories, events shared, mutual friends, all of these will still mean something, and with the silent treatment you are giving this person, your ex will start to realize if that decision of letting you go was a mistake.
In any event that your ex starts to realize this and does something to win you back – you are already in control of your emotions. That's enough for you to make the right decision whether to get back with your ex or move on.
Related Reading: 

How to Survive a Breakup: 20 Tips
Conclusion
Do you want to know the real power of silence after a break up?
It's the power of realization and freedom.
You will need to battle the urge to beg for someone who wants to let go of you. Once you start using the power of silence, then you are giving yourself time to realize, think, and even dwell.
Once you overcome this, you will allow yourself to have the freedom you need- the freedom from one-sided love, freedom from feeling self-pity, and the freedom to think that your happiness depends on another person.
No breakup is easy, but you have a choice – we all do. So do yourself a favor and choose to be silent until you are complete again.
Share this article on
Want to have a happier, healthier marriage?
If you feel disconnected or frustrated about the state of your marriage but want to avoid separation and/or divorce, the marriage.com course meant for married couples is an excellent resource to help you overcome the most challenging aspects of being married.
More On This Topic
Recent Articles
You May Also Like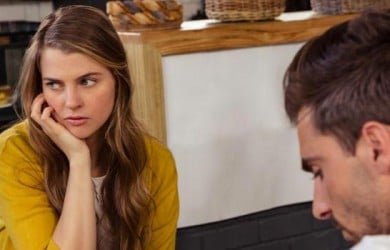 Popular Topics On Married Life