7 Key Benefits of a Healthy Mom and Son Relationship
The relationship between mothers and sons is really special. When filled with love, kindness, and trust, it helps boys grow up emotionally and socially strong. A mother can guide her son on how he sees women, friendships, and himself.
At the same time, how a son behaves with his mother can show a lot about who he is becoming. But, like all close bonds, it's not always simple. Society, different personalities, and life events can sometimes make things tricky.
There might be ups and downs, but there are also many chances to learn and get closer. In this article, we will talk about the various aspects of the amazing mom and son relationship.
What is a mother-son relationship?
Mom and son relationship is a special bond between a mother and her male child. From a son's earliest moments, the mother plays a key role in shaping his growth, both emotionally and physically. As the boy grows, this relationship evolves, influenced by life experiences, milestones, and challenges.
Mothers often serve as a primary source of love, guidance, and support for their sons, helping them navigate the world and understand their place in it. In return, sons bring joy, purpose, and a unique perspective to their mothers' lives.
This dynamic connection is filled with mutual respect, understanding, and an unbreakable tie that lasts a lifetime.
Why is the mother-son relationship important? 5 reasons
The mom and son relationship is not just about shared moments and memories. It's a deeply intertwined bond that shapes a son's character, values, and approach to life. Here are the reasons why it's important:
1. It lays the foundation for emotional intelligence
One of the primary reasons the mother-son bond is of paramount significance is its role in nurturing emotional intelligence. Mothers often become the first emotional touchstone for their sons.
Through open conversations, expressions of affection, and guidance during challenging times, mothers teach their sons to recognize, understand, and express their feelings.
This emotional grounding helps boys develop empathy, manage their reactions better, and build stronger interpersonal relationships as they grow.
2. Shapes a son's perspective on relationships
The relationship a son shares with his mother often serves as a template for his future interactions. It's through this prism that he forms his earliest understanding of trust, love, respect, and communication.
By observing and engaging with their mother, sons get knowledge of the dynamics of healthy relationships. They learn the importance of kindness, patience, and understanding. This foundational knowledge influences their relationships with peers, friends, and, later, their significant others.
3. Offers a safe haven for growth and exploration
Every child, irrespective of gender, requires a secure environment to explore their identity and interests. For many sons, their mothers become that unwavering pillar of support.
Whether it's taking the first hesitant step towards a new hobby or navigating the tumultuous waters of adolescence, sons often turn to their mothers for encouragement and advice.
This safe haven builds self-confidence, allowing sons to take risks and grow, knowing they have a steadfast cheerleader by their side.
4. Imparts values and moral compass
The mom and son relationship is crucial in the moral development of the child.
Through daily interactions, lessons, and stories, mothers pass down values, ethics, and a sense of right and wrong to their sons. Whether it's understanding the importance of honesty, the value of hard work, or the necessity of kindness, these moral lessons stem from the bond they share with their mother.
As sons grow and face ethical dilemmas in their lives, the teachings from their mothers often act as a guiding light.
5. Strengthens resilience and coping mechanisms
Life is replete with challenges, and having a strong support system is vital to overcome them. In the mom and son relationship, mothers often play a pivotal role in teaching their sons how to face hardships.
They offer solace during moments of doubt, share wisdom from their own experiences, and provide a shoulder to lean on. This consistent presence helps sons develop resilience.
By understanding that setbacks are a part of life and that they can always turn to their mothers for guidance, sons are better equipped to cope with future adversities.
5 stages of the mother-son relationship
Each stage of the mom and son relationship brings its own joys and challenges. What remains consistent, however, is the profound influence this bond has on the emotional and personal growth of the son.
1. Infancy and attachment (0-2 years)
This is the initial stage where the bond between the mother and son relationship is primarily driven by caregiving and dependency. The son relies on his mother for basic needs like food, comfort, and security.
The interactions, though simple, lay the foundation for trust and form the primary attachment that will guide future relationships.
2. Toddlerhood and exploration (2-4 years)
As toddlers, sons begin to explore the world around them. Their growing independence is punctuated by frequent returns to the mother for reassurance. The mother plays a pivotal role in balancing protection with the freedom to explore, fostering the child's confidence and curiosity.
3. School-age and identity formation (5-12 years)
As sons start school and make new friends, the mother's influence extends to guiding social interactions and instilling values. It's during this phase that sons start forming their own identities. They look up to their mothers for validation, support, and advice, even as they start spending more time outside the home.
4. Adolescence and separation (13-19 years)
Arguably, the most complex stage, adolescence, is marked by a quest for independence and self-discovery.
The mother-son dynamic might experience tension as the son seeks autonomy and the mother grapples with letting go. Open communication becomes crucial to navigating challenges, understanding boundaries, and maintaining a close bond.
5. Adulthood and friendship (20 years and beyond)
As sons mature into adults, the relationship often evolves into one of mutual respect and friendship. The dependency lessens, but the bond remains strong.
Mothers transition from primary caregivers to confidantes and advisors. Sons, on the other hand, often come to appreciate their mothers in new ways, understanding the depth of their love and sacrifices.
7 benefits of a strong mother-son relationship
The mother-son bond, deeply rooted in love and trust, has profound impacts on emotional growth and life perspectives. A strong relationship brings numerous benefits, enriching both lives in immeasurable ways.
A strong mother-son relationship comes with several benefits:
1. Emotional support
A strong bond between a mother and son provides emotional support for both. They can rely on each other for guidance, comfort, and understanding during challenging times.
2. Communication skills
A healthy relationship fosters open communication, allowing the son to develop effective communication skills. This can strengthen his ability to express himself, resolve conflicts, and navigate relationships in the future.
3. Confidence and self-esteem
A mother's love and support can greatly influence a son's confidence and self-esteem. A strong relationship helps instill a sense of self-worth and belief in one's abilities.
4. Positive role modeling
A supportive mother can serve as a positive role model for her son. Through her actions, she can demonstrate qualities like kindness, empathy, and resilience, encouraging the son to embrace these traits as well.
5. Development of healthy relationships
A strong mother-son bond can positively impact a son's relationships with others, including friends, partners, and eventually his own children. It can lay the foundation for developing and maintaining healthy and respectful connections later in life.
6. Reduced likelihood of behavioral problems
A study has shown that boys with close relationships with their mothers are less likely to engage in delinquent or risky behaviors. The strong maternal presence can act as a protective factor, allowing the son to develop a sense of responsibility and self-control.
7. Improved academic success
A mother's involvement in her son's academic pursuits can help him achieve better academic success. A strong bond can lead to increased motivation, better concentration, and improved persistence, all of which contribute to more positive educational outcomes.
FAQs
Here are some answers to some pressing questions that can help shed more light on the mom and son relationship:
What is the relationship between a mother and a son?
This connection, known as the mother-son relationship, is a profound bond that intertwines emotions, memories, and shared experiences. Beginning from infancy, it evolves through various life stages, reflecting the challenges and joys of growth and mutual understanding.
The essence of this bond stems from a foundation of trust, guidance, and an unspoken understanding that strengthens over time.
Why is a mother and son bond so strong?
The unique dynamics of mom and son relationships are anchored in the early years of a child's life when the mother is the primary caregiver.
As the first woman in a son's life, a mother not only provides care and comfort but also instills values, molds perspectives, and shapes behaviors. This early imprinting creates an indelible mark, making the bond incredibly resilient and impactful throughout the son's life.
Why do sons pull away from their mothers?
As sons go on the path to independence and self-identity, especially during adolescence, it's natural for them to seek autonomy.
This journey can sometimes manifest as pulling away as they try to establish their own beliefs, boundaries, and identity. It's a phase of exploration and self-discovery, not necessarily a reflection of a weakened mother-son bond.
Watch this video to learn how a messed-up childhood can affect you in adulthood:
What is a mother's love for her son?
A mother's love for her son is an amalgamation of deep affection, sacrifice, unwavering support, and a desire to see him thrive.
It's an emotion that transcends boundaries, always hoping for the best and standing as a pillar of strength, even during challenging times. This love is both nurturing and protective, seeking to guide without stifling growth.
Can mom and son have a relationship that is unhealthy?
Yes, it is possible for a mother and son to have an unhealthy relationship. Unhealthy relationships between mothers and sons can take various forms and can have long-term negative impacts on both individuals involved.
In some cases, a mother may have overbearing expectations of her son, leading to a lack of boundaries and the son feeling smothered and not independent. In other cases, a mother may use her son to fulfill unmet emotional needs, leading to manipulation and guilt-tripping.
Additionally, an unhealthy relationship can arise due to unresolved conflict or trauma between the mother and son, leading to distrust and resentment.
It's important to remember that unhealthy relationships between mothers and sons are not the norm and can be improved or resolved with appropriate interventions and efforts. Therapy and counseling can help individuals in a mother-son relationship identify and address unhealthy patterns of behavior and communication to improve the relationship.
In a nutshell
Mom and son relationships are multifaceted, evolving through various stages of life. From the foundational mother-son bond formed during early years to the complexities of adolescence and the mature companionship of later years, the relationship remains a constant source of support, learning, and love.
Understanding its dynamics, challenges, and depth can offer insights into the beautiful journey both mother and son traverse together.
Share this article on
Want to have a happier, healthier marriage?
If you feel disconnected or frustrated about the state of your marriage but want to avoid separation and/or divorce, the marriage.com course meant for married couples is an excellent resource to help you overcome the most challenging aspects of being married.
You May Also Like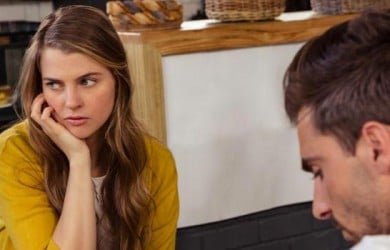 Popular Topics On Married Life