What Are 10 Karmic Relationship Stages?
Have you ever met someone and felt like you've known them for a long time? Have you felt like you have a 'soul connection' to someone, something that transcends life, death, and all other rationalities? Well, what you feel with this certain someone could be what is called a 'karmic relationship.'
Love can be looked at in so many ways. For some, it may be physical. For others, it may be spiritual. Some may look at love as an amalgamation of all such realms. A karmic relationship essentially refers to a spiritual connection.
Some people believe in various lives and that a connection from one can be carried on to the other. What are some karmic relationship stages? Read on to know more.
How does a karmic relationship start?
What is a karmic connection? A karmic relationship has a 'karma' associated with it. There may be some unfinished business or something unsettled between the two of you that brings you together again in this life.
What is a karmic relationship? In this video, Sonia Choquette, spiritual teacher, author, and storyteller, talks about karmic love relationships and why they are so challenging.
A karmic relationship is likely to begin in unusual ways. You may meet this person in a life-altering way – for example, during an accident. Or you may meet them at a bookstore, a train station, or someplace where you start talking.
When you meet someone you have a karmic relationship with, you feel a sense of familiarity with them. It is what pulls the two of you together.
This research discusses spiritual relationships, connections to self, other souls, a higher power, or nature.
Related Reading: 

What Is a Karmic Relationship? 13 Signs & How to Break Free
How do you recognize a karmic relationship?
Now that you know what a karmic relationship is and how it begins, it is essential to understand the signs of a karmic relationship and how you can recognize it. You know it is a karmic relationship when –
1. There is drama
A rollercoaster of emotions characterizes a karmic relationship. One minute you love them, but you could kill them the next. There is a lot of drama involved. The emotions experienced in a karmic relationship are primarily extreme.
Related Reading: 

Types of Drama You're Too Old to Deal With in a Relationship
2. There are red flags
What are some red flags for karmic relationships? For instance, the push and pull in a karmic relationship may not be healthy – and, therefore, can be perceived as a red flag. Similar red flags in karmic relationships include the inability to let go of it.
It could signify a karmic relationship if you see these red flags but cannot get to do something about it.
This research talks about the various qualities or the lack thereof that can be perceived as 'red flags' in initial romantic encounters.
Related Reading: 

30 Red Flags in a Relationship You Should Never Ignore
3. You feel an addiction
When you remove them from your life for a while, do you feel a sense of withdrawal, especially when you feel they are not suitable for you? If you feel an addiction to them, it could signify that this is a karmic relationship.
Different types of karmic relationships
Given the definition of karmic relationships, a question that is likely to cross one's mind is: Are karmic and soulmate relationships the same? Or are soul-tie relationships just another type of karmic relationship?
Well, the answer is no. While all of these types of relationships fall under spiritual relationships, they are not identical. Read on to know more about the difference between these spiritual relationships.
1. Soulmate relationship
A soulmate relationship can easily be described as something where there is a connection between two souls. They meet to care for, help, and love each other. They are partners in the real sense – supporting each other through life's journey.
While a soulmate relationship is spiritual, it does not have anything to do with karma or the splitting of the soul.
To know more about soulmate relationships, read this book by Tara Springett – Buddhist Therapist & Teacher, where she talks about all aspects of a soulmate and your relationship with them.
2. Twin-flame connection
On the other hand, a twin-flame connection is based on the understanding that a soul is split into two at the time of creation, and people have to find their other half to love and cherish in this life. Unlike a karmic relationship, a twin-flame connection has nothing to do with 'karma' or unfinished business.
Purpose of karmic relationships
A karmic relationship serves the purpose of learning, grieving, and growing. Since you meet your karmic partner because you have unfinished business from a past life, the purpose is to help you grow in life and move on from this connection with the right karmic lessons in relationships.
Some people may call the purpose of karmic relationships a way to pay off your 'karmic debts.'
Can a karmic relationship work, or does a karmic relationship last? Even if they do, it is not one of the purposes of karmic relationships.
10 karmic relationship stages
All relationships have their stages, and karmic relationships are no different. What are the karmic relationship stages? Read on to know more.
1. A 'gut' feeling
The first stage of a karmic relationship is a feeling in the gut, a dream, or an intuition that you will meet someone or something significant will happen to you soon.
Since karmic relationships are based on knowing this person from a past life, you may be able to tell when you will meet them, which may be the first of the many karmic relationship stages.
Related Reading: 

Gut Instinct in Relationships: How to Trust Your Intuition
2. A coincidence
You are likely to meet someone with a karmic bond rather unusually. A coincidence or a chance may lead you to them, and you may instantly gravitate toward them. This could be the second of the ten karmic relationship stages.
3. The meeting
Meeting your karmic relationship partner would happen due to a chance, but you won't feel like you are meeting them for the first time. Even when you meet your karmic partner unusually, you will feel a sense of karmic attraction towards them – a kind you have never felt before.
Related Reading: 

10 Things That Will Happen When You Meet the Right Person
4. Deep feelings
At the fourth stage of a karmic relationship, you will start to feel deep feelings for each other. Intense love and passion are characteristics of a karmic relationship, and you will know that your partner also feels the same way for you.
5. It is just not enough
Now that you both have strong feelings for each other, you will feel like no amount of time is enough to spend with them. You cannot get enough of them. You feel this euphoric love, a kind that you cannot shake off.
Related Reading: 

11 Ways to Spend Some Quality Time With Your Partner
6. Things change
The sixth stage of karmic relationships is when things start to change. This is when you start feeling the highs and lows of emotions of a karmic relationship.
Even though you may still love your karmic partner, you start to feel things like anger, disgust or even hate for them at this stage of the karmic relationship.
7. Patterns repeat themselves
At the seventh of the ten karmic relationship stages, you see a repetition of patterns. You feel like your life is falling apart – with your relationship and other parts of your life going downhill.
However, you feel like you have been in a similar situation before. This is also a characteristic of a karmic relationship, but this is where you start resolving a karmic relationship.
8. Realization
At this stage of the karmic relationship, you realize that this is not how things should be. You finally decide to do something about this. At this stage, you are given a chance to break free from this pattern and finally move on from the karmic relationship.
9. Actions
Very few people can reach this stage of the karmic relationship, where they take action to improve things. Even though the relationship is not going okay, you feel a sense of calm and acceptance.
You decide to take action to make things better for you.
It may require a lot of willpower to break the cycle of karmic relationships and do things differently.
Related Reading: 

Developing Acceptance Skills in a Relationship
10. Getting out
A karmic relationship can be draining, irrespective of the growth it involves. The rollercoaster of emotions can make you feel the highs and lows of the relationship so much that you finally accept that you cannot be in this cycle forever.
This is the final stage of a karmic relationship, where you decide to get out. Letting go and moving on from any relationship can be difficult, but it is especially challenging for a karmic relationship.
The takeaway
A karmic relationship is just one of the beliefs some people may believe in while others may not. A karmic relationship is considered a spiritual type of relationship.
It is believed that karmic relationships come into our lives as a way of teaching up, helping us become better, and not repeat patterns of toxic relationships from our past lives.
Learning from experiences and relationships is crucial to living a healthy and better life.
You must remember that if something feels toxic or unhealthy, it may be best to consider letting it go. At the same time, if you feel overwhelmed or helpless, it is alright to seek professional help.
Share this article on
Want to have a happier, healthier marriage?
If you feel disconnected or frustrated about the state of your marriage but want to avoid separation and/or divorce, the marriage.com course meant for married couples is an excellent resource to help you overcome the most challenging aspects of being married.
More On This Topic
You May Also Like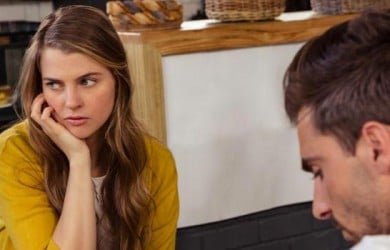 Popular Topics On Married Life