Top 15 Signs a Karmic Relationship is Ending
Have you ever questioned whether your relationship was destined to last? Do you think that we are all destined to take important life lessons? If you do, you've probably heard of the term "karmic relationship."
A karmic relationship is often defined by irresistible desire with a stormy element. You love and despise them all at the same time. You want to be around them, yet you need help to handle their continuous presence.
If you believe you have been or are now in one, keep reading! This article will define karmic relationships, karmic relationship signs, and the top 15 signs a karmic relationship is ending.
What is a karmic relationship?
Before we talk about signs a karmic relationship is ending, let's talk about what is a karmic bond. The term "karmic relationship" is derived from the root word karma, which you may be familiar with as the law of cause and consequence.
Philosophers and intellectuals have traditionally held that thoughts and feelings are not formed by the self but rather are a ripple of the surrounding environmental energy. Therefore, the utmost good radiates into more good actions, while negative actions generate comparable forces.
So, how does karma work in relationships? A karmic relationship is based on the premise that everything you do has a huge trickle-down effect that impacts you and those around you. Additionally, many people believe that such relationships exist to teach you essential lessons that you did not learn in your previous life.
The ten karmic relationship stages
A karmic relationship may have been full of exciting adventures or steep slopes to tackle. And if it did end, it could have ended with a wave of emotions that destroyed everything you two have ever built.
Karmic relationships are easier to fathom once you have firsthand experience with them. This video link may give you a better understanding of what a karmic relationship is:
However, it doesn't mean you must go through one to understand a karmic relationship. In this section, we'll review the ten karmic relationship stages to help you understand them better.
1. Intuitions and fantasies
When falling into a karmic connection, people frequently have dreams and visions that they interpret as signals of what is to come in their lives.
2. Synchronicities and coincidences
Then, bang! Something remarkable happens in your life! You meet this person by coincidence, and the entire universe is working to bring you two closer.
3. Interstellar romance
Life suddenly makes no sense without this person; all you need is their love. It's as if you've known this person forever, and they have a stunning effect on you.
4. The drama begins to build
Even if you still adore each other, tension creeps into your romance. And the angst has been as profound as the love has been.
5. The pattern becomes addictive
Love, fight, desperation, and then love yet again. The pattern appears to go on forever, and you can't seem to get enough of it.
6. Tides change
This stage may be the end of your relationship. At some point, you will begin to feel danger and you no longer trust your karmic soulmate.
7. Old tendencies resurface
And now you're locked in the same pattern once more. You're bewildered and caught in a vicious circle from which you don't know how to get out.
8. Affirmation and realization
This is the time to wake up and take control of the situation. You recognize that the only way to break free from this karmic tie is to resolve your issues.
9. Progress and development
Learning to practice self-acceptance and self-love is critical for breaking free from the karmic bond. You will only have a way out of your karmic relationship once you figure this out.
10. Breaking free
This is where the lessons are learned, and the purpose becomes clear. After paying your karmic debt, you are finally free from the karmic relationship!
As you can see, a karmic relationship is not an easy trip, let alone understanding signs a karmic relationship is ending. Though it appears to be a short process, there are numerous stages one must go through before finally learning the lessons and breaking free from the karmic tie.
15 early signs of ending karmic relationships
After learning about the stages of a karmic relationship, do you think you may be in a karmic relationship? Because karmic relationships tend to be short-lived, here are the top signs a karmic relationship is ending.
1. An immediate connection and a sense of inevitability
Chemistry typically takes time to develop. In a karmic connection, though, your first meeting was likely intense, amazing, and dreamlike. It will all be dreamy before signs a karmic relationship is ending come up.
You eventually fall in sync with the other person's psychological patterns and recognize how their mind behaves. You may have felt as if you knew them from another life. And it is because you have.
2. You disregard the red flags
You ignore several underlying issues when you believe you have met your perfect partner. You sense dangers but choose to ignore them.
People around you are undoubtedly telling you how realistically they see this connection. Nonetheless, you tell yourself that they are unimportant.
Related Reading: 

30 Red Flags in a Relationship You Should Never Ignore
3. There is too much drama
The is the next example of signs a karmic relationship is ending. Instead of tackling an issue collaboratively, you both strive to win. It becomes increasingly impossible to have honest conversations, and sharp remarks and insults contaminate daily life.
There needs to be more open communication. And, even after they have been settled, disagreements snowball with the inclusion of previous arguments.
4. Repetitive patterns
You'll begin to wonder why your relationship problems never seem to stop. You can be profoundly in love one day and intensely debating with your lover the next.
Regarding your relationship issues, you are running in circles. This is because you need to learn your lesson, which is why it keeps happening.
5. Selfishness
In this connection, everything becomes about your own needs, which leads to an unhealthy partnership in the long run. This kind of selfishness is another example of signs that a karmic relationship is ending, which isn't good for either of you.
6. Possessiveness
Jealousy is one of the most powerful feelings in a relationship, suffocating any possibility for development. It's as if you're so drawn to your lover that being around them feels like an addiction.
Related Reading: 

15 Ways on How to Stop Being Possessive
7. Things feel off earlier than usual
Did you see a lot of dangerous signals even early in the relationship? Sometimes such cues are part of the relationship's lesson, which often shows you how to avoid unhealthy patterns in the future.
8. You develop insecurity
Insecurity is a logical result of having your greatest worries exposed so quickly. This is the core cause of acute jealousy, which leads to possessiveness and obsessive behavior.
9. A rollercoaster of emotions
Are you thrilled one minute and depressed the next? Things are never consistent, and while you may have good days, it always feels like a collapse is just around the corner.
10. You both become dependent on each other
Another indicator of a failing karmic relationship is the feeling that you can't survive without this person. If you find yourself sacrificing your spare time and other connections to see this someone on an ongoing basis, it could be a clue that something is wrong.
11. Miscommunication
Communication is the bedrock of any healthy relationship. When you're in a karmic relationship, you'll find it difficult to understand each other. Most of the time, it appears that the two of you are always discussing something different.
Related Reading: 

7 Tips to Combat Miscommunication in a Relationship
12. Having a heated argument
Your disputes could soon devolve into something personal and nasty. These arguments may appear out of nowhere and catch you off guard. During these confrontations, either or you will repeatedly cross the line.
13. Energy is running out
Regardless of the beautiful moments you enjoy, you may feel your energy is slowly draining out of your system. Keeping your body on high alert all the time will deplete your reserves.
14. Unpredictability
Because of recurring challenges and conflicts, such connections are usually viewed as unpredictable. You'll become disoriented and exhausted.
You don't see yourself in the mirror; all you can see are your ugliest doubts and most vulnerable flaws. However, you are still completely unaware and absorbed by this affair.
15. You find it difficult to let go
You are in a karmic connection if you don't know how to leave it. It's like a bad habit that you know is bad for you but can't manage to break.
You are experiencing mixed feelings due to the nature of your relationship. You know something is wrong, but you are unsure how to correct it or break the vicious spiral.
Both of you may realize signs that a karmic relationship is ending and want to break off the relationship, but you can't stop yourself from getting back together. Even yet, you will eventually recognize that such a relationship is unhealthy, and once you have learned your lesson, moving on will be easier.
Related Reading: 

How to let go of someone you love: 15 Ways
What happens when a karmic relationship ends?
When going through a breakup after an intense and fiery relationship, many regrets may arise. However, acknowledging that you learned significant lessons and had the unwavering bravery to let go of something that no longer benefited you will help your growth.
Trying to embrace everything, including the difficult periods, will ironically quicken the healing process. Instead of trying to run away and holding back emotions, the healing process occurs faster and more easily when they are fully felt and let go.
In general, self-love is critical after a karmic relationship. You've been choosing to ignore signs a karmic relationship is ending and arguing with your feelings of distress, so now is the moment to exercise self-love and believe in yourself again.
What is the best way to make a karmic relationship work?
Karmic relationships can and do work, but they are rare today. It takes a lot of patience and effort from both parties to address any issues that arise in their relationship. This is why most karmic partnerships worsen and result in separation.
The connection between karmic partner signs may appear intense, but it is critical to recognize that these relationships are not intended to last. The majority of them end up in unhealthy relationships since their sole objective is to clear any unresolved karma.
Such relationships rarely survive and frequently leave both karmic partners emotionally drained and in great suffering. Yet, our journey through this affair will show us how to become improved and strengthen our relationships with future partners.
How can one break the karmic cycle?
Ending karmic relationships can be exceedingly tough, especially if the person is trapped in a never-ending cycle with the other party. So, to stop a problematic relationship, one must first recognize one.
Please take note of any signs a karmic relationship is ending, and do not ignore them. Extreme possessiveness, oppressive behavior, and general suffering are a few examples.
Speaking with a trustworthy family member or close friend can assist in breaking such bonds. Also, you may seek professional assistance, if needed, to assist with healing from karmic ties.
Finally, give yourself some time to recover. Rushing into another relationship will only make things worse in your life.
FAQs
How long does a karmic relationship survive?
Because of their fragile nature, karmic relationships are not meant to stay long. They will eventually end and may last for weeks or months, but seldom for years or decades.
Is it possible for a karmic relationship to reoccur?
A karmic relationship can repeat with the same or a different person. And since a karmic relationship can make a healthy relationship appear boring, commit yourself not to become stuck in another one.
The takeaway
While there are many types of karmic relationships and signs, a karmic relationship is ending. They are here to teach our souls how to be better humans and heal previous wounds. According to the notion, you two knew one another in a previous life and met again to fix numerous issues.
When you progress through the stages of a karmic affair and eventually break free, your mindset and personality will transform in ways you never imagined possible. And that is your most precious gift.
If you are unsure about the signs a karmic relationship is ending, it is a good idea to seek relationship counseling. A service like this might help you see things more clearly and stay aware of your surroundings.
Share this article on
Want to have a happier, healthier marriage?
If you feel disconnected or frustrated about the state of your marriage but want to avoid separation and/or divorce, the marriage.com course meant for married couples is an excellent resource to help you overcome the most challenging aspects of being married.
More On This Topic
You May Also Like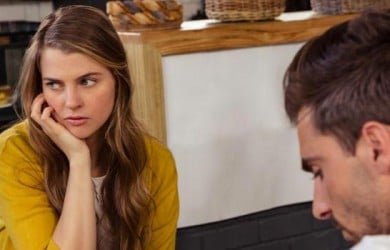 Popular Topics On Married Life