20 Tips on How to Stop Being Pushy in a Relationship
Most people don't like being forced to do something, especially when the motive of the person compelling them is not right. This is how some people feel in their relationships. However, some individuals feel overpowered by their partner's overbearing and controlling attitude.
This article teaches how to not be pushy in a relationship. With the tips in this piece, partners can learn to be more loving instead of controlling.
What is being pushy in a relationship?
Being pushy in a relationship means you have the urge constantly to control your partner. It also means that you expect them to always consider your opinions and thoughts before making any relationship decision. You often find it difficult for your partner's choices to be dominant in the relationship.
In Jan Stets' research study titled Control in Dating Relationships, you will learn the entire concept of how controlling or pushy partners behave. You will also understand the reason for their pushy attitude.
20 important tips on stop being pushy in a relationship
When it comes to being pushy in a relationship, one of the reasons why people have this trait is the need to dominate. Another reason might be an anxiety disorder.
Hence, they enforce their opinions and decisions on their partner to do their bidding. In the scenario where the other party resists their suggestions, conflict might occur.
Here are some tips on how not to be pushy in a relationship
1. Acknowledge you are pushy
One of the best ways to solve a problem is to admit that you have it. When you realize that you have a pushy problem, it will give you perspective on how serious the problem is.
For example, after noticing this issue, it might dawn on you that you've been controlling your partner all this time. This must have caused a power imbalance in your relationship.
2. Take a break when needed
When it comes to how to stop being pushy, one of the important steps is to take some moments to breathe when you feel like it.
If you keep responding to the impulses, you will exert control over your partner. Therefore, try to distract yourself anytime you feel the urge so that it subsides.
Related Reading: 

Taking a Break in a Relationship to Fix a Struggling Relationship
3. Don't treat your partner as a child
One of the mistakes some partners make is they think that their other half is not grown up yet. If you want to learn how to not be pushy in a relationship, quit seeing your partner as a child.
Instead, you need to realize that they are adults who can decide for themselves. They might become frustrated when you keep treating them as a child.
Related Reading: 

Why Being Treated Like a Child in a Relationship Is Unhealthy?
4. Don't make decisions alone
To avoid being too pushy, you can try to make decisions jointly with your partner instead of executing your own opinions. For example, if you want to make a crucial decision, you can ask your partner what they think before making the final decision. In some cases, you can consider some of your partner's input so that they don't feel left out.
5. Choose your battles wisely
Another way on how to not be pushy in a relationship is to consider if it is worth being pushy at that time or not. You need to envisage the outcome of each event before taking a stand or not. If you think being pushy at that time can cause conflict, you can avoid it. If you keep applying this principle, things will improve in the long run.
Related Reading: 

How to Handle Relationship Arguments: 18 Effective Ways
6. Speak positively about your partner
You might speak negatively about your spouse to your family and friends when you're too pushy. You will keep informing them that your partner is the problem, not you. Meanwhile, it might be that both of you have an equal share of the blame. Ensure you give your loved ones positive feedback about your partner, even if that's not the case.
7. Don't expect too much every day
One of the reasons why people become pushy is because they expect too much from their partners. Remember that even though you're in a relationship, your partner has their life to live. So, whatever they do in the relationship is out of love and respect for you. Therefore, on how to not be pushy in a relationship, ensure you avoid instructing them on everything they need to do.
Barbara Gain's book titled Stop being controlling is an eye-opener for anyone who wants to stop their pushy attitude. This book helps you overcome control issues and repair your relationship.
8. Don't make everything about you
Many pushy partners are used to making everything about them. This is because they like to be the center of focus when it comes to everything in the relationship.
However, it would help if you remembered that some of your partner's actions might not be connected to you or the relationship, and you don't have to feel bad about it. For instance, if your partner is in a bad mood, it does not mean that you are the cause.
9. Don't compare your partner with other people
Another way on how to not be pushy in a relationship is to avoid comparison. When you compare your partner with others, you are likely to expect too much from them. Most times, your expectations might be unrealistic because you fail to realize that your partner is a unique individual.
Related Reading: 

10 Reasons You Should Never Compare Relationships or Your Partner
Watch this video on the dangers of comparing spouses:
10. Avoid pressuring your relationship
One of the ways on how to stop being too pushy in a relationship is to stop expecting much. Setting too many rules for you and your partner might become boring at some point. Instead, allow some room for flexibility in your relationship so that your partner would not get tired of being with you.
Related Reading: 

25 Essential Rules for a Successful Relationship
11. Take responsibility for some mistakes
You can decide not to keep blaming your partner for everything and take responsibility. This is how to not be pushy in a relationship. It would help if you let your partner know that you also make mistakes instead of blaming them every time.
12. Don't let your relationship be your only source of happiness
If you are pushy in a relationship, it is likely that you are not happy with your union. Hence, finding other sources of genuine happiness apart from your relationship would be advisable. This would help make you relate well with your partner and expect less from them.
For example, consider starting a new hobby, hanging out with friends, or doing something you are passionate about.
13. Focus more on the positive side of your partner
When you begin to see the good side of your partner, you will realize that they are not as bad as you think. This would also help you to be less pushy in your relationship.
Even when your partner makes you angry or sad, remember that there were times when they made you smile. When you focus more on the positives they bring, you will not try to fix them so that they will do your bidding.
14. Accept that you're imperfect
Most times, pushy people believe that they cannot make mistakes. This is why many prefer to blame their partners because they don't believe they have flaws. However, one of the ways on how to not be pushy in a relationship is to realize that you're imperfect.
There's no perfect human anywhere. Realizing this will help you treat your partner better and demand less from them.
15. Remember that people are watching
You need to know that people will eventually get to know how you are treating your partner. If you are being too pushy in a relationship, it will reflect in your partner's relationship with other people. Remember that it might affect your relationship with other people because no one likes to be with someone who is too pushy.
Related Reading: 

6 Virtues That Will Make You Treat Your Partner as You Want to Be Treated
16. Don't overreact every time
You might become pushy when you keep reacting to every little thing your partner does. It would help if you overlooked some of your partner's deeds by giving them more grace. Sometimes, your partner might even make some corrections themselves without your help.

17. Be kind to people in your other relationships
To become less pushy to your partner, you can practice the act of being kinder to other people in your life. When you treat other individuals with respect and care, it might be easy to replicate the same in your relationship.
Related Reading: 

10 Reasons Why Respect Is Important in a Relationship
18. Spend more quality time with your partner
Spending more time with your partner will help you appreciate them and be less pushy. You can organize a hangout or a romantic date where you and your partner will have quality time to bond.
19. Learn to talk less and listen more
Try to resist the urge not to talk every time your partner has something to say. Instead, you can learn to listen more to them to understand their points and appreciate them more. It will help your relationship come alive because your partner will feel that you are listening and caring more about their thoughts.
20. Seek help from a professional relationship counselor
If you are unsure how to not be pushy in a relationship, you can see a counselor or therapist for help. Once they help you identify the root problem, they will proffer suggestions on how you can become a better partner and be less pushy.
To learn more on how to stop being pushy, check out Carla Loving's book. This masterpiece is titled How to stop being controlling and recover from control issues. This book helps perfectionists to stop exerting control over their partners.
Takeaway
When you apply these tips on how to not be pushy in a relationship, there will be fewer conflicts, and you and your partner will understand each other better. Not all these tips are straightforward, but you can master them with time. You can also reach out to a relationship counselor for more help on how to understand pushy people's psychology.
Share this article on
Want to have a happier, healthier marriage?
If you feel disconnected or frustrated about the state of your marriage but want to avoid separation and/or divorce, the marriage.com course meant for married couples is an excellent resource to help you overcome the most challenging aspects of being married.
More On This Topic
You May Also Like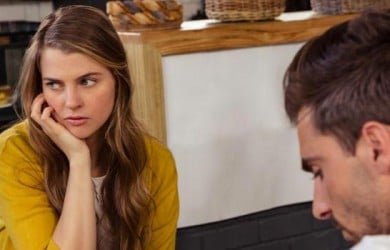 Popular Topics On Married Life