4 Effective Steps to Repair Your Relationship
Good news – the very first step towards repairing a relationship is asking that question! It shows that the will to do so is there, and this is the sole crucial requirement for such an endeavor.
Now, there's also bad news, and you need to know it so that you don't get discouraged – it won't be easy. Romantic relationships, if dysfunctional, have a way of settling into an especially persistent toxic routine.
The reasons we can discuss; some experts even claim we choose our partners based precisely on how well they might fit into our vision of a dysfunctional relationship. Some are not so extreme in views but agree on the fact that what makes romantic relationships and marriages gradually fall apart are precisely these repeated and incessant unhealthy ways of interacting with each other.
So, how do we change that and repair what once must have been a loving and promising relationship? Here are some steps, some basic principles you can employ to salve the relationship, and you can tailor them to your specific problems and issues with your partner.
1. Understand where the problems are coming from
This is, in addition to you (both) wanting to repair the relationship, the most important condition to make it better. If you don't truly understand what's causing the fights or the detachment, you don't have a good chance of changing it.
And this might seem obvious, but it's much harder than it appears, as the majority of what's causing us to behave bitchy, argumentative, needy, passive-aggressive, clingy or in any way that we don't like and our partner doesn't either, resides in our subconscious mind. And we can either ask a therapist for a help, or our friends and family or do the soul-searching on our own – but in any case, we simply must be entirely honest to and get to know ourselves and the dynamics of our relationship a bit better.
2. Approach the problem(s) in the relationship with composure
Once we know where the problem lies (whether it is that we need more support, more reassurance, we find that our core values differ from those of our partner, or we don't feel attracted to our partner anymore), we can work on it together. But the next rule is – always approach the problem(s) in the relationship with composure.
You need to talk about your relationship and the problems, but it's a must that this doesn't happen when in the midst of an argument. Also, you might need to change the way in which you talk to your partner.
You know that wisdom that the definition of insanity is trying the same thing over and over again and expecting it to bear different results? Need we say more?
3. Re-establish connection
Regardless of the roots of your discontent and discord, one thing that suffers in any problematic relationship is the connection, the closeness, the very thing that made us want to spend the rest of our lives with that person in the first place. You surely remember the times when you wanted to spend every second with your partner. And now you're both probably often scraping for excuses to avoid each other, to avoid an argument or because you just can't stand to be close to each other.
Yet, the practice shows that working on reconnecting with your partner, both physically and emotionally, is a universal remedy that works for any type of relationship problem. Whether it will be reintroducing touch to your interaction (hugs, holding hands, kisses, and yes, sexual intimacy), engaging in new activities together, asking questions and getting to know each other all over again, all those steps will open roads to a new, repaired relationship.
4. Come in peace with your differences
This does not mean just passive acceptance of the fact that the two of you might be fairly different, much more than what you thought in the beginning. Some people accept the discrepancy between their and their partner's personalities, values, temperaments, and desires, and fall into despair. This is why you need not only to accept the differences (and get into the "she/he will never change" mindset), but also acknowledge that, in order for your relationship to get better, you might want to think again about the way in which you perceive your partner's reactions.
How much tolerance you have, for example, for your spouse's silent treatment when they get angry? And how thoroughly did you (honestly) try to imagine how they must feel, and that they might be profoundly insecure or hurt (instead of believing that they do it simply to drive you crazy)?
In conclusion, the recipe for repairing a relationship is simple, although sometimes hard to pull off (but it pays off) – knowing yourself, understanding your partner, being warm and approachable, having a lot of tolerance and finally, being sincere in all that you do.
Share this article on
Want to have a happier, healthier marriage?
If you feel disconnected or frustrated about the state of your marriage but want to avoid separation and/or divorce, the marriage.com course meant for married couples is an excellent resource to help you overcome the most challenging aspects of being married.
More On This Topic
You May Also Like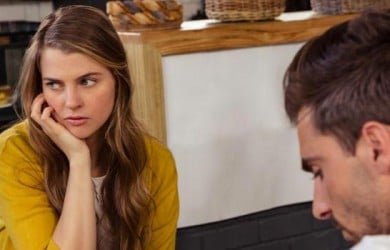 Popular Topics On Married Life