15 Hacks on How to Make Her Miss You
Who's single and ready to mingle?
You are!
Walking into a bar, you look forward to having a good time with your buddies. Soon, you spot an attractive woman sitting at the bar, sipping on a drink.
You think to yourself, "Ah, I can't offer her a drink; she's already drinking something."
Quickly, you manage to come up with a backup plan and make your way towards her. You order a gin tonic for yourself and slowly glance at her face (not in a creepy way).
She looks back and smiles coyly.
"Hey, first time here? You say.
"Yes, actually, it's my first time visiting this area," she replies.
Before you know it, one thing leads to another, and you end up getting her number!
-The Following Week-
You mostly initiate a conversation with her and ask her about her day. She continues keeping the conversation short and to the point, not elaborating more on the topics you talk about.
The convo usually ends with both of you wishing each other a nice day.
-The End-
But wait! What about tomorrow, and the day after that, and the day after that?
You have come to like this girl, and you don't want to appear clingy, so you're unsure how to continue talking with her.
After all, it's tough to figure out what's going on in a woman's brain sometimes.
So, how can you "get" her?
Well, lucky for you, here are 15 tips that will definitely make her miss you and reach out to you first!
15 tips on how to make her miss you
It's obvious that you don't want to look desperate but want to get in touch again. So, how to make her miss you?
Here are some ways to make her miss you that are sure to do wonders in making her think about you like crazy. Check them out to make a woman miss you:
1. Be the busy guy
You don't want to appear as though you're the Earth and she's the Sun. Your life doesn't revolve around her 24/7!
One of the first tips on how to make her miss you is to continue hanging out with your friends and going on with whatever you were doing before you met her. You won't be seen as a desperate guy hovering like a bee around the flower all the time.
2. Avoid the "Me, Me, Me" syndrome
Do you know why it's called the syndrome? Because a lot of men become chronically obsessed with talking about themselves.
Sure, you want to impress the girl on a date, but another rule of how to make her miss you badly is to be careful not to come off as arrogant and self-absorbed.
So, don't be a narcissist! Remember, you're not conversing with a mirror; there's another human being at the end of the line.
3. Use social media
If you follow each other on Instagram or Facebook, you can use this to your advantage.
Sharing stories where you're having fun with friends and family or spending time cultivating your new hobby will get her attention for sure! Also, sharing quotes and funny videos will open the door to have her comment on your post and start a conversation.
 Related Reading: 

How to Talk to Women - Communication Tips for Men
4. Be Mr. Mysterious
All ladies love a bit of mystery and intrigue. So don't show off all your skills, talents, and exciting traits from the get-go. Keep things gripping by slowly unveiling them.
That's one important rule of dating as well. One should never lay out their cards all at once, and you shouldn't do it too.
5. Be honest
Your nose may not grow like Pinocchio, so she won't know when you're lying. Better stick to being honest upfront if you want things to get serious and make a girl miss you.
Also, there's no shame in disclosing any serious medical conditions you might be suffering from, like severe anxiety, depression, or erectile dysfunction.
To this day, men find it hard to talk about erectile dysfunction.
That's why if you have problems with your pecker, it's best to seek highly effective and reliable treatments like GAINSWave Therapy to face this issue early on!
You might even gain some sympathy points for coming clean!
6. Don't annoy her with calls
Another tip for how to make her miss you is to try not to be impulsive when you miss her. Calling her on an early Sunday morning just to hear her voice, when that's the only day she gets to sleep late, will land you in the dead relationship zone.
Related Reading: 

Ways How to Make Him Miss You

 
7. Be fun
That's it. That's the tip on how to make her miss you. Be forward and excite her with a date suggestion. How long are you going to wait? More than a week? Someone else might catch her attention!
Surprise her with a creative date idea, like hiking, ice skating, paintball, etc., and let things flow naturally.
8. Don't be too direct
As a usual social behavior, we must not allow an overflow of emotions and keep them in check.
So, complimenting her from time to time is a good idea but don't overdo it. Even showing your feelings early on can be a wrong move. Actions speak louder than words. As a usual social behavior, we must not allow an overflow of emotions and keep them in check.
9. Don't be a stalker
The power of technology makes tracking people very easy these days. But you're not the CIA, so refrain from stalking her social media all the time and commenting on every story she shares. The girl might feel you're watching her every move and slowly drift away from you.
Related Reading: 

Ways Social Media Ruins Relationships
10. Be a reliable dude
While you should consider giving her space, too much space can cut her off from you completely.
When she mentions that she's sick, be proactive and get her medication or give her advice on what she needs to do to recuperate as another step for making a girl miss you. Basically, show her you care!
11. Be interested in her interests
If you're already vibing, there's no need to make her interested in YOUR interests. You know she has her own life and hobbies. For example, you may be a sushi fanatic, but she hates seafood, or you don't like basketball, but her favorite team is the LA Lakers. Appreciate the differences!
Related Reading: 

How to Stay Together When You Are Different From Each Other
12. Do take things slowly
You might daydream about wedding bells, but taking things slowly should be on top of your list, especially during the first few weeks, but this might look crazy to her when all you are doing is planning on making her miss you because you are attracted.
The girl might be turned off from rushing into a committed relationship with someone she barely knows.
Check out this video on how to take things slowly when you are starting out in a great relationship and want it to be healthy:

13. Keep things short on the phone
Do you want to talk to her on the phone?
Don't tell your life story. Mention your highlights of the day or tell her a lame joke and get her to laugh. Things will eventually fall into place over a period of time without you trying to force in
14. Give her a gift
No, not a Swarovski necklace, but a small gift that reminds her of you. It can be a keychain with a character on it, a cute bracelet, or a book that you love. Gift her anything romantic, that will make her feel close to you.
Be humble, and don't go overboard with lavish gifts!
15. Make her laugh
This is a no-brainer. Whether you're good at stand-up, puns, or accents, find your niche and make her giggle.
Humor is essential for any relationship. Every time she feels down, she should remember how happy you made her feel and soon reach out to talk with you.
Bottom Line
Too much push and pull will aggravate her, and too much clinginess will put her off.
If you want to get her to miss you, concentrate on getting on her emotional side. Women like to be listened to, have a shoulder to cry on, and ultimately a guy who's willing to give her space to make her own decisions about the relationship.
Share this article on
Want to have a happier, healthier marriage?
If you feel disconnected or frustrated about the state of your marriage but want to avoid separation and/or divorce, the marriage.com course meant for married couples is an excellent resource to help you overcome the most challenging aspects of being married.
More On This Topic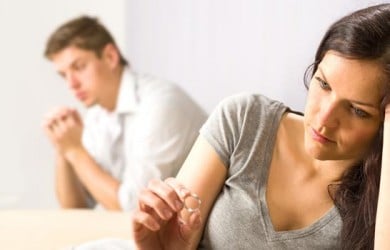 You May Also Like