25 Ways to Cope When Someone You Love Leaves You
It can feel like your entire world is crashing when someone you love leaves you. This feeling of pain and betrayal makes moving on from someone you love almost impossible.
If you aren't careful to get your act together and move on with your life, you may never be able to get over it when your lover leaves.
However, this post aims to keep you from falling into a funk if you look around one day and discover that leaving a relationship with someone you genuinely love is the best line of action for you. How do you cope when the one you love leaves you?
What should you do when someone you love leaves you?
As much as you may not want to admit it, this is one common thing that happens in today's world. Reports have it that there's approximately one divorce for every 36 seconds that pass in America. This adds up to about 2400 divorces per day and about 16,800 divorces per week.
The numbers imply that people get separated from the ones they love frequently. It is a sad fact, but reflective nonetheless. However, leaving someone you love (or being left by someone you love) doesn't have to be the end of the world for you.
Related Reading: What to Do When Love Has Left the Marriage
25 ways to deal when the one you love leaves you
As devastated as you may feel when someone you love leaves you, you must find ways to deal with the situation and move on with your life with a positive outlook. There will be many more amazing experiences waiting for you on the other side.
Here are a few things you can do when your lover leaves you. They'll take the pain away and help you heal from that hurt.
1. Take some time to grieve
While this may seem counterproductive, grieving in this context is the first step toward attaining complete healing.
If you cannot allow yourself the time and space, you need to just 'feel,' chances are that you may end up bottling up the tension and hurt your mental health in the long run. This may spill over into other aspects of your life and reduce your productivity on many levels.
When someone you love leaves your life, give yourself permission to grieve.
2. Tell yourself you can do it
Pulling yourself together when someone you love leaves you all begins from the mind. If you don't yet believe that you have all it takes to recover from the pain and move on with your life, you'd never feel the need to make any efforts at all.
Regardless of what you have to do, pep talks with self, affirmations, etc. – just condition your mind to believe that you can do life without them in the picture.
3. Assign time to do specific things all-day
When the one you love leaves, it is possible that you may want to fall into a funk, bury your face in the sheets, hide away from the world and allow every day to pass. However, this will give you more than enough time to obsess over how everything has gone wrong in your life.
Instead of falling down that rabbit hole, a little bit of daily planning can help you stay productive, even while you give yourself all the space you need to recover from your loss. Using a to-do list can help you stay sane as there are other things to look forward to every day.
4. Talk to someone else you trust
One of the reasons you don't know how to deal with leaving the one you love is that you tend to isolate yourself after they leave you. If you recoil into yourself and push every other person away, you would have to deal with that pain, hurt, and rejection all by yourself.
By putting another trusted person on speed dial, you open yourself up to be emotionally supported by them. Communication with other loved ones is what to do when someone leaves you.
Related Reading: 15 Ways to Improve Emotional Support in Your Relationship
5. Removing all reminders
This is one mistake many ex-couples make. One person walks out the door and the other is left in the rubble of everything that reminds them of the person that just walked out of their lives. This is not the wisest step you can take if you need help moving on from a relationship.
Depending on how emotionally stable you feel, you may want to spend some time wiping your space clean of everything that reminds you of them. This could include deleting all their photos from your gallery and even unfollowing them on Social Media. In any case, you don't need those triggers.
6. Make self-care a big part of your life now
The truth is that once a significant other walks out of your life, it can be challenging to get your life back on track and move on as nothing happened. However, when your heart is broken and you don't have anything else to hang on to, make self-care a huge part of your life.
Self-care can be anything, including incorporating better sleep practices into your day, exercising, and even going to your favorite eating spot all by yourself.
When someone leaves you, make it a point of duty to show yourself some serious love.
7. Commit that you wouldn't turn to addictions to numb the pain
It is no news that there's every chance that you would experience depression when someone you love leaves you. However, a MHA report on Alcohol, Substance abuse and Depression has shown that to relieve the misery of depression, many people tend to turn to substance abuse or alcoholism.
If addiction isn't curbed immediately, it can lead to a series of activities that would only make them more miserable than they already are and lead to an unhealthy addiction.
While it seems easier to get lost under a bottle or to just turn to alcoholism to numb the pain, you would end up creating more problems for yourself if you approach the subject of healing from a breakup this way.
8. Regular sleep and exercise
You can easily chuck these off as part of the self-care practices. However, regular sleep and exercise can work wonders as you try to get your life back together when someone you love leaves you.
Studies show a significant link between sleep and the health of an individual.
Sleeping and exercising regularly are a great way to clear your mind of the stress of thinking and they also provide you with the space needed to make strategic and productive decisions when you are up.
Related Reading: Healing Your Relationship with Food, Body, and Self: Sustaining Self-Care Practices
9. Consider moving in with someone else
Depending on how close you were in the relationship and how many memories you created, there are times when you may need to occupy yourself by being around someone else.
Cohabiting with someone else could mean that you may have to move in with a close friend, a sibling or just figure out how to spend more time with people that matter to you.
When you do this, you prevent your mind from getting occupied with thoughts of how lonely things can get when the one you love isn't there with you again.
10. Treat it as a lesson
How do you get over the love of your life leaving you?
One simple trick you can try is to see what has happened as a lesson to learn from. Under these circumstances, it is common for your mind to begin playing games on you and making you feel that what has happened is your fault.
However, seeing what has happened as a lesson will help you approach this breakup as part of what can happen in life and help you recover speedily.
11. Journaling
Journaling is one therapeutic activity that can help you sort through your mind and get over the pain of leaving a relationship.
While many people may want to argue with this, journaling will help you put your thoughts down on paper and ensure that you do not repeat the mistakes that may have caused everything to fall apart at first.
Suggested video; How to journal for anxiety and depression
12. Don't try to stay friends
If what you shared with them was deep, you may want to keep the communication lines open – even if that means trying to remain friends with them immediately after they walk away from your life. This may not be the best idea.
As an act of self-care, try to give yourself all the room you need to recover from them. No matter how much time you need to pull this off, please do it. This is one of the major guarantees you get to be emotionally stable afterward.
13. Try to remember the good things
Sometimes, how to deal with leaving someone you love is by reminding yourself of all the good times you had together. It is natural to want to block their good memories away from your mind. However, doing this may prevent you from healing and moving on.
Related Reading: 10 Important Things To Remember About A Relationship
14. Find an outlet
The truth is that once the one you love leaves you, your emotions turn high. If you don't take some time to find a way to channel those emotions into something productive, you may end up hurting yourself. This is why finding an outlet is important.
Reboot the physical activities you used to love. It could be anything, including swimming and even working out.
15. Travel
Travelling gives you something else to focus on and seeing new places can help channel your emotions in another direction. If you have always wanted to see some parts of the world, why not take this time to get that done?
16. Listening to sad music helps
Listening to sad music may sound wonky, but it is the truth. How do you leave someone you love when you feel like you are the only one in that condition on earth?
Listening to sad music reminds you that you aren't alone in what's happening to you and while it may exacerbate the pain, it also sets you up for emotional healing in the long run.
17. Read about similar breakups
Asides from reminding you that you are not alone, many of these stories are packed full of practical insight that can help you navigate these trying times. Just start by conducting a quick search on social media and Google.
18. Reconnect with old friends
The good thing about reconnecting with old friends is that such meetings are usually full of laughter, good memories, and healthy/hearty banter. You need all these to pull through the pain and hurt you may be feeling at the moment.
19. Back to work/studies
When someone you love leaves you, one of the first things you may find yourself doing is to start withdrawing from everything, including work and your career. However, after taking some time to get over the initial hurt, commit to returning to work and pursuing your career goals.
In addition to giving you something else to focus on, returning to work gives you a sense of direction and renewed purpose.
20. Readjust your mindset
When someone you love leaves you, you may feel indifferent towards relationships. This can cause you to put up your guard and refuse to open up your heart again. However, after some time passes, permit yourself to start dating again.
Changing your mindset may be challenging, but you won't know what life has in store for you until you put yourself out there. Start dating and see how it goes. Not everyone is bad and will hurt you the way the last person did.
In conclusion
When someone you love leaves you, the experience can be terrifying and crippling. If you don't take extra care to gather the pieces of your life together, you may find yourself spiraling into a rabbit hole of depression.
This article has covered some things you should try doing to get your life back on track after the one you love leaves you. Some may not be easy to execute; however, they would pay off in the end.
When you have done all these things with no tangible success, seeking professional help would be the way to go. Counselors are trained to help you navigate this rocky terrain and get your life back together. To get started with this, click here to find a therapist.
Share this article on
Want to have a happier, healthier marriage?
If you feel disconnected or frustrated about the state of your marriage but want to avoid separation and/or divorce, the marriage.com course meant for married couples is an excellent resource to help you overcome the most challenging aspects of being married.
More On This Topic
You May Also Like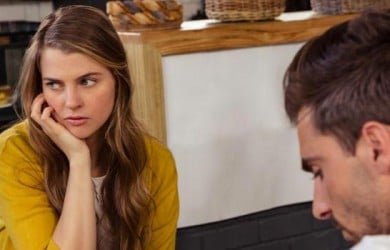 Popular Topics On Married Life