10 Ways to Find a Good Man
The people you surround yourself with are likely to affect your emotional state either positively or negatively. So, do you want to be a great, sound, and happy person?
A study has proved that if you want to be happy and good, surround yourself with like-minded people. As a result, it's no surprise when people search for a good partner and decide not to settle for less.
However, without knowing how to find a good man, you might end up meeting the bad men society has to offer.
Many questions are to be answered regarding finding a good man, but most times, we fail to understand several metrics for determining how to find a good man.
We could dilly-dally and say all men are good, but we know that wouldn't be true, or else why would we find ourselves asking, are there any good men left?
As a single person, looking for a good man is so tough, especially when searching in the wrong places.
So, we ask these questions frequently: how do you find a good guy? Where do you meet a good man? Why is it hard to find a good man?
This post would pursue certain factors that show us how to find a good man and characteristics to watch out for when looking for a good man. This content would be divided into four sections that would help single people search for a good partner.
Related Reading: 

Qualities of a Good Man That Every Woman Wants
Why can't you find a good man?
Every day you go about your daily activity, you are thrown into a world filled with men who look like potential suitors. Many of these men throw a smile at you; some try to be courteous and gentlemanly just to get your attention.
Other men try as much as possible to befriend you, but you often don't give them the desired attention.
Here are some reasons why you're not able to find a good man.
The truth of the matter borders on the fact that you can't communicate with all the men you meet to judge who is good or not adequately. Humans are creatures of thought, and a considerable percentage of what you are occurs on the inside where most people can't reach.

Human thought processes and characteristics are hidden from the world, and you can't tell what is going on in somebody's mind. So, until you

put in the effort

to get to know someone, you can let a good man slip by.
Society and media have placed an image in the subconscious of most people that makes them want to be with the attractive ones. However, the truth is that most of those men you have sidelined could have the characteristics of a good man.



So, since

physical attraction

is a thing, you almost now have to go in search of a man that fits your requirements and might turn away a good man.

Between the hustle and bustle of modern life, trying to balance a career, education, and having time for a few personal things, it is no surprise why it is hard to find a good man.
So, what are the odds of going through a day, or even an entire week, and spotting a man who can catch your fancy at first glance? Not to mention going into the stages of knowing each other on an intimate level.
What is required to find a good man?
The world is filled with a fine balance of good and bad men, and every day people go out with the hopes of finding a good man.
There is no one-size-fits-all when it comes to the requirements of finding a good man. We are all uniquely different, and what one person wants in a man may differ from another.
However, there are still a few standard agreeable rules you should consider following to position yourself for the right guy.
Nowadays, men have raised their taste in partners due to certain financial, social, and physical designations.
Most men now search for partners they feel would help balance specific sectors in their lives, hence their reluctance to be with just about anybody.
So, building yourself up to a position where you hold value is one way to bypass the hustle for a good man. Developing yourself will make it easier when finding and loving a good man.
Strike meaningful conversations
Never be afraid of walking up to a man and striking a conversation. Now you may think this is being too forward, whereas the reverse is the case.
All genders are attracted to a straight-up confident person. There is, however, a rule to how you go about this.
You mustn't do this to charm your way into his heart just right away. There are subtle ways of doing this, such as starting with something as simple as a greeting and an honest smile.
You can be in a restaurant and spot a man reading a book. Please walk up to him and ask him what he is reading and what the book is about.
He will politely answer you, and he may decide to take things further by engaging you properly.
Lastly, don't forget to compliment a man if you find something attractive about him. You could just say something as simple as, "wow, that's a nice watch," smile and walk away.
People are attracted to like-minded people, and if you want to find a good man, you also have to take the extra step to work on your appearance.
A clean-looking appearance will help hunt for a good man and other areas of your life, including your profession.
Related Reading: 

How to Find a Guy
10 Reasons why finding a good man is tough
Landing the perfect guy can be a tough nut to crack for most people out there, as they have put in a lot of effort to be loved and cared for by men who have, in turn, hurt them.
If they have been hurt, they now spend most of the time they should use in enjoying their relationship to watch for telltale signs that their man is out there to hurt them.
So here are reasons why you shouldn't beat yourself up about not finding the right guy yet.
1. Excessive options
Now, the constant advancement in technology has brought the world together, thereby making our reach wider than ever. We can directly communicate over long distances and meet diverse people that we wouldn't have usually met.
Since the world has become a global village, options are now very easily accessible to anyone who cares.
This has brought about difficulties for most people, as they can now shuffle between options that transcend their geographical space.
The availability of dating sites has now made it easier to meet all kinds of people, and although this is one option of where to meet a good man, it is easy for good men to get lost in the crowd.
2. The Peter Pan Syndrome
We all know Peter Pan's story, the fictional character in children's stories that never wanted to grow up.
Yes, that is the story of some men nowadays, as they can be ingrained into the man-child mentality that it becomes challenging to grow up and take on responsibilities.
A book by Dr. Dan Kiley, that details how this syndrome works shows how they try to avoid the responsibility that comes with adulthood.
These kinds of men don't want responsibility, and the more you entrust them with it, the more they let you down. An important quality of a good man is his ability to take up responsibilities.
3. Past relationships
Men can avoid new relationships because of past hurt, as they hold onto the pain because they are human.
This can be a factor that makes people shy away from commitments and single searching for a man to wonder, are there any good guys left?
Related Reading: 

How to Heal From the Emotional Scars of Past Relationships
4. The hunt for better
The hunt for better has been ingrained in all humans, as we constantly search for what we feel would be better.
Most times, we have something good, but due to the excess options available, we feel that there is something better out there for us, letting a good man slip out of our fingers.
Related Reading: 

The Always Something Better Syndrome (ASBS): What You Must Know
5. Anti-marriage mentality
The urge for marriage has reduced more than ever, as most people today shy away from the idea of marriage.
Millennials are
According to a statistic, the marriage rate is the lowest as fewer people are now going into marriages.
6. People now shy away from commitment
As we stated above, people are now shying away from commitment, making it hard for a relationship to work out.
You might want a man who fits your desires, but when we find a man who doesn't want to commit, we usually feel let down and wonder why it is hard to find a good man.
7. Financial instability
The current state of finances of a man can make him rethink commitment.
When finances become an issue, people would primarily focus on making money rather than being in a relationship.
8. Technology has created a divide
Technology has built a rift in human communication, which is creating a barrier in inter-human relations.
We mostly spend time on our devices rather than make a lasting bond with people.
9. You are confused about your wants
You can't find a good guy if you are unsure what you are looking for and what you are after.
Being clueless about your choice will always keep you thinking about "why it is hard to find a good man"?
Although it is pretty normal, it makes dating exhausting and stressful. Think about what you want, your values, what characteristics you admire, etc.
Maybe you will find a nice guy.
Related Reading: 

Things to Do if You Are Confused in a Relationship
10. Desperate vibes
You might not know it or have known this all along and never admitted that you are sending out desperate vibes. This can make it challenging for you to spot a good man.
It's okay if you are keen on meeting a good man and going on dates, but looking too desperate might send the wrong message.
10 Tips to finding a good man
The keys to finding a good man are innumerable, as we are built differently and have a different perception of things.
In this section, we would look at ten-pointers to spot a good man.
1. Set tangible boundaries
Before making any serious commitments, you should set tangible boundaries and get to know him first. This will help you determine if he is a good man or just pretending to be one.
2. Be yourself, and don't try to impress any man over
Do not pretend to be someone else to impress a man. Be yourself, and the right man will love you for you.
3. Build your image and self
Develop yourself, so when you meet the right man, you will be ready for a relationship.
Most people are actively searching for the right partner but forget to ask themselves an important question. "Am I the right partner?"
4. Know your worth! Never compromise or lower your standards for anyone
Don't give up on your search for a good man and lower your standards.
If you do, you might just settle for a mediocre relationship and miss out on a good man.
5. Know what you want in a man
Determine the attribute you're looking for in a man. This will help you eliminate men that don't possess such qualities.
However, remember to be open-minded as no man can strictly fit your criteria.
6. Be open to meeting new people
Don't be afraid to talk to a man you find appealing.
It's unrealistic to expect to find a good man if you don't put yourself out there. Socialize more or start a conversation with that man you think will be a perfect fit for you.
7. Understand that no one is perfect and learn to accept flaws
It's easy to build up the perfect man in your mind, but don't let this cloud your judgment.
No one is perfect, and learn to look beyond minor flaws.
8. Look out for attributes you want in your man
The characteristics of a good man include selflessness, a caring nature, among others. You can look out for these attributes and more when searching for a good man.
9. Build a personality that stands out
Before finding a good man, it is essential to ask yourself if you're suitable for one. Build up a good character that stands out, and when you find a good man, he will surely be impressed.
10. Learn to love yourself
It can be hard receiving love and loving others if you don't first love yourself. You will know firsthand the kind of love you want to receive and will not settle for less by loving yourself.
Also, watch the following video that will help you to find a good man.

Conclusion
If you're desperate to find a nice man, you may most times set yourself up for disappointment. This content has just shared a handful of tips to help you find a good man.
Look at each one of them and apply them to your own life to determine how to find a good man.
When you know your worth and are confident in your abilities, the right men will naturally gravitate towards you. It may take some time, but it will happen!
Share this article on
Want to have a happier, healthier marriage?
If you feel disconnected or frustrated about the state of your marriage but want to avoid separation and/or divorce, the marriage.com course meant for married couples is an excellent resource to help you overcome the most challenging aspects of being married.
More On This Topic
You May Also Like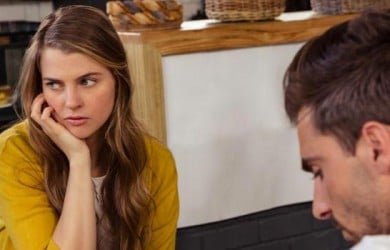 Popular Topics On Married Life