How to Be a Good Girlfriend: 30 Ways
Do you desire to be the perfect girlfriend; the one who puts her partner's needs above yours, trustworthy, reliable, honest- the true love every man wants to be with?
You might have just met your first love, or maybe you're trying to upskill your girlfriend qualities as a solution to how to be a good girlfriend and be his best choice.
What makes a good girlfriend? A good girlfriend possesses some distinctive attributes that take her from being significant to excellent.
10 Qualities of an awesome girlfriend
So, what is a good girlfriend? How to be a good girlfriend? What are the perfect girlfriend qualities?
Every woman desires to be loved and cared for by her partner. However, your partner wishes to be cared for too. Men look for women who will be by their side even when the rainbow fades away.
He is looking for a partner who can be trusted, faithful, honest, and who will be there for him, even if all the chains break loose.
Let's see the qualities of a good girlfriend or how to be a good girlfriend.
1. You are faithful to him
Being loyal to him is one of the most crucial and fundamental features of a long-lasting relationship and one of the pillars of how to be a good girlfriend.
2. You are honest and trustworthy to him
He needs to know that he can trust you. Be completely honest with him. If there are any issues needing fixing, talk to him like an ideal girlfriend.
3. You are a God-fearing person
As a God-fearing person, you're a person with strong values and beliefs, and you can support him to make crucial decisions and lead a worthy and purposeful life.
4. Care about his feelings
To be the best girlfriend ever, his needs and emotions are a priority for you. He can be vulnerable before you and doesn't have to worry about keeping up a strong facade.
5. Listens to his problems
You are not trying to fix his problems by nagging or condemning him, but he knows you are there when he needs you. He has a shoulder to rely upon and cry on.
6. A strong, independent, and intelligent woman
Men love to be with smart women. He would love to do things for you; however, being independent shows, you are reliable and able to look after yourself.
7. Let him be your hero
He needs to know he is 'the hero' of your life. He craves to be your protector and provider. Feed his emotions by telling him how awesome he is and how much you love his caring attitude.
8. You are a kind and humble woman
A man loves to be with a humble and kind woman, not just to him but to his mates and significant others in his life. Your relationship will only suffer if you show an arrogant or bossy attitude.
9. Being appreciative
He would love it if you accept and acknowledge his efforts in being the right partner. It might not be the best but tell him how much it means to you. Say it out loud!
10. Be his 'best friend'
If there is one most ideal and nice girlfriend quality, it's being his best friend in all situations. He knows you will be there for him. He doesn't have to pretend or cover-up. You accept him for what he is, and that's all that matters.
Also Try: 

Am I Good Girlfriend Quiz
30 ways to be a good girlfriend
So, are you a good girlfriend? How to be a good girlfriend and make him love you more?
It's not too hard to be a good girlfriend.
You own all these qualities within you. You just need to express them. Say it out loud. Let him see, feel and acknowledge the precious gem; you'll be in his life now and forever.
Let's find out tips on how to be a good girlfriend. Here are 30 remarkable characteristics of a good girlfriend and practical ways for him to love you even more:
1. Be faithful always
Being a good girlfriend means being authentic and staying loyal as one of the core determinants of your relationship success. It's about assuring him; you can be trusted at all times, no matter the situation or how far apart you are.
Stay faithful and committed in all phases of your life with him.
2. Be his encourager
He needs your encouragement. He has a lot of 'naysayers' in his life and many other challenges to overcome.
How to be a good girlfriend? One of the traits of a good girlfriend is to be encouraging and his biggest cheerleader. Encourage him to push beyond the obstacles, dream bigger, and release his hidden potentials.
3. Appreciate him for who he is
So, how to be a good girlfriend?
Well, to be a good girlfriend to your boyfriend means to accept him for who he is; his strengths, weakness, flaws, and all. He is not looking for a partner who wants to change him, instead loves and accepts him for himself.
Tell him, 'you are the best thing that's ever happened to me.'
4. Attend to his needs
It's about understanding and recognizing his wants and desires without him having to vocalizes them. He might act like a tough guy, but beneath the layers is a simple person longing to be loved and cared for.
Shower him with your caring nature, and he will genuinely appreciate you.
5. Build upon his dream
Your man might have a passion he's kept hidden from the world.
Inspire him to pursue his dream. Allow him the time and space to build upon his vision. Let him realize he has your support to push his boundaries and bring his dream to fulfillment.
6. Allow him to be 'your hero'
He wants to be your hero. He is wired with the need to love you, care for you and be your provider and protector. Acknowledge his role and allow him to care for you.
When you let him be the hero of your life, you are unleashing his fiercest emotions of love and attraction towards you.
7. Listen to him
As a loving girlfriend, be more sensitive to listen to him. Sometimes, women tend to talk a lot and forget to listen.
Tend a loving ear and listen to him. His project has just failed, and he wants to pour out his feelings. Help him heal by being a good listener and comforter.
8. Respect his privacy
You are officially dating and have developed a deep bond. You still need to accept and respect his privacy.
Don't sneak around in his office, bedroom, or phone to check on his messages or private emails. Give him his space, and he'll eventually be sharing everything with you.
You will be better off keeping your guard.
9. Sing out his praises
Men love to be praised and honored, especially by the women they love. Praise him in public when you are gathered for a party or meeting. Say out loud; how happy you are to be with him. Be appreciative of him.
Let him hear your compliments and feel your acceptance and love towards him.
10. Feed him, girl
It goes without saying: the way to a man's heart is through his stomach! That's right.
Prepare his favorite meal for dinner. Ask him for his favorite restaurant and treat him to lunch. He would love you for being sensitive to his likes and taking that extra effort to feed him.
You can also prep up your cooking skills to nurture your man for a lifetime.
11. Be a kind soul
He needs a kind woman in his life. No one wants to be with an unkind and arrogant person. It's about being there for him, even when he has stuffed up, not doing the right thing.
It's about understanding and supporting him instead of condemning and saying, 'I told you so.' This goes a long way in building trust and security in your relationship.
12. Stop nagging him
Nagging is dangerous. Constant nagging is not only annoying, but it will also irritate him, and he is going to retaliate. So, instead of nagging, disarm him with your sweetness. Let your sweet words do the talking, and he is going to love fulfilling your request. Never be a nagger!
13. Surprise him
It's not just you who would love to be surprised. Men love surprises too. Work up a surprise dinner to his favorite local diner.
Leave a gift in his laptop bag. Send him a surprise parcel. There are countless ways you can make your man feel that extra special and that you are thinking about him.
14. Accept his friends
When you have accepted him into your life, you need to value his mates too. They're an essential part of his life. He loves their input, and they have been there for him through thick and thin.
Be nice to them and develop a rapport with his friends. He will see that you value what is important to him.
15. Never ever flirt with other guys
It goes without saying: never flirt even when he is not there or is far away. He needs your trust. Building a relationship upon trust and faith is so vital for a healthy and committed relationship.
Stay faithful to him at all times. He needs your trust that no matter where you are, you are always his.
16. Be 'extra nice' to his parents
You are serious as a couple, and you are moving forward. It's essential and timely to include his family and significant others in your circle. Attend a family dinner or ask him to introduce you to his parents.
It shows his parents that you are not just dating him but willing for a serious and long-term commitment.
17. Compliment his male ego
He might never admit it. However, men own a big ego. Be ready to feed it. He has to feel loved, wanted, and an important part of your life. He has to feel accepted.
Praise him more often when he takes that extra effort to please you. Sing out a compliment. Hold his hand and thank him for being a wonderful and unique partner.
18. Be an instrument of optimism in his life
It's all about being that portal of blessing in his life, where he will receive encouragement and support from him, no matter how bad his week was or HIS BOSS was at work.
Pour in some positive vibes in his life. Be the optimist who sees the silver lining in a dark cloud. It will create joy and even take your love to the next level.
19. Share in his interests
If you want to be his 'amazing girlfriend,' be a part of his passions and hobbies. Sure, fishing might not be just your idea of a hobby, but make an effort. It goes on to show you care about his interests and want to be a part of his world.
He would love to share his passions with you. Go on and enjoy the weekend away, just the two of you and a fishing rod!
20. Be an independent woman
Men love to care and provide for their women at all times. Being an independent woman reflects your strong personality and attentiveness to your life outside of him.
Have a hobby and work on activities that don't revolve around him or your relationship.
It goes on to show you're reliable and a woman of a good upbringing.
21. Build upon emotional connectivity
It's when you are connected with your partner at a much deeper level. It's taking your love to the next level. When you can bond with him at that deep emotional and intimate level, you have won his trust and his love forever.
He will envision you are the one he wants to spend his life with.
Being emotionally connected not only strengthens your relationship but is an assurance your bond will stand the test of time.
In the video below, Steph Anya discusses the meaning of emotional connection and ways to build it. Check it out:

22. Be physically attractive
It's a reality: he needs to find you physically attractive and beautiful to be in love and stay committed. Take that extra effort to dress up for his taste. Dazzle and mesmerize him with your beauty.
It's not about expensive dressing tastes but that you are comfortable in yourself and allowing him to find you beautiful and seductive.
23. Spice up his love life
Your man needs a romantic partner. Feed his passions by sending him love notes. Brighten up his day by sending a text message of love. Men are creatures of great passion, and they want a woman who recognizes it and works to fulfill it.
Dress up for date night and let him have control behind closed doors to satisfy his passion in the intensity he desires.
24. Never spill his secrets
He has trusted you to share his 'not so good' past doings with you. Never betray his trust. He could be really offended and hurt if he finds you're talking about him to your friends.
Having his trust and faith is essential to build a strong foundation for your happiness and future together.
25. Never take him for granted
He loves you and cares about you.
However, you need to manage and nurture this delicate and beautiful bond with him if you are looking for an answer to how to be a good girlfriend. He needs to be a crucial part of your life. He needs to be loved and made to realise how important you are to him.
Always cherish your man. Stay connected during the week, even if you are separated by work commitments or distance.
26. Share your feelings honestly
It is critical to be completely honest with him in every aspect of your relationship. If there is anything that is bothering you, he needs to know. Never let a day go by without fixing your issues or concerns.
Men prefer women who can be trusted to be absolutely honest about their feelings and prevent long-term damage.
27. Be his dream partner
When he is with you, he is looking for the woman, who will be his better half, who will share everything with him, and who'll accept him for who and what he is.
He is looking for his bride in you, to be his forever.
If you want to know how to be a good girlfriend, show him you love and care for him and want to share your life with him, his dog, and be a mother to his kids one day.
28. Keep him fit and healthy
Men can find 'leading a healthy lifestyle' a hassle. Fix it for him. He might have lived out of a can or packet noodles all his bachelor life. Inspire him by making delicious healthy home-cooked meals.
Get the running shoes on and plan days when you could go for a run together. It's a great style to be connected and stay physically and emotionally well-balanced.
29. Love him unconditionally
Your man is just a grown-up kid, wanting to be loved and accepted. Love heals, forgives, and forgets. He might stuff it up, forget your birthday or fail to do the right thing.
Just forgive him and love him. Push beyond the borders and pour upon him love without boundaries and limitations. It's about moving from being impressive to an awesome girlfriend.
30. Be his best friend
All the above unique ways can be summed up to say:
It's about being his faithful mate, who comforts him, encourages and inspires him, be his adviser, provides guidance, lends a shoulder to cry on, fights with him but never drifts apart, and above all: his soulmate forever.
Also Try: 

What Kind of Girlfriend Are You Quiz
Takeaway
So, how to be a good girlfriend and get him to love you more?
Being his soulmate, understanding, and connecting with him at a deeper physical, emotional and intimate level is something you can do to be an amazing girlfriend.
At this crucial and hidden point, all barriers and differences are forgiven and forgotten, and the two souls join together to become one: now and forever.
Share this article on
Want to have a happier, healthier marriage?
If you feel disconnected or frustrated about the state of your marriage but want to avoid separation and/or divorce, the marriage.com course meant for married couples is an excellent resource to help you overcome the most challenging aspects of being married.
More On This Topic
You May Also Like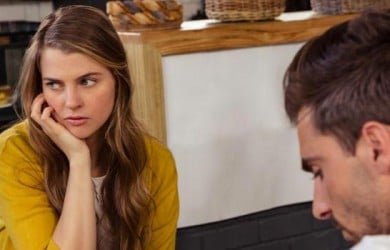 Popular Topics On Married Life