How to Identify If Your Husband Is a Man-Child
We see the Man Child memes on Facebook, the ones your female friends post with glee. They feature a man suffering horribly over some small thing, perhaps a cold, or that they got served a full-fat rather than non-fat latte at their favorite Starbucks.
You may be wondering what a man child is. Let's look at some tell-tale signs of an immature man.
The man child syndrome
Here's what to look for if you think your husband or partner might be a man child:
He is excessively needy, but also can turn his back to you and be excessively cold towards you.

He constantly complains, usually about things he has no control over, like the change to daylight savings time, or that there's nothing good on Netflix. Everything is a "nightmare" to him, a nightmare caused by someone else.

He never cleans up after himself. Whether it is clearing his tray at a fast-food restaurant, or general tidying up in the home, he doesn't do it. Like a child, he expects someone else to sweep up after him and take care of all the mess.

He is never on time. Your timetable isn't important. He'll show up late to appointments and social events. He'll never be where you need him to be at the scheduled time.

Dishonesty. He is not beyond lying to protect and serve his own interests

Narcissism. Both physical and mental: he spends an excessive amount of time preening in front of the mirror. He also disregards others' needs, prioritizing his own.

Laziness. He does not share the workload around the house, leaving you to be responsible for all the chores needed to keep the household running smoothly

Feels other people owe him

Inflated sense of entitlement

Thinks he is always right and others are to blame for everything wrong

Inability to acknowledge that there are consequences to all actions, especially toxic actions
What's behind the man child syndrome?
The driving force behind an emotionally immature man is his upbringing. Boys whose parents enabled them from an early age often grow up to be man children. They had everything done for them as young boys and expect this to continue throughout life.
If you are married to a man child, you will have many challenges. One is if your man child refuses to work. A man child can have difficulty holding down a job because of their immature attitudes towards others.
No employer will value someone who will not take responsibility for mistakes on the job. Sometimes a man child can stay at a job because they are usually likeble and fun at the beginning (like a child) but eventually, management realizes that they are a liability.
At that point, they will be fired. If this happens repeatedly, it is no surprise that the man child refuses to work. But instead of looking inward to question why he cannot hold down a job, the man child will blame everyone else:
"They are all stupid. I'm the best employee out there; it's their fault they don't recognize genius when it is in front of them."
If you are married to a man child, what are some coping strategies?
How to deal with an emotionally immature husband
First, know you are not alone. Men children can be initially very charming, pulling you into their world. So do not blame yourself for getting into this relationship.
Secondly, understand that there is little you can do to change his emotionally immature behavior. His way of being is deeply-ingrained, going back to his childhood.
And because men children cannot see that their way of functioning in the world has negative consequences on others, they are not motivated to seek change.
What does this mean for you? One strategy is to ignore his behavior. But this may be difficult, especially for large-scale things like if he refuses to work. Ask yourself: Do you want to be the only breadwinner in this relationship? A relationship that is far from balanced and satisfying?
Another strategy is to try and reach a compromise with your man child husband. If he is a lazy husband and no amount of nagging or coaxing has affected, sit him down and tell him that he can have one room in the house where he can do his own thing.
One room only. The rest of the house is "your space." You will maintain the cleanliness and order in all rooms but his man cave. Feel free to lay down this rule without inviting a discussion. If he is going to act like a child, he can be expected to be treated like one, too.
Dealing with an emotionally immature husband can be taxing on you. At some point, you may wish to talk to a counselor or a marriage therapist, even if you have to go alone.
It is not pleasant to live life under a man child's terms. Everyone deserves a happy and balanced relationship; it is a life goal, right? It would not be unreasonable for you to find yourself in a situation where you begin to ask yourself if you should leave the relationship.
Former wives who have left their emotionally immature husbands say this: If you suspect your immature boyfriend is showing signs of being a man child, do not commit to a long term relationship.
Don't jump into things too fast, even if he is blindingly handsome, charming, and funny. Learn how to recognize the symptoms of man child syndrome, and if you see, he is displaying many of these, save yourself from heading towards an unhappy relationship.
Leave and find someone else. There is plenty of fish in the sea, so start swimming again. Never give up hope. You will find your perfect match, and this time it will be with a grown-up.
Share this article on
Want to have a happier, healthier marriage?
If you feel disconnected or frustrated about the state of your marriage but want to avoid separation and/or divorce, the marriage.com course meant for married couples is an excellent resource to help you overcome the most challenging aspects of being married.
More On This Topic
You May Also Like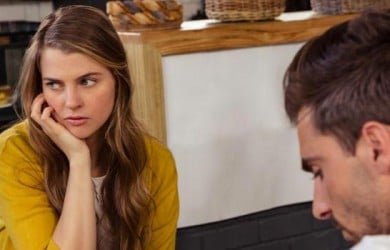 Popular Topics On Married Life